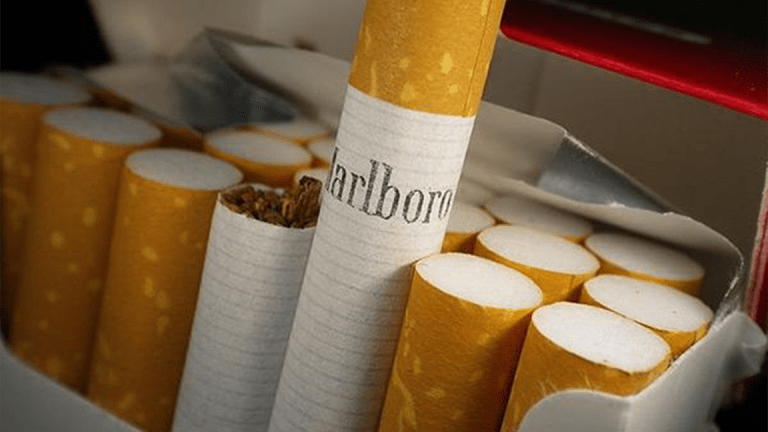 Philip Morris International Shares Drop on Downgrade to 'Underperform'
A downgrade by Credit Suisse to 'underperform' from 'neutral' sends shares lower.
Shares of tobacco maker Philip Morris International Inc. (PM) - Get Report dropped on Tuesday after the company was downgraded by equities researchers at Credit Suisse Group to "underperform" from "neutral." 
Philip Morris shares were down 5.3% to $77.06 on the New York Stock Exchange after Credit Suisse downgraded the company's stock and slashed its price target to $74 from $92, citing the company's reliance on heated tobacco products. 
Philip Morris and other tobacco makers have seen increased competition from e-cigarettes and other e-vapor products that still contain nicotine but generally have fewer byproducts such as tar.
The company is also in the vaping game, with e-vapor products that use nicotine extracted from tobacco leaves. These battery-powered devices - commonly known as e-cigarettes - vaporize a liquid solution containing nicotine and flavors.
The company in 2014 acquired Nicocigs, a U.K.-based e-cigarette company that produces a variety of products (Nicocig and Vivid) that includes disposables, re-chargeables and tank systems.
Through subsidiaries, Philip Morris makes and sells cigarettes and other nicotine-containing products. Brands include Marlboro, Merit, Parliament, Philip Morris, Next and Red & White.