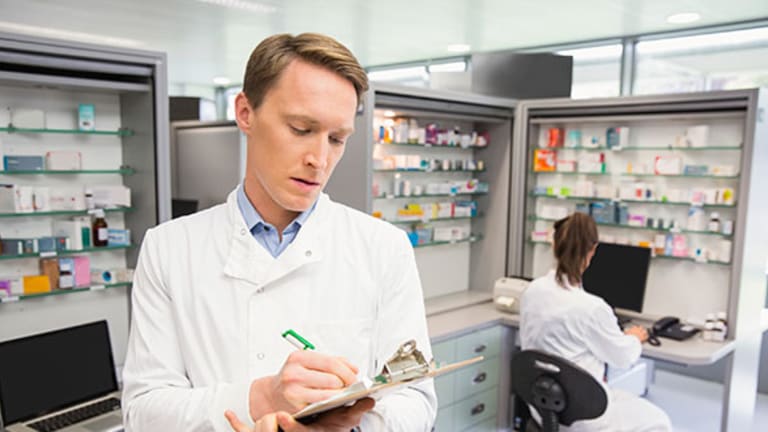 Pharmacy Benefit Managers Reap Rewards From Fed's Lack of Drug Company Regulations
This is particularly true for in-house benefit managers at companies like AET, HUM, UNH, ANTM and CI.
The federal government's hesitancy to regulate drug pricing is likely to be a boon for insurers with in-house pharmacy benefit managers (PBMs), which negotiate drug prices, according to analysts.
"Tepid D.C. drug pricing reform offers opportunity for integrated PBMs," analyst Ana Gupte of Leerink wrote in a note. "Optum Rx [UnitedHealth Group's PBM] has upside today, and Aetna (AET) and Humana (HUM) - Get Humana Inc. Report [are poised] for in-house PBM build-out."
Gupte wrote that there is little to no likelihood of direct drug pricing reform, but that the government could look to closed prescription drug formularies or alternative reimbursement plans to control prices. "We see this as a big opportunity for [managed care organizations] to prove their value and win in the marketplace through integrated medical and pharmacy benefits," Gupte wrote.
She added that because of this, she continues to view UnitedHealth Group (UNH) - Get UnitedHealth Group Incorporated (DE) Report  positively, and expects Aetna and Humana to do well in the long term, if they close their $37 billion deal, which is undergoing antitrust review by the Department of Justice.
These aren't the only companies that will be affected though.
"We expect Anthem (ANTM) - Get Anthem Inc. Report and Cigna (CI) - Get Cigna Corporation Report to continue building out PBM capabilities such as specialty pharmacy in-house while retaining control of their formularies," Gupte wrote. Anthem also is awaiting antitrust approval for its $44 billion acquisition of Cigna.
The upcoming election will also likely affect how well PBMs do in the coming months.
Federal regulation of drug prices has been a hot button issue in the 2016 election cycle. Donald Trump, Hillary Clinton and Bernie Sanders each have proposed lowering drug costs, but have provided little detail on how they plan to do so, analysts say.
"The devil's in the details," analyst Steven Halper of FBR Capital Markets said in an interview, noting that none of the three candidates have provided much information on how they will lower drug pricing.
He added that the candidates fail to consider what driving down drug prices will do to research and development efforts.
"If companies don't have the economic incentive to earn adequate return, they're not going to invest in these medicines," Halper said. "We get all the benefits, but nobody wants to pay for it. A lot of the international market lives off the backs of the U.S. market."
As it stands now, Halper said that in-house PBMs will likely continue to be strong in the coming months, even with the impending election. Because the market isn't regulated, PBMs are necessary to keep drug prices low.
"The PBMs have saved the federal government a ton of money," Halper said. "Why would they want to take that away?"
For now, according to Halper, the government will likely continue to work with these PBMs, especially because the pharmaceutical industry's lobbying efforts in Washington, D.C. remain strong.
"The best example I could use is in more regulated markets where government sets prices for drugs, there are no pharmacy benefit companies," Halper said. "What PBMs really do, they leverage volume and negotiate price discounts or rebates based on the volume."
UnitedHealth, which analysts tend to view most favorably, was trading at $137.87 midday Monday, up about $7 from two weeks ago.
Cigna was trading at $129.59 Monday, while Anthem was at $132.13. Aetna was trading at $121.48 and Humana was trading at $188.63.