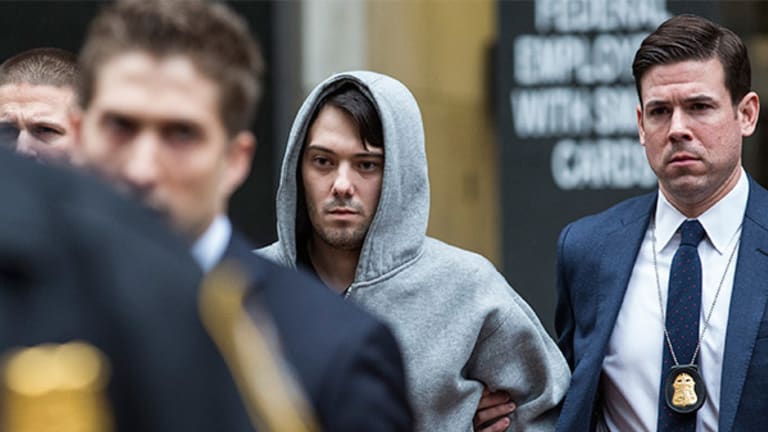 Pharma Has History of Price Gouging, Mylan Should Be No Surprise
While the public seized on Mylan's price increases for EpiPens, the story of a common drug industry practice - increasing prices ahead of generics entering the market - got lost.
While the public seized on Mylan's (MYL) accelerated price increases for its lead drug, EpiPen, which is used for patients with anaphylaxis, industry insiders noted that the practice of raising drug prices exponentially ahead of generics entering the market is common among biotechs.
"They're far from being the only ones doing it, they're just the one that got caught," analyst Ronny Gal of Bernstein said of Mylan, who has aised the price of EpiPen approximately 25% each year, as compared to the 10% raise the pharmaceutical industry averaged. 
Gal pointed to Humira, which is made by Abbvie (ABBV) as another example of huge price increases. The drug, which is used to treat psoriasis and Crohn's Disease, saw a 20% jump in prices over the past few months, and patients can pay up to $4,000 for two pens, although most pharmacies provide coupons so patients can get the drug for free.
The increase in price, according to Gal, is likely thanks to pending litigation Abbvie has against Coherus Bioscience, which is working on a generic of the drug. If the judge rules in Coherus' favor, a competitor could enter the market, which would then force prices down.
Valeant (VRX) , too, has faced criticism for its decisions to boost the prices of Isuprel, a blood pressure drug for which it increased prices from $215 to $1346 per vial, and Nitropress, another blood pressure medication, from $257 to $805.61 per vial.
Though these companies have faced public scrutiny for their pricing - and have emerged with their reputations tarnished - there are far more companies that engage in this practice with out the public noticing.
Take, for example, Pfizer (PFE) , which pumped up the price of Lipitor drastically ahead of a generic entering the market. Since generics entered, the drug company has reported price decreases - in the second quarter of 2016, Lipitor saw a 2% operational decline, according to Pfizer.
And other companies are boosting prices to this day. These include Jazz Pharmaceuticals (JAZZ) , which has increased the price of Xyrem, which is used to treat narcolepsy, around 800%.
The company recently reported a 14% increase in sales of the drug for the second quarter of 2016. No competitor to Xyrem exists.
And Eli Lilly (LLY) reported a nearly 300% price increase for Humulin, a form of insulin used to treat diabetes that can cost nearly $500 without a pharmacy-provided coupon.
Perhaps the most infamous is Martin Shkreli's Turing Pharmaceuticals, which bought the drug Daraprim, which is used to treat AIDS and was initially sold for $13.50 per pill, and boosted the price to $750 a pop. The drug had no competitor, which allowed Shkreli to increase the price so drastically.
The renewed hoopla surrounding drug prices comes after Mylan was outed for charging exorbitant fees for EpiPen. Patients reported paying up to $600 per two-pack of the autoinjector, although those that reported high prices often had high deductible insurance plans.
Thanks to all the public scrutiny, Mylan announced Thursday that it would increase the amount its discount coupon would offer - from $100 to $300, and would increase eligibility for its patient assistance program.
But, as has been done for years in the pharma industry, Mylan was likely looking to capitalize on one of its most popular drugs before generics hit the market. Teva Pharmaceuticals (TEVA) and Adamis Pharmaceuticals (ADMP) both have generic versions of the device in the pipeline, awaiting approval from the FDA, which will likely come in 2017. Some speculate, though, that the FDA could push for earlier approval so that competition enters the market sooner, driving the price down.
So why was Mylan called out when the practice seems to be industry wide?
Analysts synthesize that the EpiPen product is ubiquitous in our culture, and that more people than ever use the drug.
"What made Mylan susceptible is that the product is used by average people who have multiple EpiPens," Gal said. "I don't know if they got unlucky or if they should have known better."