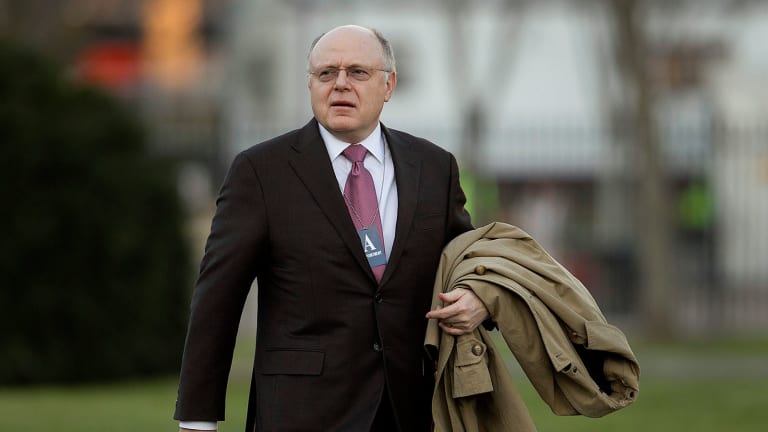 Pharma Execs Talk M&A, Drug Pricing Pressures on Earnings Calls
'I think everybody is looking at potential combinations and consolidations,' Pfizer CEO Ian Read said on an earnings call on Tuesday, Jan. 30.
The potential for a wave of mergers and acquisitions was among the key topics discussed on pharmaceutical companies' earnings calls this week.
"I think everybody is looking at potential combinations and consolidations," Pfizer Inc. (PFE) - Get Report chairman and CEO  Ian C. Read said on Tuesday, Jan. 30. "I can't tell you when it will start, but I believe there will be moments when there's a key detonator to initiation of further consolidation."
Read added, "We never say never to big deals, but we also say we think we have the capacity to do both the small deals and the big deal when the moment arises."
For his part, Merck & Co. (MRK) - Get Report chairman and CEO Kenneth Frazier reiterated Friday that his company is "actively engaged in looking for the best opportunities to enhance our pipeline."
Merck, he said, is looking at acquisitions, partnerships, collaborations and licensing.
Meanwhile, Eli Lilly & Co. (LLY) - Get Report chairman, president and CEO David A. Ricks said Wednesday his company has an "ambition to step up our game in [business development]."
"I think I've been pretty clear through the last year about our ambition in the Phase 1, Phase 2, so pre-proof-of-concept earlier clinical assets is the main target," Ricks said.  That's because it's an area where Eli Lilly is "relatively underrepresented and there's a lot more to go after at price points, which we think are attractive," Ricks said.
After President Trump signed the tax legislation into law in December, CFRA analyst Jeffrey Loo wrote in a note that he expected the healthcare industry to be among the most active in repatriating cash, perhaps second only to the technology sector. "Within the health care sector, we see the large pharmaceutical and biotech firms repatriating the vast majority of the cash," Loo wrote.
Repatriation will give pharmaceutical companies more financial flexibility to pursue some transactions, Loo told TheStreet Friday.
"The last two years have been relatively soft for M&A. I fully expect increased activity this year," he said.
Aside from capital projects, R&D, share buybacks and shareholder dividends, some of the big drugmakers revealed specific plans for their repatriated cash on the earnings calls. Merck, for example, said it made a contribution to the Merck Foundation, which supports nonprofits, in the fourth quarter and would give a bonus to eligible nonexecutive employees in the second quarter. Eli Lilly will use about $2 billion to reduce debt.
The continued pressure on drug pricing, meanwhile, also was among key topics at the earnings calls.
Enrique Conterno, president of Lilly Diabetes and Lilly USA, said, "We continue to see pressure on pricing across all of our diabetes products."
"When we look at our Q4 results, I think there was pressure from a rebating perspective on the insulin portfolios of both Humalog and Basaglar in particular," Conterno said. "But we are being extremely disciplined, and we like our overall prospects and the access that we basically have with all of our top brands. We believe that Trulicity, for example, is extremely well positioned for '18, and so is Jardiance."
Discussing Merck's diabetes business, Adam H. Schechter, president of global human health, said the Januvia franchise had global sales of nearly $6 billion for full-year 2017 and volume trends remained robust in most markets. "As I've discussed over the last several years, we face continued pricing pressure, particularly in the U.S., but we do maintain market-leading access," Schechter said.
Merck, of Kenilworth, N.J., reported fourth-quarter adjusted earnings per share of 98 cents, compared with 89 cents in the same period in 2016. Revenue increased 3% to $10.43 billion. Analysts, on average, expected adjusted EPS of 94 cents on revenue of $10.49 billion, according to Bloomberg.
New York's Pfizer reported fourth-quarter adjusted earnings per share of 62 cents, up 32% from the year-ago period. Revenue rose 1% year over year to $13.7 billion. Analysts projected adjusted EPS of 56 cents on revenue of $13.68 billion.
Indianapolis-based Eli Lilly had adjusted EPS of $1.14 in the fourth quarter, representing a 20% rise from the year-ago period. Revenue grew 7% to $6.16 billion. Analysts expected adjusted EPS of $1.07 on revenue of $5.93 billion.
On a day when the broader S&P 500 index fell 2.5%, Merck dropped 2.2% Friday to $58.56, Pfizer shares dipped 0.6% to $36.61 and Eli Lilly stock shed 1.5% to $81.18. Pfizer and Eli Lilly, however, respectively are up 16.5% and 7.7% over the past 12 months. Merck is down 5.2% over the same period.
Eli Lilly is a holding in Jim Cramer'sAction Alerts PLUS Charitable Trust Portfolio. Want to be alerted before Cramer and the AAP team buy or sell LLY? Learn more now.
More of What's Trending on TheStreet: