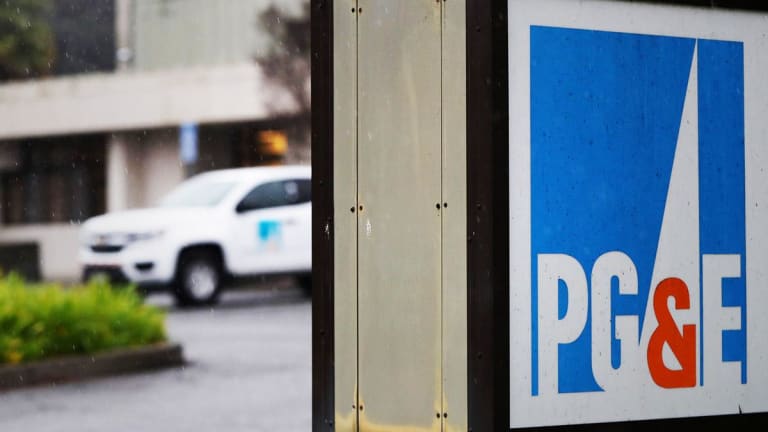 PG&E to Name Retiring TVA CEO Bill Johnson as New CEO - Report
The California energy company is facing as much as $30 billion in wildfire liabilities.
Shares of beleaguered California energy company PG&E (PGC) - Get Peapack-Gladstone Financial Corporation Report  were up 1.4% in trading following a Reuters report that said the company was expected to name retiring Tennessee Valley Authority CEO Bill Johnson as its new CEO. 
Johnson has been the CEO of the TVA since 2013. 
This development comes as the company is facing increased political scrutiny in the wake of the California wildfires that could end up bankrupting the company. 
California Gov. Gavin Newsom wrote a letter, viewed by Reuters, to PG&E last week expressing concern about the company's plans for the future.
Newsom said that he is "troubled to learn that PG&E is primed to reconstitute its board with hedge fund financiers, out-of-state executives and others with little or no experience in California and inadequate expertise in utility operations, regulation and safety."
Hedge fund Blue Mountain Capital Management has nominated a slate of 13 candidates for election to the company's board. PG&E is scheduled to hold its annual investor meeting on May 21. 
PG&E could be facing bankruptcy due to as much as $30 billion of liabilities from massive deadly wildfires that ravaged California in 2017 and 2018, killing dozens of peoples and destroying thousands of homes. 
Earlier this week, a U.S. judge ordered the company to stop paying shareholder dividends and instead use the money to fund its plan to cut down trees to reduce the risk of another wildfire in the state. 
How Much Money Will I Need to Retire?
Want to learn about retirement planning from some of the nation's top experts? Join TheStreet's Robert "Mr. Retirement" Powell live in New York on April 6 for our Retirement Strategies Symposium. For a limited time, tickets are available for $99 for this full-day event. Check out the agenda, learn about the speakers and sign up here.