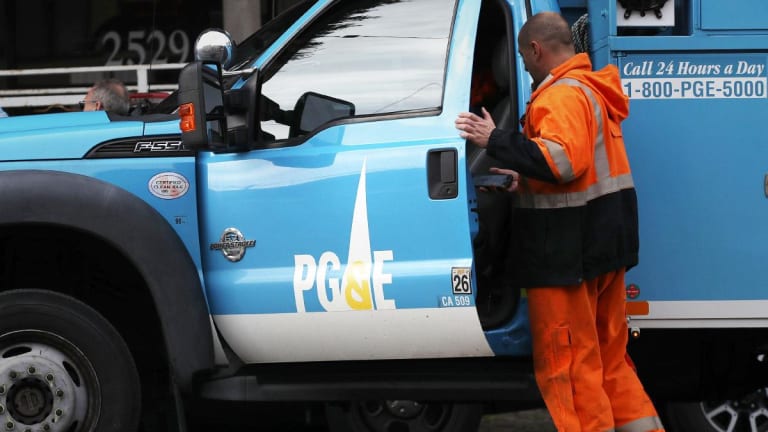 PG&E Slips as Second-Quarter Loss Widens, Adjusted Profit Beats
The utility company's loss reflects charges for estimated claims tied to California wildfires.
PG&E (PCG) reported a wider second-quarter net loss on 6.9% lower revenue, and shares of the utility company declined even as adjusted results beat analysts' estimates.
The stock was down 2.1% to $18.12.
The San Francisco company reported a loss of $4.83 a share, wider than a year-earlier loss of $1.91. Adjusted earnings were $1.10 a share vs. $1.16.
Revenue fell to $3.94 billion from $4.23 billion.
A survey of analysts by FactSet produced consensus estimates of adjusted profit of 99 cents a share on $4.43 billion of revenue.
The latest GAAP results reflect an after-tax charge of $3.1 billion, or $5.92 a share. That reflects mainly $3.9 billion before tax for estimated claims tied to the 2017 Northern California wildfires and the 2018 Camp Fire.
PG&E in January filed for protection from creditors under Chapter 11 of the bankruptcy laws because, authorities in the state have said, its equipment sparked the deadly wildfires.
The charge also includes the company's resolution of claims by local public entities and other matters.
Other special items in the quarter include costs for additional inspection as well as for cleanup and repair, and legal costs tied to the fires and to the reorganization in bankruptcy.
Because of uncertainty regarding the bankruptcy proceedings and potential legislative and regulatory changes, PG&E declined to estimate full-year 2019 GAAP or adjusted results of operations.
Shareholders at the annual meeting on June 21 voted in a new board, with 12 new directors and two continuing. William Johnson, former president and chief executive of the Tennessee Valley Authority, took over as PG&E's CEO.