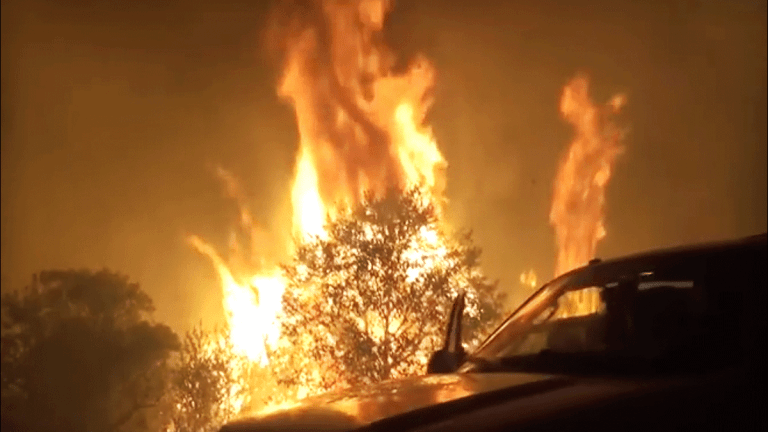 PG&E Shares Slump as California Wildfires Rage
PG&E shares are down more than 20% Friday as the Kincade fire burns two hours northwest of San Francisco.
Shares of the San Francisco utility company PG&E (PCG) - Get PG&E Corporation Report are down big as the Kincade wildfire rages about two hours northwest of the city. 
While the cause of the fire, which started late Wednesday, is still under investigation, PCG was found to be responsible for fires in 2017 and 2018. The company was forced to file for protection from creditors under the bankruptcy laws because of the potential liabilities.
The Kincade fire started Wednesday night and, fueled by winds gusting at more than 70 mph, has burned more than 16,000 acres of northern Sonoma County, the Los Angeles Times reported.
The community of Geyserville -- about 1,000 people -- and other parts of the Alexander Valley wine region were evacuated, and about 50 structures have burned, the paper reported.
The utility has been implementing rolling blackouts to minimize the prospect that its wires could disconnect, spark and prompt fires.
The blackouts in turn have caused damage to families and businesses because of everything from disconnected medical equipment to closed schools to missed customer opportunities to spoiled food in refrigerators.
PG&E on Thursday filed a report with the state public utility commission, saying it "became aware of a transmission level outage" on a 230,000-volt line in the area where the fire started around 9:20 p.m. Wednesday.
On Thursday morning, Cal Fire personnel showed a PG&E employee "what appeared to be a broken jumper" at the base of a transmission tower in the area, according to the filing.
PG&E shares are down 24% to $5.51 Friday. 
Save 57% during our Halloween Sale. Don't let this market haunt you; join Jim Cramer's Investment Club, Action Alerts PLUS. Click here to sign up!