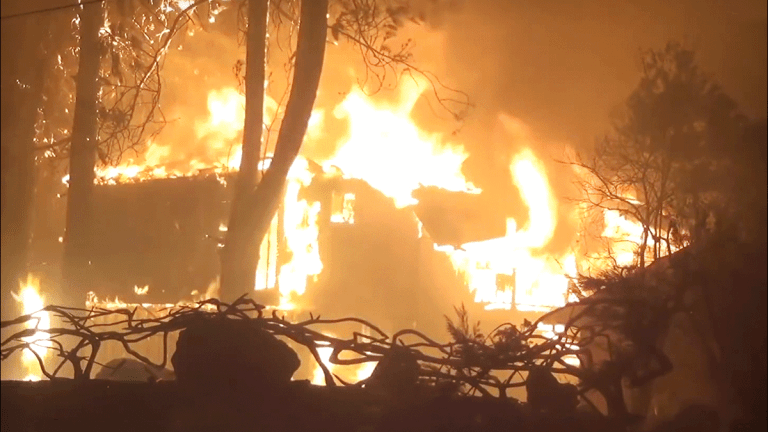 PG&E Corp. Cuts Power to Millions in California
A total of 940,000 residential and business customers across at least 38 counties are without electricity amid windstorm, says the utility.
Millions of Californians lost power over the weekend as the bankrupt utility company Pacific Gas & Electric Co. (PGC) - Get Free Report set off a massive planned blackout to help stave off further risk of fire.
The loss of power was spread across more than three dozen counties across the state, as 940,000 homes and business went without electricity, according to the utility.
The forced outages were "due to continued unsafe weather conditions," according to PG&E Corp.'s website. The utility did not immediately respond to a request for comment.
But the company said in a public statement that the shutoff is expected to hit customers in 38 counties that include Alameda, Alpine, Amador, Butte, Calaveras, Colusa, Contra Costa, El Dorado, Fresno, Glenn, Humboldt, Kern, Lake, Madera, Marin, Mariposa, Mendocino, Monterey, Napa, Nevada, Placer, Plumas, San Benito, San Joaquin, San Mateo, Santa Clara, Santa Cruz, Shasta, Sierra, Siskiyou, Solano, Sonoma, Stanislaus, Tehama, Trinity, Tuolumne, Yolo and Yuba. Portions of Fresno and Madera Counties, Mariposa County and Yosemite National Park could also be affected. A list of current shutoffs can be found here.
Threat of fire is "extreme" over parts of northern California from Sunday into Monday as gusty winds blow through the region, according to the National Weather Service, which said the "critical fire weather conditions" are expected to continue across the area into early in the week.
"Strong winds and extremely dry conditions will allow critical to extremely dangerous fire weather threats to linger in California, especially for parts of north-central and southern California," said the service on Sunday.
As the windy weather goes away, PG&E said on its website, its crews will start inspecting power lines, repairing damaged equipment and restoring power.
This story has been updated.
Save 57% during our Halloween Sale. Don't let this market haunt you and join Jim Cramer's Investment Club, Action Alerts PLUS. Click here to sign up!