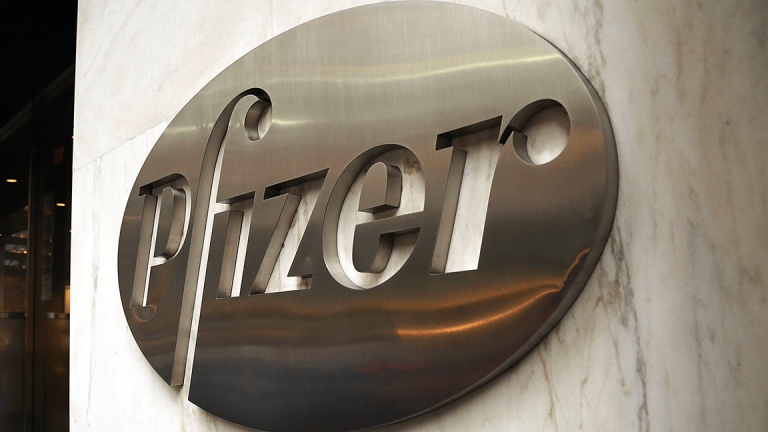 Pfizer to Exit Neuro Research, May Create Finance Arm
Alzheimer's and Parkinson's research takes a hit as the pharma giant opts to end proprietary research in the sector. Talk at an industry conference has the drugmaker considering the creation of a finance arm and potentially spinning off its consumer health business.
Pfizer Inc. (PFE) - Get Report has decided to exit the neuroscience research business, putting 300 employees on the street while at the same time considering how it wants to invest in the sector.
The company late on Sunday, Jan. 7, said it is walking away from its work on Alzheimer's and Parkinson's disease but will continue to support its project with Eli Lilly and Co. (LLY) - Get Report regarding tanezumab, a monoclonal antibody that inhibits nerve growth factor and is used for pain treatment. The company also will support Lyrica, used to treat pain and seizures.
The decision to exit the neuroscience business came after an internal review by the company. It said that the move will allow the company to redeploy resources. Employees from offices in Massachusetts and Connecticut will be affected by the cutback.
Pfizer shares on Monday afternoon were down 1.1% to $36.47.
Neuroscience has been a difficult sector for many companies besides Pfizer, especially Parkinson's, which has not seen much progress in better than a decade.
Talk at the JPMorgan Healthcare Conference in San Francisco on Monday is that Pfizer is considering the creation of a finance arm that could take on a venture structure. The company likely will reveal more details later this year.
It is also being said the company may be shopping for an opportunity to spin off its consumer health business, which generated $3.4 billion in revenue in 2016.
In a presentation at the conference, the company said it is dedicated to doing research at the same level regardless of its exit from neuroscience. Last year, Pfizer spent almost $8 billion on research and development.
Pfizer on Monday demonstrated its commitment to maintaining a robust R&D program by announcing a partnership with the University of Oxford, the University of Cambridge and the University of Texas Southwestern in the Innovative Target Exploration Network. The program is designed to bring Pfizer researchers and resources together with academics doing cutting-edge research.
More of What's Trending on TheStreet: