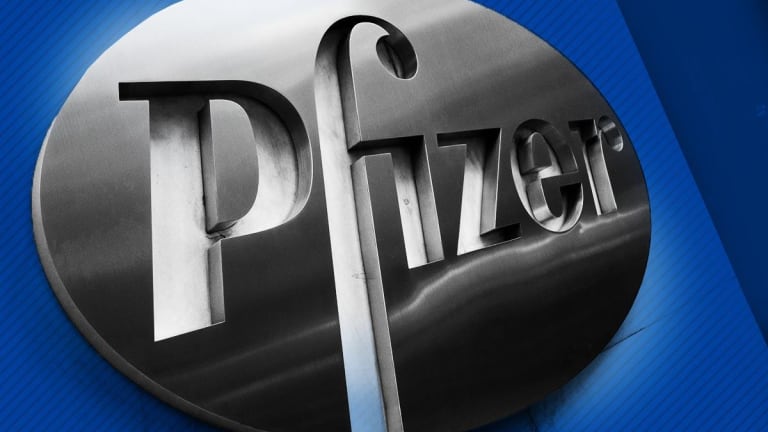 Pfizer to Combine Off-Patent Drug Division With Mylan
Mylan and Pfizer agreed to combine their off-patent drug businesses in an all-stock deal that will create a new company based in the United States.
Mylan NV (MYL)  and Pfizer Inc. (PFE) agreed to combine their off-patent drug businesses in an all-stock deal that will create a new company based in the United States.
Pfizer will combine its Upjohn division, which includes key products such as Lipitor and Viagra, with Mylan's, with Pfizer owning 57% of the combined entity. Michael Goettler will serve as CEO of the newly-created group -- which will be named and branded at the close of the transaction -- with Robert Coury acting as chairman.  
Each Mylan share will be converted into a share of the new company, Mylan and Pfizer said, in what is known as a Reverse Morris Trust transaction, a structure that will eliminate the need for Pfizer to pay capital gains on the spin-off of Upjohn.
"We are creating a new champion for global health-one poised to bring world-class medicines to patients across a wide range of therapeutic areas. I believe that Mylan's unique profile and strategy has made it the obvious partner of choice in creating this powerful combination," said Pfizer CEO Albert Bourla.
"By bringing Mylan's growth assets to Upjohn's growth markets, we will create a financially strong company with true global reach. I'm also excited about the management team, which combines strong executive talent from both companies, whose commitment to improving global health for patients and to delivering returns to shareholders are great assets for the new company."
Mylan shares were marked 12.57% higher Monday to change hands at $220.75 each, a move that would still leave the stock nursing a 20% year-to-date decline. Pfizer shares, meanwhile, were seen 1% lower at $42.65 each with a market value of around $237.1 billion.
Pfizer also published its second quarter earnings one day before they were scheduled for release, with the group reporting a stronger-than-expected adjusted bottom line of 80 cents per share, 5 cents ahead of the Street consensus forecast.
Group revenues, Pfizer said, rose 2% to $13.3 billion and forecast full-year sales in the region of $50.5 billion to $52.5 billion.
Mylan released its own second quarter earnings Monday, as well, reporting a loss of 33 cents per share on a GAAP basis, but said on on adjusted basis profits came in at a stonger-than-expected $1.03 per share.
Group revenues, Mylan said, rose 2% to $2.851 billion, and the company reaffirmed its guidance for full-year sales in the region of $11.5 billion to $12.5 billion.
"Mylan's second quarter performance was strong as we delivered or exceeded on expectations across all financial metrics," said CEO Heather Bresch, who announced her retirement. "In addition, based upon our strong execution against our plan, we remain on track to deliver on our 2019 guidance."
Earlier this year, Pfizer agreed to acquire Array Biopharma (ARRY) in an all-cash deal that values the cancer drug specialist at around $11.4 billion as it moves towards innovative medicines under new CEO Bourla, who previously led Pfizer's Innovative Health Business, amid plans to reorganize its business into three separate units.