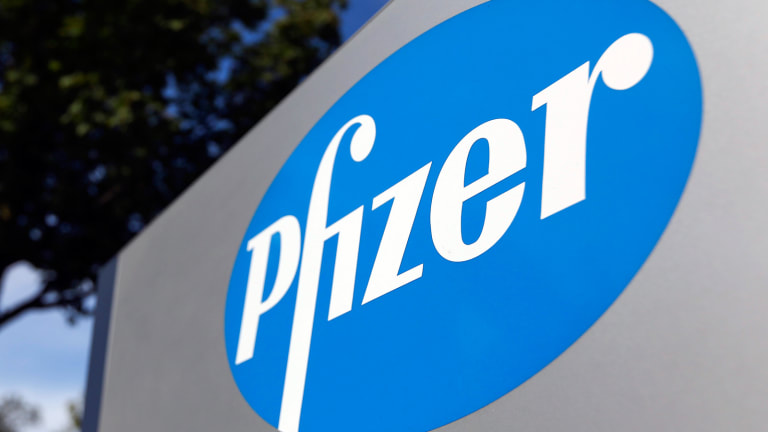 Pfizer Soft Earnings the Latest Reason to Avoid Big Pharma Stocks
The Big Pharma kingpin lowered its expectations for the full year and announced that it would stop development of a new cholesterol drug.
Tuesday wasn't kind to Pfizer (PFE) - Get Pfizer Inc. Report and its stock, with shares in the Big Pharma giant plummeting 2.05% following downbeat earnings for the third quarter. In addition, the company lowered its full-year guidance.
To add to these woes, Pfizer has revealed that it is giving up on a drug that was already in Phase 3 trials and that could have been promising.
All these factors combined to frustrate investors, who headed for the exits yesterday. Pfizer shares sank nearly two percentage points in Tuesday trading. Moreover, despite the recent lowering of its share price, investors should stay away from Pfizer and many other Big Pharma stocks.
On Tuesday, Pfizer announced that it had recorded a profit of $1.32 billion, or 21 cents per share, for the third quarter. However, for the same quarter last year, profit had been $2.13 billion, or 34 cents a share.
Even more frustrating to its investors was Pfizer's downward revision of full-year adjusted earnings, now forecast at $2.38 to $2.43 per share, a 5-cent reduction for the high end of that range.
Pfizer also announced that it is canceling its attempt to return to the cholesterol treatment market, which is worth many billions of dollars. Pfizer once dominated this market with statin drug Lipitor, which was once the world's best-selling drug. But the company lost its patent protection in 2011, and low-priced, generic versions of the treatment took over.
Bococizumab, Pfizer's new cholesterol drug, which injects cholesterol-lowering proteins into a patient's body, was already in FDA Phase 3 testing. However, Pfizer's CEO Ian Read announced that the company was going to halt the drug's development because of "safety issues," as well as the treatment's tendency to lose its efficacy over time.
This may have been an okay call at one time. Wall Street once placed a price tag of $20 billion on the injectable protein market. But sales in this category have been sluggish. Competing drugs Repatha (made by Amgen) and Praluent (the product of a partnership between Sanofi and Regeneron Pharmaceuticals) are selling at an annual rate of only $312 million, according to RBC Capital Markets.
Parts of Big Pharma are becoming an increasingly risky, unprofitable market for investors. Pricing scandals (including Mylan's up-pricing of its EpiPen) have drawn increasing government scrutiny, as well as public and investor ire.
In addition, growing competition from generics has put yet more pressure on the industry. Year to date, the Nasdaq Biotechnology Index is down by more than 23%.
This isn't a good time to be getting into Big Pharma plays. Instead of the big boys, take a look at some hot little stocks that are set to rocket, particularly those dealing with cannabis-derived treatments.
In just three years, GW Pharmaceuticals, which makes treatments for conditions such as severe pediatric epilepsy and multiple sclerosis, saw its stock shoot up by an incredible 1,500%.
---
A blistering financial storm is about to hit our shores. When it hits, weak companies-and their investors will be washed away. You need to put yourself on solid ground. And that doesn't just mean changing your investment allocations or loading up on cash. I'll show you how to protect yourself and prosper when you click here.
The author is an independent contributor who at the time of publication owned none of the stocks mentioned.