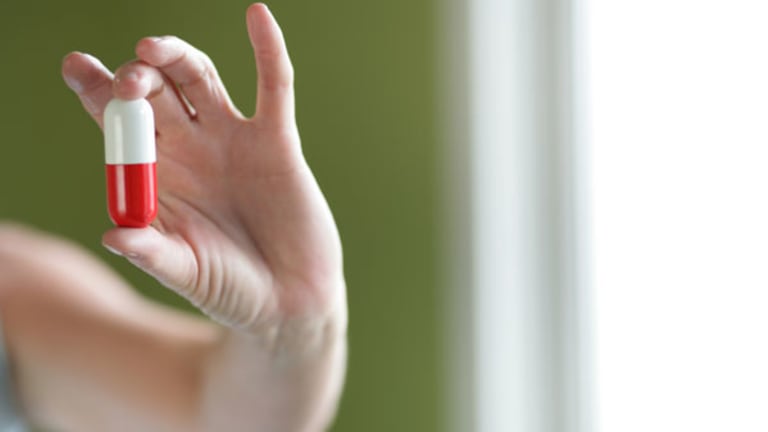 Pfizer Narrows Full-Year Forecast
On an adjusted basis, the company earns 62 cents a share in the latest quarter. Revenue edges down to $11.97 billion from $11.99 billion.
Pfizer
(PFE) - Get Free Report
reported a better-than-expected quarterly profit on Tuesday, but the drugmaker lowered the upper end of its earnings guidance for the year as it continues to work on its cost-cutting initiatives.
The New York-based company said it earned $2.28 billion, or 34 cents a share, in the third quarter, up from $761 million, or 11 cents a share, in the year-ago quarter. The prior year includes a charge of $2.1 billion related to Pfizer's decision to drop the inhaled insulin product Exubera.
The recent quarter had a $640 million charge for costs to resolve litigation surrounding its
.
On an adjusted basis, the company earned 62 cents a share in the latest quarter. Revenue edged down to $11.97 billion from $11.99 billion a year ago. Analysts surveyed by Thomson Financial had predicted a profit of 60 cents a share on $12.01 billion in revenue.
U.S. revenue decreased 15% to $4.9 billion, while international revenue increased 13% to $7.1 billion. Favorable foreign-exchange translations boosted third-quarter sales by $620 million. However, the loss of U.S. patent exclusivity for Zyrtec and Camptosar deducted $549 million from Pfizer's revenue.
Pharmaceutical sales decreased 1% year over year to $11 billion. Sales of the cholesterol drug Lipitor decreased 13% in the U.S., and 1% worldwide, to $3.1 billion.
Meanwhile, sales of the pain drug Lyrica rose 40% in the U.S. to $379 million, and 45% globally to $675 million. Revenue from arthritis drug Celebrex increased 8% to $625 million, including a 4% increase in the U.S. Sutent revenue rose 49% to $226 million.
Sales of the smoking-cessation drug
Chantix
decreased 24% to $182 million. In the U.S., sales were down 49%. Pfizer said its U.S. results continue to be hurt by changes to the drug's label.
Increased competition, patent expirations and a thinning pipeline have hung over Pfizer -- which faces patent expiration on its highest earner, Lipitor, in 2011 -- and its peers for some time. The company said earlier this quarter that it met its near-term goals for beefing up its late-stage
and will focus on its eight cancer programs and other "high-potential" areas.
"We remain on track to meet our 2008 objectives, despite the turbulent global economy," said Chairman and CEO Jeff Kindler, in a press release Tuesday.
Adjusted total costs for the quarter, not including the effect of foreign exchange, decreased by $460 million, or 6%, year over year. The company said it reduced its workforce by 3,600 employees during the quarter.
Pfizer said it believes it will exceed its goal to cut total adjusted costs by between $1.5 billion and $2 billion by the end of the year.
"These initiatives span essentially all divisions, functions, markets and sites, and reflect a workforce reduction of 14,600 since the target was established in January 2007," the company said in the press release.
For the full year, Pfizer narrowed its revenue guidance to a range of $48 billion to $49 billion, from $47 billion to $49 billion previously. The company also altered its forecast for adjusted earnings to a range of $2.36 to $2.41 a share, from $2.35 to $2.45.
Watch for earnings from Pfizer's peers,
Merck
(MRK) - Get Free Report
and
GlaxoSmithKline
(GSK) - Get Free Report
on Wednesday and
Eli Lilly
(LLY) - Get Free Report
on Thursday.
Pfizer, part of the
Dow Jones Industrial Average
, reported its results the same day as fellow components
(DD) - Get Free Report
,
Caterpillar
(CAT) - Get Free Report
and
(MMM) - Get Free Report
.
Shares of Pfizer were up 1.8% to $17.65.