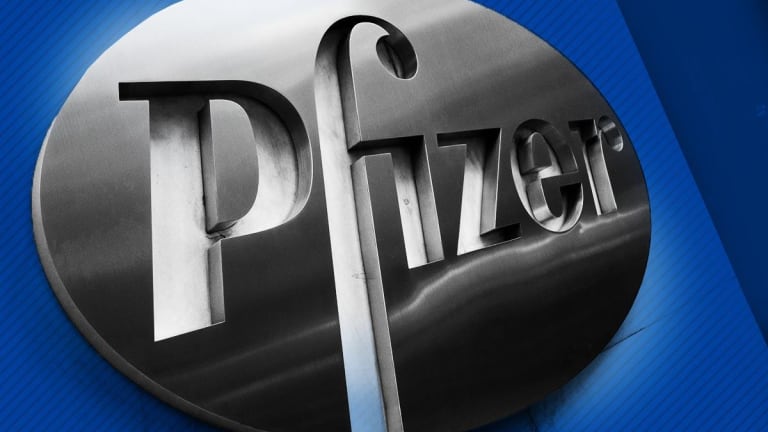 Pfizer's Long-Term Outlook Is Murky, Says UBS on Lowering Price Target
UBS lowers its price target on Pfizer to $37 a share and maintains its neutral rating on the stock.
Pfizer's (PFE) near-term outlook is positive as evidenced by its recent earnings beat, but longer-term the company's picture becomes murky, says UBS, leading the firm to lower the stock's price target in a note Thursday. 
The firm lowered its price target to $37 a share from $43 per share while maintaining its neutral rating on the stock. 
Pfizer shares fell 0.44% to $37.09 in trading Thursday.
UBS is bullish on Pfizer's Vyndaqel launch, the lone FDA-approved treatment for heart problems caused by transthyretin-mediated amyloidosis. Analyst Navin Jacob, however, believes that Wall Street has a good handle on the drug's benefits and already has priced it in. 
"PFE RemainCo has one of the best growth profiles in pharma with a 2020-2025 revenue and EPS compound annual growth rate of 6% and 13%, respectively. But our concern is on the more than $20B small molecule patent cliff (~43% of RemainCo Revs in '25)," Jacob wrote. "We estimate pipeline will offset ~50% of this cliff. Thus, we are not sure RemainCo multiple can rerate as management hopes until multiple pipeline assets readout positively or more deals are completed."
Pfizer announced in July that it will spin off its off-patent branded drugs business and combine it with generic drug maker Mylan  (MYL) .
Pfizer reported stronger-than-expected earnings in late October while also raising its full-year profit guidance.
Pfizer said adjusted earnings for the three months ended in September came in at 75 cents a share, down 3.8% from the same period last year and firmly ahead of the Wall Street consensus forecast of 62 cents. Revenue slipped 5% to $12.68 billion but again topped analysts' forecasts of a $12.46 billion tally.