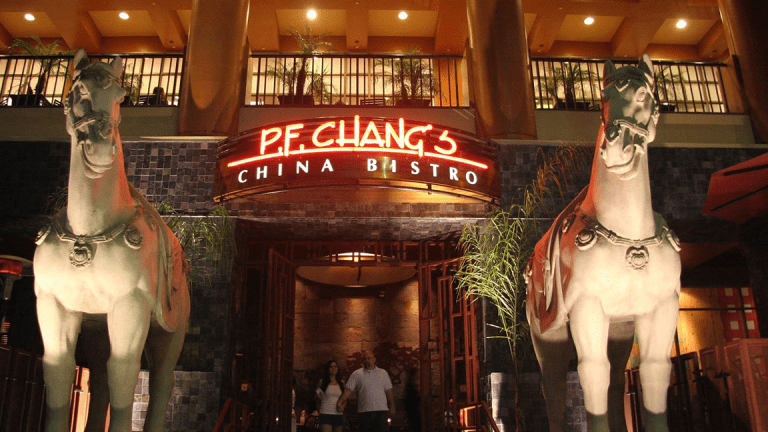 Arby's Buying Buffalo Wild Wings Won't Be Last Restaurant Deal: P.F. Chang's CEO
Deals like Arby's buying Buffalo Wild Wings won't be the last in the casual dining space, says P.F. Chang's CEO Michael Osanloo.
Challenging traffic trends that have long weighed on casual dining sales and the industry's stock prices might be creating a buying opportunity for institutional investors. 
That's according to P.F. Chang's CEO Michael Osanloo. 
"If I were to be an investor right now, I think casual dining is an excellent place to put your money," Osanloo told TheStreet when asked if more Arby's for Buffalo Wild Wings (BWLD) deals were lurking in 2018. Oslanloo thinks an improving economy, combined with the sector's currently low valuations, are two factors that may fuel further deals.  
P.F. Chang's has been a private company since PE shop Centerbridge Partners bought it out for $1.1 billion in 2012. But, that ownership could change in the not too distant future as Centerbridge looks to cash in on hot stock markets.
"I am really agnostic, I am perfectly aligned with my owners -- what we want to do is to have an exit that's in the best interest of all shareholders," Osanloo said. "I think we have a very compelling IPO story, but I feel we would benefit from another 18 months or two years under private ownership to continue to fine tune the business."
The restaurant chain now has more than 300 locations worldwide. 
TheStreet's founder Jim Cramer lit up the mic at The Deal Economy conference with his Top 12 Takeover Targets for 2018.
More of What's Trending on TheStreet: