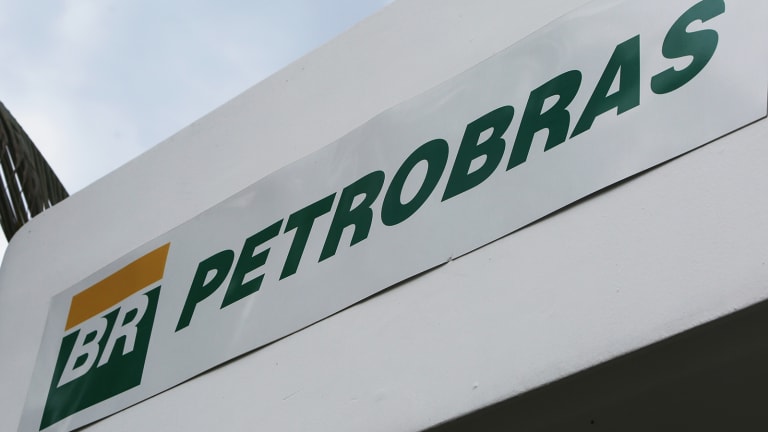 NEW YORK (TheStreet) -- Much of the discussion around scandal-wracked Brazilian oil giant Petrobras (PBR) - Get Petroleo Brasileiro SA Sponsored ADR Report involves its $135 billion debt load, but the highly volatile stock has attracted a fervent following among day-traders, much like Fannie Mae (FNMA) , Freddie Mac (FMCC) or Herballife (HLF) - Get Herbalife Nutrition Ltd. Report.
The Fannie and Freddie analogy is particularly apt because, like those companies, Brazil's government is deeply involved with management decisions, meaning policy goals often come ahead of shareholder interests.
The special twist of the Petrobras saga is the company been forced to delay the release of financial statements amid a corruption investigation, called Operation Lava Jato (Car Wash), that has implicated government officials and former high-level Petrobras executives.
The U.S.-listed shares have lost some 70% over the past six months, pummeled by the corruption scandal as well as the plunge in energy prices. Shares are currently down over 4% to around $5.
New CEO Aldemir Bendine, brought in last month from the top post at Banco do Brasil, hasn't inspired much confidence among investors. A survey of 160 investors published Tuesday by Credit Suisse found 54% had a negative view of Petrobras' new management, while just 17% had a positive opinion. 
"It's more cronyism," said Morningstar analyst Allen Good, comparing Bendine's leadership to that of his predecessor at Petrobras, Maria das Graças Silva Foster. Silva Foster resigned last month along with five other senior executives.
Good is one of four analysts listed by Bloomberg as recommending Petrobras shares to investors. Four others have a sell rating while the rest have the equivalent of a hold or market perform rating.
"I think a lot of the pressure on the equity is really more around the uncertainty regarding the corruption scandal than anything to do with the fundamentals of the company," Good says.
For traders moving in and out of the stock, that uncertainty appears to have created opportunity. In February 2014, U.S.-listed Petrobras shares' highest trading volume day was about 34 million. In February of this year it was more than 75 million, with no day less than 30 million. Overall share volume has roughly doubled from a year ago, as has short interest, according to Nasdaq data.
"Any time you see a stock fall as sharply as this one has done you're going to get bottom fishers," said one analyst. He says he gets few calls on the stock, which he believes is because he is not based in Brazil. He thinks most of the investors who follow the stock are Brazilian. In the Credit Suisse survey, 68% of the investors were based in Brazil, as are the analysts who conducted it.
"A value investor won't touch the stock because you look at the chart and it's straight down," the analyst says.
Still, there is a case to be made for the stock.
Because of government price controls for fuel, Petrobras' refining business is profitable despite the global drop in oil prices, Morningstar's Good says. He believes debt levels, while high, can be managed through spending cuts and asset sales.
Indeed, because Petrobras is a net importer, it benefits from the global price decline, getting $80-$85 per barrel for oil that sells on international markets for $45-$50, according to a Fitch Ratings report.
Another analyst who spoke on the condition of anonymity is more negative on the stock, however. He believes Petrobras will need to issue $30 billion worth of shares to bring debt levels to a manageable level, causing severe dilution for the stock. Still another who did not want to be named said he could not recommend the shares until Petrobras has released audited financial statements. 
Petrobras has until May 1 to release audited financials or risk starting a process that could push it into default on its bonds. Aurelius Capital, a hedge fund that has a history of battling companies over debt payments, has already written to other Petrobras creditors asking them to formally declare Petrobras in default. If enough bondholders agree, Petrobras could be forced to accelerate payments to bondholders.
This deadline is currently the biggest issue for debtholders, says Fitch analyst Lucas Aristizabal.
One thing that seems fairly certain is that Petrobras' dividend to common stockholders will be cut significantly, if not done away with entirely. Petrobras paid a $2.6 billion dividend in 2013, but the size of the dividend paid out in 2014 has not been disclosed, according to Aristizabal.
None of the four analysts interviewed for this article saw much likelihood Petrobras would maintain its dividend, and 87% of the investors in the Credit Suisse survey expect no common share dividend whatsoever for 2015.