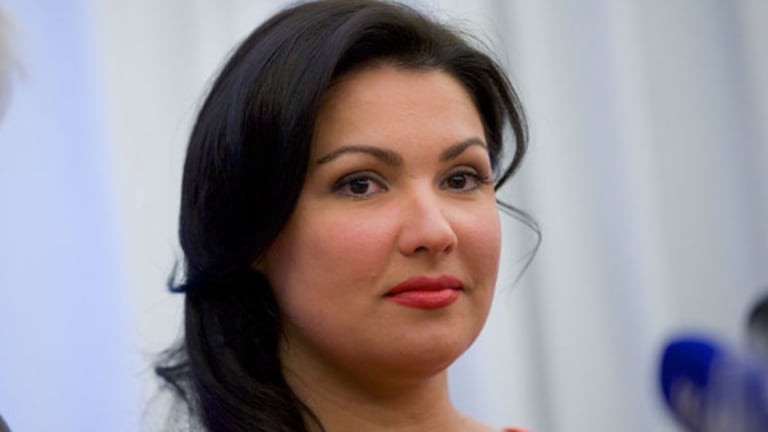 Petition Pits Opera World Against Putin Over Gay Rights
A U.S. composer has started a petition he hopes will push back against Russian President Vladimir Putin's anti-gay policies.
A U.S. composer has started a petition he hopes will push back against Russian President Vladimir Putin's anti-gay policies.
NEW YORK (
) -- Russian President Vladimir Putin's recent spate of anti-gay laws and policies has angered many throughout the world and created awkward work environments in theaters through Europe and here in New York City. One U.S. composer is trying to draw some attention to the situation.
On Sept. 23, the Metropolitan Opera will premiere a new production of 19th century
Eugene Onegin
, by a Russian who also happens to be one of the most famous homosexual composers in history, Peter Ilyitch Tchaikovsky.
Conducting that performance from the Met's orchestra pit and starring in it onstage will be two Russians, both Putin supporters and stars of the classical world: Valery Gergiev and soprano Anna Netrebko. Neither of them has spoken publicly on the issue of Putin's gay crackdown, despite the fact that they work elbow to elbow with openly gay people from many different countries, on stages all over the world.
U.S. composer and retired professor Andrew Rudin, in a phone interview, notes that Tchaikovsky suffered from the repressive attitudes of 19th century Russia. An acknowledgement of that struggle, and the fight for gay rights generally, is necessary as the Met uses this work and these Russian musicians in its season opener, Rudin said. Anything less dishonors Tchaikovsky's memory and the struggles for gay rights around the globe.
"They are about to present a work ironically of the most famous homosexual in all of music," Rudin said. "The Metropolitan Opera is pretending none of this is happening. So far their attitude is to not say anything. To pretend this is all going to blow over."
Rudin has
established an online petition
calling on the Met to dedicate the opening gala to support the LGBT community. The petition is not yet two days old and has over 200 signatures.
"And they're coming in from all over," Rudin said. "From Australia, Thailand, Arkansas -- it's really pretty amazing how these things splay out from a Facebook post."
Netrebko and Gergiev are caught in an awful position, Rudin says.
"Here's the curious dilemma," he said. "You can easily find pictures of Gergiev of posing with Putin and Netrebko hugging Putin. It bolsters Putin's reputation to be seen with them and it helps them and helps their careers."
In February, both stars performed at the opening of the
, a new $700 million opera house in Russia. Gergiev, director of the Marinsky Theater, said in a statement online that with the new additional theater "it will be possible to stage the most contemporary works and innovative productions, productions of which we could not even have dreamed before." Putin was in the audience at the opening for that theater. It is safe to assume it could not have been built without his support.
Rudin calls Gergiev and Netrebko's support for Putin "a devil's bargain."
"A couple years ago they began to champion him and speak in favor of his government," Rudin said. But in recent months, Putin has spearheaded new laws that allow the detention of tourists and citizens thought to be gay or seen to be promoting gay rights.
"I can't imagine they thought this
crackdown would come about. They work constantly with gay people," Rudin said. "And yet now,
as a result of Putin's policies to even speak in support of gay people is to risk fine and even detention. So now they're in a terrible bind," he said of Gergiev and Netrebko.
To speak out on the issue risks arrest and possible ramifications for the stars' careers in their home country. To not speak out risks alienating the broader opera industry, which is global by nature. Performers hail from all over the world and the typical career lands them on stages in Europe, Russia, Japan and South America as a matter of course.
Part of the goal of the petition is to bring the issue to light and to show not only the Met but also the Russian stars that this issue has global significance and is more important than their home-country political ties or career concerns.
"We need to know where you stand on these things, you're in our country now," he said.
Rudin is
, a resident of Allentown, N.J., and a former faculty member at Juilliard School's graduate program in New York and of the University for the Arts in Philadelphia, retiring in 2001. He is also a longtime subscriber to the operatic seasons at the Met and remembers taking busloads of students to landmark performances.
"Going to the Met may seem an elitist activity that most people wouldn't care about," Rudin says. But the actual audience is generally "far more diverse than you find at a hockey game," with "every known kind of individual" including every type of ethnicity, every type of economic class, every type of occupation.
But Rudin believes it isn't a love of opera but the identification with gay rights that has created the greatest support for his position.
"People will tell me, 'oh, I have people in my family who are gay' or 'I have a student'," Rudin says. "It's something that matters personally. I have found out that many of my former students think highly of me because in their world I was one of the first out gay professors that they knew.
"That's why the
gay rights movement has triumphed as it has," Rudin adds, "because it is hard to bring Draconian measures against people that you know. You have to have a really dictatorial government to bring about what Putin is doing here. It's kind of amazing."
While the pressure on Netrebko, Gergiev and the Met is significant, the greatest pressure on Putin himself will likely come not from the arts world but from the Olympics athletes. Russia is scheduled to host the Winter Olympic games in 2014. Should athletes or visitors be concerned about the possibility of arrest in Russia, they may decide not to risk it. A movement for the U.S. to boycott those games is already under way.
But for a composer like Rudin, the great mystery is how Putin could enact policies that "denigrate one of their own great cultural heroes."
"Tchaikovsky's own personal difficulties are undoubtedly reflected in the music that he wrote," Rudin said. "We're indebted to him that he converted that difficulty to something that people can universally relate to."
Observing the global trend toward equal rights in South America, the U.S., Britain and France, Rudin said the repressive policies of Putin's Russia seem "Stalin-esque" by comparison.
"One would like to think that things have altered and changed with the demise of the Soviet system," he added. "But it looks like Putin wants to bring that back."
-- Written by Carlton Wilkinson in New York.