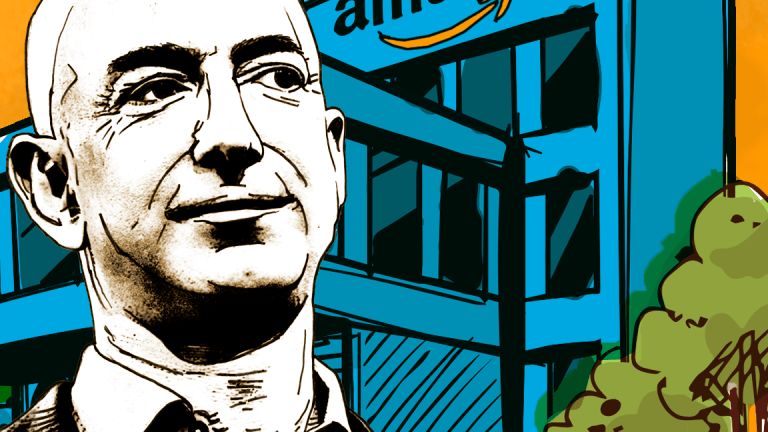 Consumers have begun pressuring tech companies to drop the National Rifle Association's streaming TV channel from their platforms after the recent school shooting in Florida, but the decision raises some thorny issues for the firms involved.
Last week, hashtags such as #NRAmazon and #BoycottNRA went viral on social media as users called for Amazon (AMZN) - Get Amazon.com, Inc. Report ,  Google's Alphabet (GOOGL) - Get Alphabet Inc. Class A Report , Apple (AAPL) - Get Apple Inc. (AAPL) Report , Roku (ROKU) - Get Roku, Inc. Class A Report and others to remove NRA TV content from their streaming platforms. NRA TV broadcasts 24 hours a day, showing interviews and commentary surrounding gun advocacy and politics. As of Monday, Feb. 26, a Change.org petition asking Jeff Bezos to remove NRA TV from Amazon Prime has garnered over 168,000 signatures since it was started four days ago.
Some customers were even saying they would cancel their Amazon Prime memberships in response to the continued presence of NRA TV on Amazon Prime.
Tech giants such as Amazon are now grappling with a difficult choice, said Greg Portell, lead partner at A.T. Kearney. They must choose whether to take a decisive political stand in what some may consider the censorship of content, and, if they do, "where to draw the line in the future."
Some non-tech companies have already discontinued discount programs with the NRA, including United Continental Holdings Inc. (UAL) - Get United Airlines Holdings, Inc. Report and Delta Air Lines Inc. (DAL) - Get Delta Air Lines, Inc. Report . On Saturday, the NRA responded to the changes, calling them "a shameful display of political and civic cowardice."
But Portell said that unlike taking away discount programs, removing content is "a very nuanced choice beyond a simple economic equation," which raises the question of how active brands should be with respect to charged political issues.
"This is very new ground for tech companies, which are built on open access to technology and platforms," Portell said.
While smaller companies that only stream digital content might have an incentive to bend to consumers in a case like this, IHS Markit analyst Jonathan Broughton said that Amazon is "more of an ecosystem" in that it offers so many different services, from streaming to photo storage to retail.
"Amazon can be a little more resilient," Broughton said.
Amazon, Apple and Alphabet did not respond immediately to requests for comments for this story. 
For its part, on Monday, Roku said that content wouldn't be removed unless it violates their policies, inviting gun control advocate organizations such as Everytown for Gun Safety to voice their opinions on its platform as well. 
"We are not promoting or being paid to distribute NRA TV," the company said in a statement. "We do not and have not ever had a commercial relationship with the NRA ... We welcome Moms Demand Action and other important groups to use our platform to share their messages too."
If a company does decide to take a political stand by taking down NRA content, then it would not likely be a one-off decision, Portell said.
"It does very little for the company just to take the content off the air," Portell said. "If a company is going to make the decision, it would behoove them to have a larger voice in the conversation [in the future]."
But if they don't, it will become time for unhappy consumers to make a choice, he said.
"There's a lot of convenience and preference that drives consumers to use brands at this point," Portell said. "Will people add inconvenience and friction to their lives due to this particular issue? Maybe yes, maybe no." 
On Monday afternoon, shares of Roku were down 2.0% to $40.70. Amazon's shares increased 1.3% to $1,519.17, Apple shares rose 1.7% to $178.54 and Alphabet was up 0.5% to $1,133.68.
Amazon, Apple and Alphabet are holdings in Jim Cramer'sAction Alerts PLUS Charitable Trust Portfolio. Want to be alerted before Cramer buys or sells AMZN,AAPL or GOOGL? Learn more now.