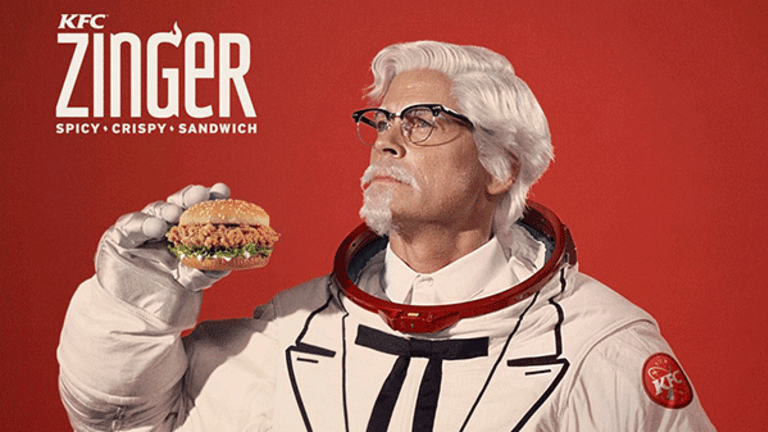 Publish date:
PETA Rips Rob Lowe and KFC: 'He Sold His Soul to Hawk Rotting Carcasses of Small, Tortured Birds
KFC is in some hot water.
KFC is in some hot water.
Never at a loss for words, animal advocacy group PETA came out with harsh words for Rob Lowe for accepting the role of KFC's Colonel Sanders.
"Rob Lowe just sold his soul to hawk the rotting carcasses of small, tortured birds. He's lost all his animal-friendly fans, who are disgusted by KFC suppliers that pollute rivers and bays with tons of chicken waste, break birds' wings and legs, and even scald them to death in defeathering tanks," PETA spokeswoman Moira Colley said in an email to TheStreet.
"Lowe should donate his fee to a chicken sanctuary, ask the public's forgiveness, and then bail on this lame deal," Colley added.
Best known for his parts St. Elmo's Fire, The West Wing, and Parks and Recreation, Lowe was brought on in time for the launch of the Yum! Brands (YUM) - Get Yum! Brands, Inc. (YUM) Report owned chain's Zinger spicy chicken sandwich.
"My grandfather was the head of the Ohio chapter of the National Restaurant Association in the 1960s and took me to meet Colonel Harland Sanders when I was a kid," Lowe said in a statement last week. "It was a big deal. I thought this would be a nice homage to both Colonel Sanders and to my grandfather."
But, even without Lowe KFC is still likely to crush it in terms of sales much to the dismay of PETA.
"The reality is that our operations have never been stronger, our taste scores and overall satisfaction scores are at the highest levels they have been in a long, long time," KFC U.S. president and Chief Concept Officer Kevin Hochman told TheStreet in an interview. Hochman explained KFC has spent 100,000 hours re-training store cooks and other employees in the "Colonel's values", such as how to better use the pressure fryer to make juicier chicken.
Says Hochman, "A lot of people think they can get the secret recipe and they can make KFC, but that is not true."
Whatever the case, the combination of KFC's re-training efforts and new food launches such as the spicy Zinger sandwich and sweet/tangy George Gold are paying off.
KFC's fourth quarter same-store sales in the U.S. rose 4%, marking the tenth straight quarter of gains. By comparison, McDonald's (MCD) - Get McDonald's Corporation (MCD) Report U.S. saw its same-store sales drop 1.3% during the fourth quarter, while Restaurant Brands International's (QSR) - Get Restaurant Brands International Inc Report Burger King notched a 1.8% increase.
A Yum! Brands spokeswoman didn't immediately respond to an email requesting comment.