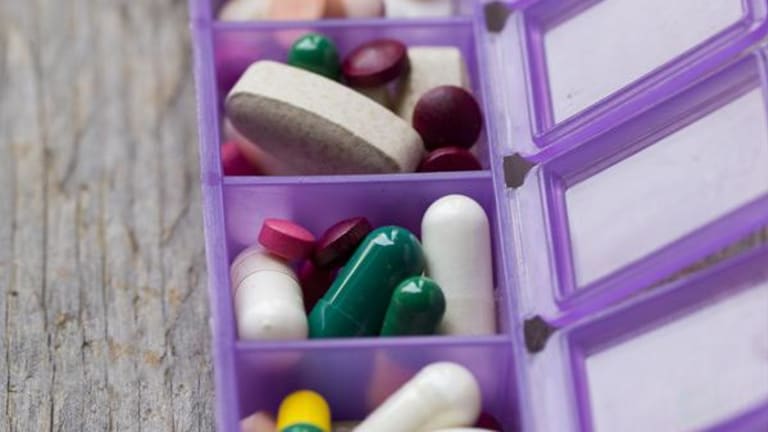 Perrigo, Taro Show Perils of Failure to Branch in Branded Drugs
The latest earnings from two of the largest generic drug makers show how important it is for generic firms to have their own stable of higher-margin branded products.
Under increasing price pressure on generic drugs, two of the largest generic drugmakers reported fiscal 2016 earnings Tuesday that highlight how important it is for these days for generics companies to have their own stable of higher-margin branded products.
Perrigo (PRGO) shares were up 2.40%, or $1.71, to $73.07 Tuesday after the firm finally got around to reporting fourth-quarter and year-end results. The earnings were delayed because of a need to account for the February sale of the company's interest in multiple sclerosis drug Tysabri. Under activist pressure Perrigo sold royalty rights to Royalty Pharma for $2.2 billion in cash plus up to $650 million in milestone payments.
In 2016 Perrigo's adjusted net sales were $5.2 billion, at the high end of the company's final guidance range, excluding Tysabri. Adjusted diluted earnings per share were $5.07, up from final guidance range of $4.70 to $5.00.
Perrigo's pleasant surprise contrasted with Taro Pharmaceuticals (TARO) , whose shares fell 3.94%, or $4.42, to $107.90. Taro's fiscal 2016 numbers, issued Monday, were much worse. Net sales were $879.4 million, down $71.4 million, or 7.5% from the year before. Gross profit of $671.3 million was $107.7 million below fiscal 2015 and operating income of $515.0 million was $99.5 million was lower than the previous year.
Both companies face severe price pressure on their core generic drug units but Dublin-based Perrigo has made headway branching out into branded OTC treatments. The higher margins they enjoy has made a big difference, bolstered by its 2015 acquisition of OTC medicines from a joint venture between the U.K.'s GlaxoSmithKline (GSK) and Novartis (NVS) , of Switzerland, including NiQuitin nicotine replacement therapy, Coldrex cold and flu treatment and cold sore products Vectavir, Pencivir, Fenivir, Fenlips and Vectatone.
More branded Perrigo products are planned for 2017,
Perrigo's acting CFO Ron Winowiecki said the company is "focused on improving a long-term operating model with a strategic focus on our branded OTC portfolio." That focus, he said, is expected to yield improved operating margins in 2017. "Our RX segment net sales guidance of approximately $925 million in 2017 assumes the launch of more than five new products with branded sales of more than $800 million."
Without the new products, Perrigo's numbers would be much worse. "We expect year-over-year price erosion on like-for-like products of approximately 9% to 11%," he said.
At Haifa, Israel-based Taro, where there is very little in the way of branded products, generics pricing pressure is hitting the company hard. "We continue to share difficult generic pricing environment, particularly in the U.S., given by more intense competition among manufacturers, new entrants to the market, buying consortium pressures and a higher ANDA [new generic drug] approval rate from the FDA," Chairman Dilip Shantilal Shanghvi said during the company's earnings call Tuesday. "This product-specific pricing pressure is expected to continue in the future as well."
Taro stumbled in 2016 when it attempted to make a splash in branded products with Keveyis, a drug used in treatment of periodic paralysis. Taro won approval to market the drug in 2015 but it was clear the revenue would not approach the $60 million annually that had been anticipated by fiscal 2018. Taro sold Keveyis to Strongbridge Biopharma (SBBP)  in December for $8.5 million plus milestones.
Despite Perrigo's forays into branded products, Jeffries analyst David Steinberg said the company has not sufficiently offset the generic doldrums and he's encouraging investors to hold off buying more shares. "With generic purchasers continuing to consolidate, pricing pressures could potentially worsen," he wrote in a note Tuesday. "The reality is the consumer business needs to improve."
The upcoming product launches are helpful, "but the size of the OTC pipeline remains unclear and it's uncertain if pricing headwinds will abate in the near to medium term."