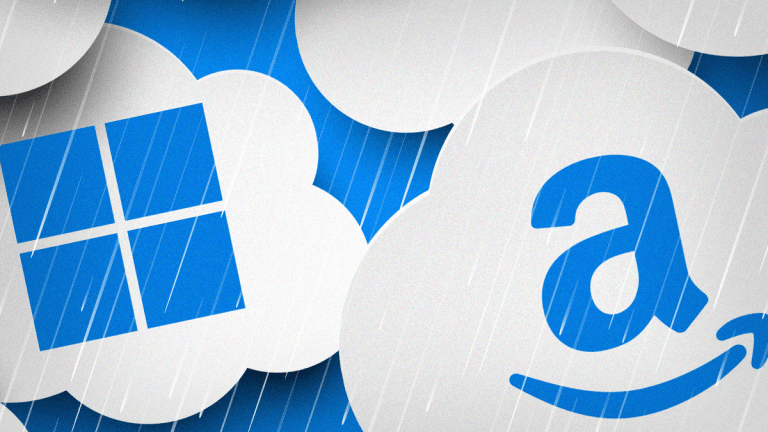 Why Now Is a 'Perfect Environment' for Big Tech Stocks Like Amazon and Microsoft
Despite a weaker economic outlook, mega-cap tech stocks continue to outperform the market this year.
The economic picture looks much different than it did last year, or two years ago, but one thing hasn't changed: The lure of the FAANGs.
GDP growth is slowing, trade worries are still in the air and there's chatter about a looming recession. But an exclusive club of large-cap tech stocks still seems golden for now. 
That's reflected in the overall performance of FAANG stocks this year. Facebook (FB) (+50% year to date), Apple (AAPL) (+32%), Amazon (AMZN) (+30%) have all outperformed the broader market, with the S&P 500 up 20% so far this year.
TheStreet will be live blogging Amazon's Q2 earnings report and call after the close on Thursday. Please check our home page then to join!
The FAANG moniker isn't entirely accurate, though: That shorthand doesn't include Microsoft (MSFT) , which presently has the largest market cap of any stock ($1.07 trillion) and has climbed 39% so far this year.
"This is one of the perfect environments for those high-growth big tech companies," said Meghan Shue, investment strategist at Wilmington Trust. "In the slower 'goldilocks' environment, investors are steering away from value names that are more tied to the economic cycle."
Netflix (NFLX) , the smallest of the group, has underperformed the market following a big subscriber growth miss in the second quarter. And in an unusual circumstance, Alphabet has lagged well behind its peers, gaining only 8% this year amid sluggish growth in ad revenue and regulatory concerns. Like Amazon, Alphabet reports its latest earnings on Thursday after the bell.
"These stocks all trade roughly commensurate with their growth rates, and Google's growth rate has lagged behind those companies," explained Kevin O'Grady, a portfolio manager at Los Angeles-based Miracle Mile Advisors. In its first-quarter earnings report, Alphabet recorded 15% growth in ad revenue, down from 24% the prior year, and missed revenue estimates by $1 billion.
Nonetheless, investors are still looking to the big tech names for big returns -- but the rationale behind it varies.
"Facebook was more of a unique situation where it had a host of idiosyncratic challenges; the stock got heavily discounted and it was able to rally," said Carlos Dominguez of Element Pointe Advisors.
He added that among the FAANG group, Amazon's dominance in cloud -- a high-margin and growing segment that disproportionately drives its profits -- places it in a particularly strong position as the tech sector grows as a whole. That's an attribute it shares with Microsoft.
"It's remarkably margin-accretive because of the nature of the business," he said of Amazon's cloud segment. "Microsoft reported another strong number in its last earnings, and it really points to how early we are in the business transformations around the world -- new businesses being launched, or migrated to some cloud infrastructure."
Despite the strength of large-cap tech players this year, it is not the only part of the tech sector that investors are keeping a close eye on. Cybersecurity and smaller cloud stocks have also performed well, while semiconductor stocks -- a sector that has experienced reduced demand for some time -- may be due to finally turn a corner. Many chip stocks have rebounded in 2019 in anticipation of this recovery. 
"We're seeing signs now that we might see a bottom -- that's one area we are watching closely," added Shue. 
Save 76% with our Summer Break Sale. Subscribe to our premium site Real Money and become a smarter investor! Click here today to sign up!
Microsoft, Amazon, Apple and Amazon are holdings in Jim Cramer's Action Alerts PLUS member club. Want to be alerted before Jim Cramer buys or sells these stocks? Learn more now.