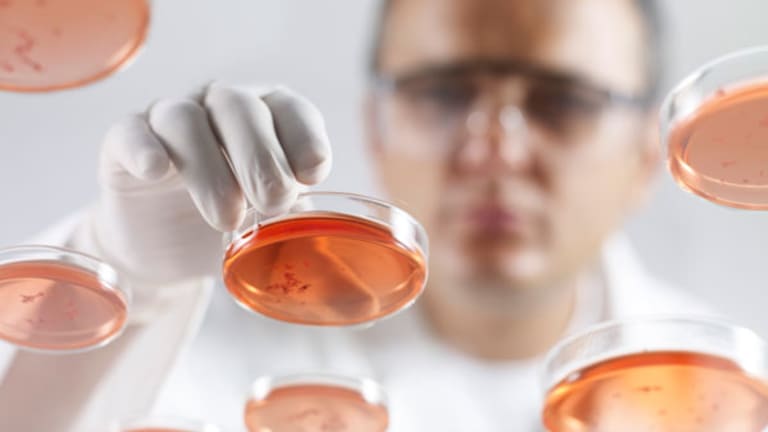 Peregrine Shows Desperation in Dusting Off Ancient Brain Tumor Drug
Peregrine's phase III plans for Cotara are 11 years old.
Peregrine's phase III plans for Cotara are 11 years old.
Updated with closing stock price.
Tustin, Calif. (
) --
Peregrine Pharmaceuticals
(PPHM)
is either desperate or stupid if blowing dust off the ancient Cotara brain tumor program is the company's next great idea.
The U.S. Food and Drug Administration agreed to a design for a phase III study of Cotara in patients with recurrent glioblastoma multiformae (GBM), Peregrine said Wednesday.
Of course, Peregrine made the same exact announcement in December 2001. Eleven years ago, Peregrine announced plans to start a phase III study of Cotara in GBM patients following a meeting with FDA.
The Cotara phase III study of 2001 never happened. In September and November 2002, Peregrine met with FDA again. This time, agency officials raised concerns about the planned Cotara phase III study and told the company additional information and Cotara clinical data would be required.
This is where Peregrine's Cotara program ran off the rails and why today's announcement about a new FDA agreement on a phase III study design is far less significant than the company claims.
Following the November 2002 meeting with FDA, Peregrine was forced to essentially re-start Cotara's clinical program from the beginning. Over a five-year period from 2005 through 2010, Peregrine conducted a phase I and phase II study of Cotara in order to 1) find an appropriate dose; and 2) to measure how much of the drug was being absorbed into brain tumors and where else in the body it might go.
Cotara is a monoclonal antibody linked to radioactive iodine. It must be injected directly into a patient's brain tumor.
How or why Peregrine thought it could start a phase III study of Cotara in September 2001 without having data on the appropriate dose or information on whether the drug reached tumor cells in the brain is a bit mind-boggling (pardon the pun.)
But then, Peregrine has a history of making promises it can't keep and hyping the spectacular potential of experimental drugs that end up embarrassing flops (see:
.)
Peregrine began a phase I dosing study of Cotara in 2005, planning to enroll 28 GBM patients.
In October 2006, Peregrine announced plans to start a 40-patient phase II study of Cotara in India.
In March 2009, Peregrine conceded enrollment in both the phase I and phase II studies of Cotara was "modest," forcing the company to place the entire program on the backburner due to financial constraints.
It wasn't until June 2010 that "final data" on 12 patients in the phase I dosing study of Cotara were released.
During the same month, Peregrine announced the phase II study of Cotara in India was 75% enrolled. Mind you, that means it took the company four years to enroll 30 GBM patients in India.
Final results from the phase II study were finally presented in June 2011 -- five years after the study started. All the data is from Indian patients with recurrent GBM. The study was single arm and open label. The median overall survival was reported to be 8.8 months with a median progression-free survival of 23 weeks. Without a comparator arm, the data are meaningless, particularly since the trial was conducted entirely in India over five years.
"Our goal going into these discussions with the FDA was to agree upon a clinical trial design that would be appropriate for this orphan indication and one which we could enroll within a two-year timeframe," said Joseph Shan, Peregrine's vice president of clinical and regulatory affairs, in Wednesday's press release.
Wait. Peregrine claims it will enroll 300 GBM patients in a Cotara phase III trial within two years. Wow, that's funny, given the five-plus years it took to enroll 40 patients in India!
"Having established a clear clinical path forward for this novel and targeted delivered drug candidate, we can now escalate our business development activities to secure a partnership, recognizing the great interest by companies in drug candidates within the orphan and rare disease space," said Peregrine CEO Steven King, also in today's company press release.
You can vote for King as
A partnership for Cotara? Really, Steven? Where have these potential partners been all the years Cotara was sitting on the shelf? Maybe they were more interested in partnering with Peregrine over bavituximab?
Oh right, that hasn't happened either.
Peregrine shares closed down one cent to $1.28 in Wednesday trading.
-- Reported by Adam Feuerstein in Boston.
Adam Feuerstein writes regularly for TheStreet. In keeping with company editorial policy, he doesn't own or short individual stocks, although he owns stock in TheStreet. He also doesn't invest in hedge funds or other private investment partnerships. Feuerstein appreciates your feedback;
to send him an email.