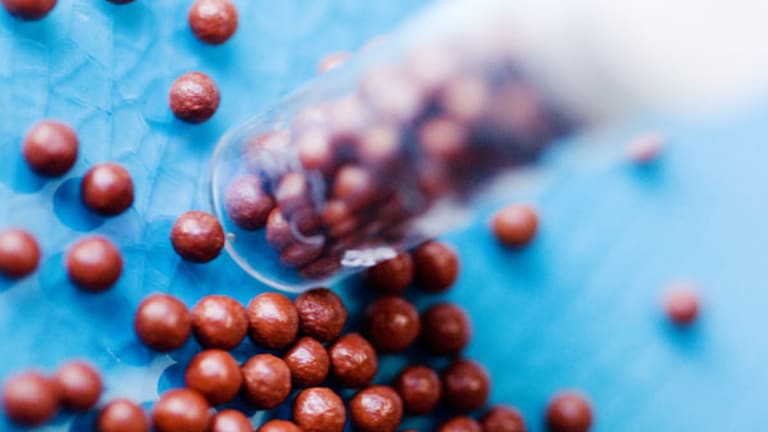 NEW YORK (
) -- Last week, investigators for
Peregrine Pharmaceuticals
(PPHM)
presented dramatic results from a Phase II study of bavituximab in second-line non-small cell lung cancer (NSCLC). The results, presented at a scientific conference in Chicago, sent Peregrine shares soaring another 47% on Friday, on top of a five-fold jump in value over the preceding few months.
My colleague Adam Feuerstein has been
for some time, but Peregrine's heretofore microcap valuation -- less than $75 million only two months ago -- kept the company off of my radar screen until recently. Given the tumult surrounding last week's data, I felt compelled to take a closer look.
My conclusion: Feuerstein's skepticism is warranted but the stock might not be a short just yet. Peregrine shares could trade sideways -- or even up -- over the next few months due to the lack of a near-term negative catalyst. Even the results from another trial in first-line NSCLC, due later this year, may not provide much clarity. Initial data from this study suggest the drug has little effect, so confirmation of that view might not drive shares lower. Bears should also consider the possibility that inconclusive data from the first-line study could be fed through a statistical meat grinder to produce a positive interpretation. That would be a disaster for the shorts.
Let's dig deeper.
Peregrine's randomized, double-blinded Phase II trial enrolled 121 patients with second-line NSCLC -- disease that has relapsed after, or not responded to, initial treatment -- to receive one of two bavituximab doses, in combination with the chemotherapy agent docetaxel, compared to chemotherapy alone. In May, the company reported progression free survival (PFS) data from this study that slightly favored bavituximab; patients in the high (3.0 mg/kg) and low dose arms (1.0 mg/kg) demonstrated PFS of 4.5 months and 4.2 months, respectively, compared to the control group PFS of 3.0 months.
Patients in the pooled bavituximab arms had a median overall survival (OS) of 12.1 months, far longer than the 5.6 months observed for the control group and statistically significant. Investigators reported a hazard ratio (HR) of 0.524, indicating that the addition of bavituximab reduced the risk of death by nearly 50% relative to chemotherapy alone. If these results are real, the drug will be an immediate blockbuster commercially and a rare exception to the
.
I'm not convinced. Let's review a few important "red flags."
1. The control group results seem aberrant.
My review of the literature suggests the 5.6 month median OS in the control group is abnormally low. One study, published in the
Journal of Clinical Oncology
Shepherd FA, et al. J Clin Oncol. 2000 May;18(10):2095-103, demonstrated a 7.5 month median OS for second-line NSCLC receiving docetaxel. In this trial, even patients receiving supportive care only had a median OS of 4.6 months, which isn't far from Peregrine's control group results.
A second large, randomized study in the second-line setting, also published in the
Journal of Clinical Oncology
Hanna N, et al. J Clin Oncol. 2004 May 1;22(9):1589-97, showed similar results. In this trial, docetaxel was used as the control group against another drug,
Eli Lilly's
(LLY) - Get Eli Lilly and Company (LLY) Report
Alimta. Patients in the docetaxel arm had a median OS of 7.9 months, slightly less than the 8.3 months for Alimta recipients, but far longer than patients in Peregrine's study.
Yet a third study, this one published in the
Lancet
Kim ES, et al. Lancet. 2008 Nov 22;372(9652):1809-18, further confirms that median OS for docetaxel-treated second-line NSCLC patients should exceed six months. In this 1,466-patient Phase III trial, docetaxel treatment produced a median OS of 8.0 months. This study also used docetaxel as the control arm, with
AstraZeneca's
(AZN) - Get Astrazeneca PLC Sponsored ADR Report
Iressa as the study drug. If there were any investigator bias in either this trial or the study versus Lilly's Alimta, it would likely be against docetaxel. These data should give Peregrine bulls significant pause.
Importantly, I did find one second-line NSLC study in which docetaxel recipients had a median OS of 5.7 months, which closely matches the Peregrine results
Fossella FV, et al. J Clin Oncol. 2000 Jun;18(12):2354-62. I'm not sure what to make of these data, which seem like an outlier when compared to other studies I found. Nonetheless, bulls and bears alike must consider these results alongside my other citations.
2. Wide confidence intervals make the data difficult to interpret.
Investigators usually report data as a median value accompanied by a 95% confidence interval (95% CI), which is a measure of data reliability. In both bavituximab arms, the lower confidence interval "band" -- 5.2 months and 6.7 months for the high and low dose groups, respectively -- overlaps with the control group (5.6 months, 95% CI 4.4-8.7 months). Although this observation alone doesn't invalidate the data, especially for a Phase II study, it does weaken the study's conclusions.
3. Ethnicity imbalances may have skewed the data.
Another important concern is the apparent imbalance between treatment arms, at least in terms of Asian patients enrolled. Asian ethnicity is a well-established favorable prognostic factor for OS in NSCLC. A number of studies support this claim, including a review of more than 20,000 patients published a few years ago in the
Journal of Thoracic Oncology
Ou SH, et al. J Thorac Oncol. 2009 Sep;4(9):1083-93 Although the company has released few specifics, investors should note that the control group included fewer Asians than either drug arm (25% versus 35% and 44% for the low and high bavituximab arms, respectively). This seems like a possible area of bias, especially given the data variability.
4. The distribution of results by geography remains unclear.
One of Feuerstein's major concerns about Peregrine's data involves geographic distribution. Data for ex-U.S. centers, particularly those in India or other Third World countries, are highly suspect. (Before Xtandi's success in prostate cancer,
Medivation
(MDVN)
investors surely remember the misleading ex-U.S. data for Dimebon in Alzheimer's disease, which could not be duplicated in a U.S.-based trial.) Peregrine has stated that half of the patients enrolled in the Phase II trial were from ex-U.S. centers, which makes a geographic breakdown of OS data critical. Investors should demand this granularity.
There are other concerns, most of which I consider secondary to those listed above. For example, one savvy sellsider reminded me that the drug's World Health Organization-assigned International Nonproprietary Name (INN) doesn't clearly support management's purported mechanism-of-action; the "tu" in bavituximab indicates a tumor targeted monoclonal antibody, not one with an immune stimulating or vascular impact. Bavituximab is a monoclonal antibody directed against a phospholipid on the surface of tumor vasculature, called phosphatidylserine (PS), which management believes suppresses the body's immune response.
Compare this to
Roche's
(RHHBY)
anti-cancer drug bevacizumab, commonly known as Avastin, which targets a vascular growth factor called VEGF; the "ci" in Avastin's INN indicates a compound with a circulatory system impact. This isn't a major problem, but it does merit consideration.
Overall, I'm very skeptical of the results. Unfortunately, the data don't contain a definitive smoking gun. That could be bad news for the bears, especially given Peregrine's modest market capitalization and the absence of any clear near-term negative catalyst. The company will almost surely initiate Phase III trials, which will take years to produce any data, and I'm not convinced failure in front-line NSCLC will be enough to convince the bulls to sell. The most bullish investors may even start to believe in the potential for accelerated FDA approval of the drug in the second-line setting, although I think that would be extremely unlikely. Nonetheless, my experience suggests that even wildly misplaced hope can drive a $470 million market capitalization towards $1 billion or more over time.
The bear case for Peregrine is potentially compelling, but there are some very real risks to the short. Sometimes it pays to not play. That's what I'd recommend.
Disclosure: Sadeghi has no positions in any of the stocks mentioned in this article.
Follow Nathan Sadeghi-Nejad on
.
Nathan Sadeghi-Nejad has 15 years experience as a professional health-care investor, most recently as a sector head for Highside Capital. He has worked on the sell side (with independent research boutiques Sturza's Medical Research and Avalon Research) and the buyside (at Kilkenny Capital prior to Highside). Sadeghi-Nejad is a graduate of Columbia University and lives in New York. You can follow him on Twitter @natesadeghi.