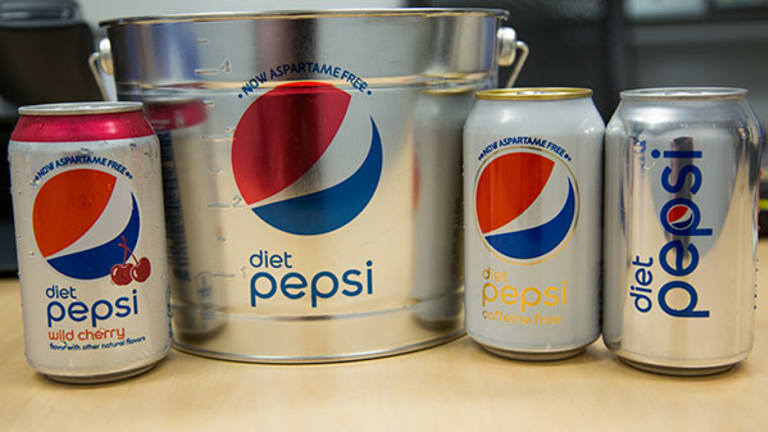 PepsiCo Diversity of Products, Growth Potential Make It a Good Buy
Pepsi beat Wall Street expectations, and it has been able to adapt its products to meet changing consumer preferences for healthier foods and beverages.
Pepsi beat Wall Street expectations, and it has been able to adapt its products to meet changing consumer preferences for healthier foods and beverages.
PepsiCo's (PEP) - Get Report  third quarter earning impressed investors and analysts alike. Shares rose nearly 2% Thursday morning following the company's announcement that it had beaten Wall Street expectations. The stock fell back but finished slightly up for the day.
The big takeaway was the company's profits, which clocked in at $1.40 per share, soundly beating the analyst forecast of $1.32 per share. And the company has lifted its full-year guidance as well, proving that its portfolio of brands is almost immune to the current soda slump. 
PepsiCo is a good addition to a portfolio because of the diversity of its products and ability to stay on top of consumer trends. 
The "end of soda," which doctors and analysts have been predicting, has finally arrived. Americans, on average, are becoming increasingly focused on become what they consider "health conscious," caring more about the ingredients they put into their bodies.
As we all know, the definition of "healthy" changes from year to year. "Diet" sodas, made with artificial sweeteners such as aspartame, used to be considered a healthy alternative because they cut calories. Then the trend shifted, with Americans shunning artificial sweeteners and even high-fructose corn syrup in favor of full-calorie sodas made with "natural" cane sugar. (This has led even fast-food giant McDonald's to revamp recipes to cut high fructose corn syrup from its baked goods.)
Soda companies -- Pepsi, Coca-Cola, and Dr. Pepper Snapple (DPS) chief among them -- have responded by designing "craft brew" sodas with natural and organic ingredients.
But soda sales as a whole are on the decline, and that's why PepsiCo stands out. The company not only owns the Pepsi brand, but also some of the country's most popular snack brands, including Frito-Lay (maker of Lay's, Fritos, and Doritos chips). And even though Americans are staying away from soda, they still get the munchies. In addition, PepsiCo makes Sabra hummus and guacamole dips and popular Quaker oatmeal.
Plus, the Pepsi portfolio contains soda alternatives, such as Gatorade sports drinks, which recently announced an organic version, and Naked juices and smoothies. This is a well-diversified company that keeps pleasing its investors.
In fact, CEO Indra Nooyi highlighted this point earlier in the year, when she revealed that Pepsi achieves less than 25% of its revenue from soda. In contrast, Coca-Cola depends on soda for almost 75% of its revenue.
That's not to say Pepsi hasn't been feeling the industry-wide burn in revenue. Revenue declined from $16.333 billion to $16.03 billion for the quarter. However, much of the problem here was due to foreign currency fluctuations. And it still smashed Wall Street's forecast of $15.89 billion!
The company has revised its full-fiscal-year earnings outlook from $4.71 per share to $4.78 per share, versus analysts' projections of $4.76 per share. It's going to continue to be a great year for PepsiCo, with its excellent portfolio of brands. Pick up more shares of this sweet stock on any dips in price.
---
85% Accurate Trader gives his Personal Guarantee: "Give Me 9 Minutes a Week and I Guarantee You $67,548 a Year."What if I told you I know a way you can see a $67,548 per year - or more - in profitable trades just by following this simple step-by-step process? The trader who is sharing this secret has been right more than 8 out of 10 times, turning $5,000 into more than $5 million for himself. Click here to see how easy it is to follow his lead and collect thousands of dollars in "Free Money" every month.
The author is an independent contributor who at the time of publication owned none of the stocks mentioned.