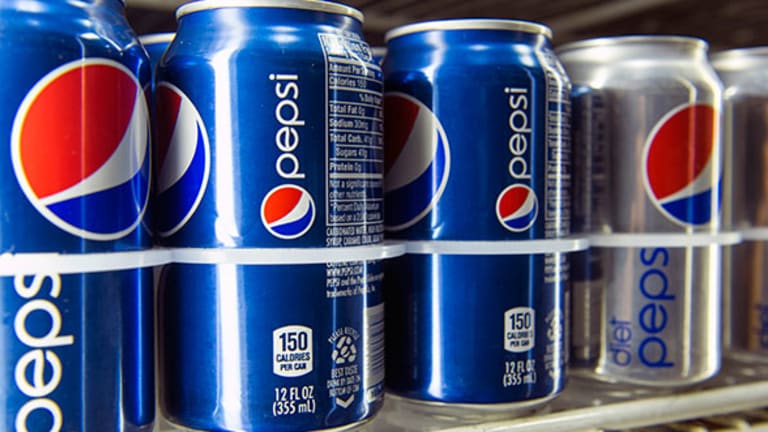 Here's How PepsiCo Fed the Appetite of Investors
The beverage and snack giant continues its successful year in the third quarter.
The beverage and snack giant continues its successful year in the third quarter.
Updated from 7:37 a.m. with comments from PepsicCo's chief financial officer.
The combination of low inflation, cost-cutting and the world's love affair for snacking continues to fuel PepsiCo's (PEP) - Get Report otherwise perfect year. 
On Thursday, the beverage and snack giant blew away analysts' earnings estimates for the second straight quarter, posting fiscal third-quarter earnings excluding one-time items of $1.40 a share vs. forecasts for $1.32 a share. Net revenue fell 2% from the prior year to $16.0 billion but topped forecasts for $15.84 billion. The company hiked its full-year profit outlook for the second time this year, too. It now sees full-year earnings of $4.78 a share, up from $4.71 a share previously. 
Shares of PepsiCo rose about 1.5% in early trading. For the year, PepsiCo shares have gained about 9.9%, outperforming the S&P 500's 6.2% rise. 
The quarter was led by PepsiCo's two bread-and-butter businesses in North America: snacks and beverages, each benefiting from a steady stream of new products and input cost deflation. Frito Lay's organic revenue rose 3.5% from the prior year, with operating profits rising by a quicker 5%. "We are just innovating more successfully in the U.S. and internationally, coming out with new snack flavors on existing lines," explained PepsiCo Vice Chairman and Chief Financial Officer Hugh Johnston in an interview with TheStreet (below). 
The North American beverage business bounced back from a mixed second quarter, notching a 3% increase in organic revenue and a 10% gain in operating profits.  (Click here to read a deeper dive into Pepsico earnings that I wrote for Real Money, our premium site for active traders.)
"All in all, Pepsi's investments over the past couple of years are clearly paying off and the value of its growth cannot be overlooked in a space struggling to keep up with consumers' evolving interests," said Jim Cramer, TheStreet's founder and manager of the Action Alerts PLUS portfolio, which owns PepsiCo shares.