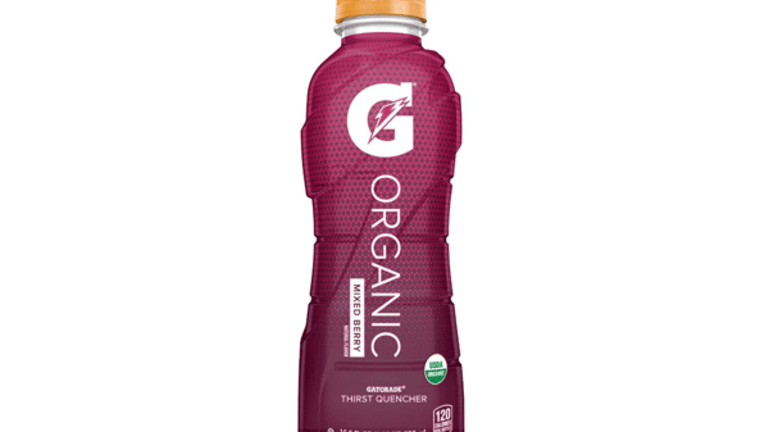 Pepsi Shakes Up Sports Drink Market By Finally Launching an Organic Gatorade
Here comes organic Gatorade from PepsiCo, finally.
Updated to include comments from PepsiCo
Organic Gatorade is finally on its way to supermarket shelves.
PepsiCo (PEP) - Get PepsiCo, Inc. Report , owner of Gatorade, confirmed Tuesday it has launched G Organic -- which is USDA certified -- at select Kroger (KR) - Get Kroger Co. (KR) Report supermarkets. It will be available later this fall on Amazon (AMZN) - Get Amazon.com, Inc. Report . The sports drink is made with just seven ingredients: water, organic cane sugar, citric acid, organic natural flavor, sea salt, sodium citrate and potassium chloride. Previously, Gatorade consisted of 11 ingredients.
Flavor options include mixed berry, strawberry, and lemon. TheStreetoriginally reported back in March organic Gatorade was set to launch later this year.  
"Recently, there has been an increasing trend in consumers looking for certified organic foods and beverages - and that includes some of our athletes in the locker rooms - so we've been working for around two years to develop a product to meet the needs of those athletes that choose organic," Brett O'Brien, Gatorade's Senior Vice President and General Manager told TheStreet via email. It took two years to develop an organic Gatorade because it's a complicated drink to get just right for the many audiences it reaches, he said.
"G Organic needed to have the same efficacy as original Gatorade Thirst Quencher, with the same levels of carbohydrates and electrolytes, while not sacrificing the great taste that consumers have come to expect from our brand," O'Brien said. 
Gatorade was acquired by PepsiCo as part of its $13.4 billion purchase of Quaker Oats in 2000. Since its acquisition, Gatorade has introduced several new products, such as a low-calorie version, gummies, and protein powder. The consistent innovation has kept Gatorade front and center among consumers, and allowed it to maintain its impressive market share.
Sales for Gatorade rose 6.8% in the U.S. last year, giving it a 78% share of the $7.21 billion sports drinks market, according to Euromonitor. Coca-Cola Co.'s (KO) - Get Coca-Cola Company Report  Powerade sports drink had a 19% market share, notes Euromonitor.
An organic version of Gatorade now addresses concerns among some consumers about the drink's artificial flavors and colors. And it takes aim at BodyArmour, a brand backed by Dr. Pepper Snapple Group (DPS)  and sports star Kobe Bryant that has grown in popularity in recent years due to its pure cane sweetener and more natural ingredients.
Supplying a "healthier" version of Gatorade may also help to alleviate some pressure on PepsiCo's soda business.
PepsiCo's carbonated soft drink volume fell 3.1% last year, according to new data from Beverage Digest. Total volume of carbonated soft drinks declined 1.2% in 2015, says Beverage Digest, as per capita consumption of soda in the U.S. sank to a 30-year low. Soda sales have continued to be under pressure this year, too.
But don't think the non-organic Gatorade currently on the shelves of supermarkets will be vanishing anytime soon. "Absolutely not. We have not made any changes to our Gatorade Thirst Quencher plans -- athlete preferences vary and G Organic is meant to provide a fueling option for those that are looking for an organic option," said O'Brien when asked if regular Gatorade would be discontinued. 
PepsiCo is a holding in Jim Cramer's Action Alerts PLUS Charitable Trust Portfolio.