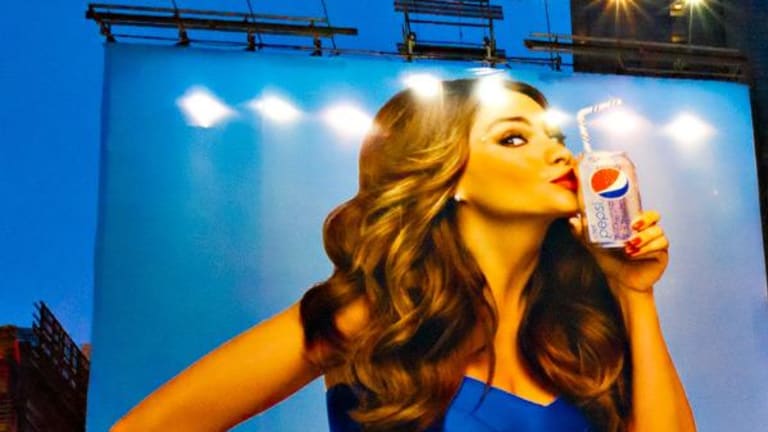 PepsiCo Does the Complete Opposite of Coca-Cola, and Beats on Earnings
Pepsi delivered better than expected first quarter earnings.
Continued cost cuts and a solid snacks food business led PepsiCo (PEP) - Get Free Report to win the battle with Coca-Cola (KO) - Get Free Report on who had a better first quarter.
The beverage and snacks giant reported on Wednesday that first quarter earnings, excluding one-time items, came in at 94 cents a share. Wall Street had expected 92 cents a share. Total revenue rose 2% from the prior year to $12.04 billion, beating analyst forecasts for $11.98 billion. 
While Pepsi saw volume declines in all its businesses except its Asia, Middle East and North Africa (AMENA) division, the company's cost cutting efforts continued to help pad the bottom line. Profits in PepsiCo's two most important businesses -- Frito Lay North America and North America Beverages -- rose 4% and 3%, respectively. 
The company reiterated that it sees full year earnings, excluding one-time items, increasing 8% to $5.09 a share. Shares of PepsiCo fell 1.1% to $112.90 in pre-market trading. 
Meanwhile, rival Coca-Cola's first quarter lacked a whole bunch of fizz. That has incoming CEO James Quincey wasting no time to try and protect the bottom line.
Quincey told analysts on a conference call Tuesday that Coca-Cola would soon slash 1,200 jobs as part of a new $800 million cost savings plan. On a call later with reporters, Quincey confirmed the majority of the reductions would come from Coke's Atlanta-based headquarters.
The news arrives after the company posted tepid 2017 first quarter results. Revenue fell 11% year over year to $9.1 billion. Still, Coke beat the $8.89 billion expectation on Wall Street.
Earnings came in at 43 cents a share, compared to the 44 cents analysts surveyed at Factset anticipated. And, Coke said it sees full-year earnings per share declining 1% to 3%.
"Overall for us, it was a good quarter in what I would characterize as a reasonably challenging environment," Pepsi CFO Hugh Johnston told TheStreet.
Here's is an edited and condensed version of Johnston's interview with TheStreet's Brian Sozzi.
Sozzi: Some of the products I get delivered to my house, I don't even see in the stores yet. What is the theme to those, let's say Lay's Poppables, you mentioned making it easy. How are you approaching product innovation? It seems the flavors are bolder, easier to eat and just more fun.
Johnston: I think we're getting into more product forms. Things like Poppables actually gives you a different mouth feel, a different taste, I think because the product is relatively light. The serving size is about 150 calories and I think you get 28 Poppables per serving. The vast majority of our innovation dollars are focused on things that fall into guilt-free nutrition. And we're doing it because that's where the consumer wants to go. We know we have a balanced portfolio now between guilt-free products and more indulgent products. The reality is consumers sometimes want to indulge and sometimes they want something that is a little more guilt free. I think that balance is what makes PepsiCo work.
Sozzi: We've been hearing that because of the tax refund delays, people were destocking their pantries. I have a couple bucks to buy soda, am I just discounting the impact the tax refund delays have on let's say a household that makes under $50K. Do they not go out and buy that one extra case of soda?
Johnston: Initially, when I heard the stories about the tax refunds, I had a few consumer behavior questions as well on that one. But we saw it in the numbers. The early quarter numbers clearly were lower from a growth perspective. Once we got past Feb. 15, we really saw the numbers pick up. I can't specifically point to a consumer behavior action that I know of but what I can tell you is it was reflected in the numbers right around the time that those refunds came out. The only hypothesis I can give on that one is you came out of the holidays as a consumer with reasonable credit card debt, and suddenly it was going to take a bit longer to get your refund, you may economized elsewhere in a more significant way. What I know is the numbers popped after the refund got out the door.
Sozzi: On the earnings call CEO Indra Nooyi mentioned you guys are looking to reinvent the center aisles. How are you going to reinvent the center aisles? Is it a matter of putting more displays down the center of a cereal aisle so you see it better?
Johnston: I want to be cautious on how much I share on it because it's early days but the notion of creating more in-store excitement down the aisle is the basic notion here. The perimeter of the store is getting shopped pretty well. One idea we certainly played with is the notion of a store within a store so creating a more of a destination section. So, a display is a destination. That's sort of the basic concept, beyond that, I'll stop there because I don't want to give away too much.
Sozzi: Ahead of Trump's tax plans, as the CFO of Pepsi, when you hear the corporate tax rate can get cut from 35% to 15%, does that excite you from the standpoint that hey, it may free us up to do x, y, z, buy back that extra stock, buy that company that may help us in the future?
Johnston: It's interesting on that. The devil's always in the details when it comes to tax policy. So, our overall corporate tax rate is around 24%, 25%. It really will depend on what's the rate, what are the changes to deductions, and then what are the policies going forward on overseas earnings and overseas cash? It's a little bit hard to get excited about. Right now our operating assumption is that the tax themes in the U.S. will continue exactly as they are. Look, if consumers pay lower rates and have more disposable income then I certainly think it's fair to say that's a good thing for everyone. Let's see how it goes through the legislative process before we get excited about it.
Jim Cramer and the AAP team hold a position in PepsiCo for their Action Alerts PLUS Charitable Trust Portfolio. Want to be alerted before Cramer buys or sells PEP? Learn more now.
Read more top stories on TheStreet: