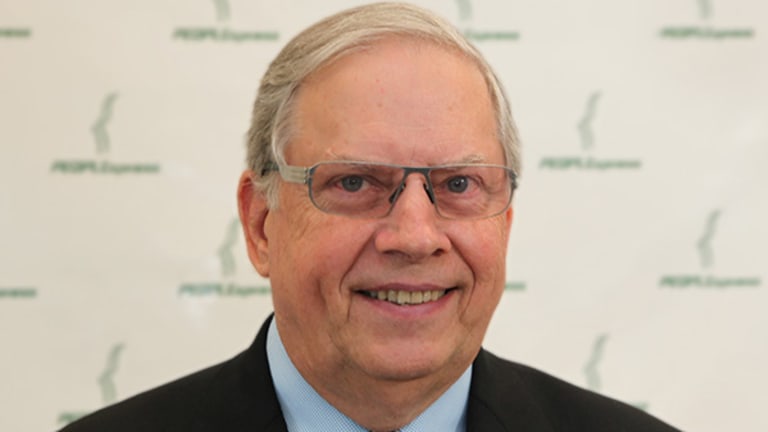 NEWPORT NEWS, Va. (TheStreet) -- People Express, a low-fare innovator in the 1980s airline industry, is being brought back to life by a veteran airline executive who thinks he has found a niche.
The niche is Virginia's Newport News/Williamsburg International Airport, which had AirTran Service between 1995 and 2012. At its peak in Newport News, AirTran was carrying 450,000 passengers annually on nine daily non-stop flights to Atlanta, Boston, Orlando and New York LaGuardia.
But Southwest (LUV) - Get Southwest Airlines Co. Report, which serves both Norfolk and Richmond, acquired AirTran in 2011 and shut down the Newport News operation.
"AirTran established a nice base of travelers, then all of a sudden disappeared two years ago when Southwest pulled out," said PeoplExpress CEO Jeff Erickson, best known for spending three years as CEO of TWA in the mid-1990s. Newport News has "a latent demand for air service and a great history of traffic -- that is why we are here," he said.
PeoplExpress -- it uses a bastardized spelling -- will begin flying June 30, offering service from Newport News to Boston, Newark and Pittsburgh. Four additional destinations -- West Palm Beach, Fla.; Atlanta; St. Petersburg, Fla. and New Orleans -- will be added by the end of August.
Erickson, 69, began his airline career in 1968 as a performance engineer for Pan Am at JFK. His resume includes stints as Atlas Air CEO and Reno Air founding CEO. The former resident of Scottsdale, Ariz., moved into a Newport News area home on Saturday.
Erickson never worked for or even flew on People Express, but he recalls the "culture of respect for passengers.
"It was an iconic brand, noted for a culture of respect and customer service, and we are looking to capitalize on that, to recreate that culture, " he said, in an interview. The 32 employees of PeoplExpress include three -- a flight attendant and customer service agents -- who worked for the original airline. "We're using their memory to try to recreate the culture with the young people we are hiring," Erickson said.
Ownership of the new airline is split among about 100 people, none of whom hold more than 5%, Erickson said. For the moment, PeoplExpress does not fly its own aircraft, but rather leases aircraft and crews from North Las Vegas-based Vision Airlines. In the past three years, Vision has tried but failed to set up commercial operations at both Destin/Fort Walton Beach Fort Airport and Myrtle Beach International Airport.
Erickson brings a commercial aviation legacy that Vision lacked, but the task ahead of him appears to present a harsh challenge, given the failed history of the overwhelming majority of start-up airlines.
The aviation industry is broadly populated with people who are in love with it, with some even willing to invest in start-ups and to revive dormant names. But some observers are skeptical. As online travel columnist Joe Brancatelli recently tweeted, "Who thinks PeoplExpress name has brand name equity left in the marketplace? Anyone?"
Aviation consultant Sandy Rederer, another TWA veteran, said he is not overly excited about the restart of People Express or its intent to serve Florida-Northeast routes. He said Frontier Airlines, which is also expanding and looking for routes, is generally avoiding competition against JetBlue (JBLU) - Get JetBlue Airways Corporation Report , Southwest and others in extremely competitive Northeast-Florida markets.
Rederer recalled that Vision Airlines "undertook a splashy startup three years ago at Destin," but noted "The service lasted a few months and the airport was left with unfond memories."
Erickson's plan is to operate as "a super low-cost carrier," but with more of a customer service focus than airlines like Spirit (SAVE) - Get Spirit Airlines, Inc. Reportand Allegiant (ALGT) - Get Allegiant Travel Company Report have. "These guys are good, I enjoy flying with them," he said. But airlines can "set themselves apart from others is when you handle a problem efficiently, with respect and in a caring way," he said. "Any comparison (between PeoplExpress and Spirit) would be pricing only," he said.
He foresees a cost per available seat mile excluding fuel of about 6 cents, in line with CASM at Spirit and Allegiant. A problem, at least in comparison with Spirit, is that for the moment PeoplExpress flies gas-guzzling Boeing 737-400s, while Spirit flies efficient new A320 family aircraft. PeoplExpress 737-400s will have 150 seats including 12 in first class. US Airways, now part of American (AAL) - Get American Airlines Group, Inc. Report, was the last major carrier to fly the 400. The configuration was 12 in first and 132 in coach.
Erickson plans to start with three airplanes, including one designated as a spare. That will likely ensure schedule reliability, but it will add the cost of maintaining an aircraft that is rarely flown. Two more aircraft will be added at the end of June. Over time, Erickson said, "We will move to newer aircraft, Boeing 737-700s and 800s."
In five years, he said, PeoplExpress could be a public company operating as many as three dozen aircraft. "We are looking at target cities that fit the profile of having proven traffic but have lost service due to consolidation." He mentioned Pittsburgh and Buffalo as possibilities.
Erickson said the Newport News airport could handle a small connecting bank involving half a dozen aircraft.
"Right now we are focused on point-to-point, but as you add more airplanes, you can nicely flow a hub, primarily a north-south hub," he said. Isn't that how Delta (DAL) - Get Delta Air Lines, Inc. Report started its Atlanta hub in the early 1980s, with a handful of north-south connections?

Delta, by the way, will be the only non-stop competitor on the first seven PeoplExpress routes. "Atlanta needs some low cost service, and not just here (in Newport News)," Erickson said. "Our (destinations) have a proven history with this area, and we will develop that and enhance it into a hub."
PeoplExpress will fly a 737 to Atlanta, while Delta flies 50-seaters. Besides Atlanta service on Delta, Newport News/Williamsburg has non-stop service to Charlotte and Philadelphia on US Airways, Denver on Frontier, and Sanford. Fla., on Allegiant.
Of course, an advantage for any start-up is the ability to offer non-stop service to the New York area. PeoplExpress already plans flights to Newark, the home of original People Express: Erickson said slots were obtained before he arrived. Looking ahead, he said, he will seek slots at New York LaGuardia.
Written by Ted Reed in Charlotte, N.C.
To contact this writer, click here.
>>Read More: What's Wrong with United Airlines? A Little Bit of Everything.

>>Read More: American Air President: Don't Call Us 'Nickel and Dimers.'

>>Read More: Union President's Final Act: Organize Airbus, Ramp Up Boeing 777X