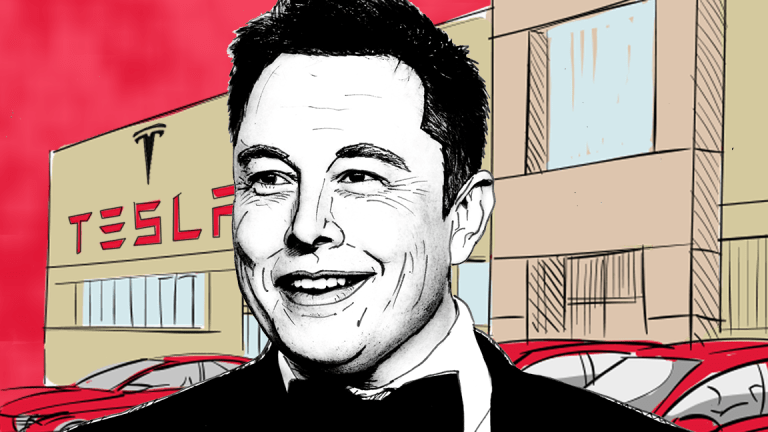 Elon Musk Hopes to Ride Model 3 to Positive Cash Flow
Tesla says it does not plan to raise more capital. Not everyone on Wall Street is convinced.
Elon Musk maintains that Tesla Inc. (TSLA) - Get Tesla Inc Report does not plan to raise capital.
Not everyone on Wall Street is convinced.
"I'm still targeting a Q1 2019 capital raise," said CFRA Research analyst Efraim Levy, who expects Tesla to raise between $2 billion and as much as $3 billion or $4 billion.
Tesla gained 6.4% to $310 per share on Wednesday, a day after Musk said Tesla is on track to meet its goal of producing 5,000 of its Model 3 electric car at the company's annual meeting. Production delays have beset Tesla, and raised questions about whether Tesla can reach profitability. Musk predicted positive GAAP net income in the third quarter, and positive cash flow in the third and fourth quarter's.
Musk's company has been burning cash as it ramps up Model 3 production. Meanwhile, a $230 million convertible bond reaches maturity in November and another $920 million is due in March 2019.
A first-quarter capital raise would help Tesla navigate the maturities. "It's before the March debt is due but after the end of 2018," Levy said, "so that allows Elon Musk to fulfill his goal of not having a capital raise in 2018."
Likewise, Cowen & Co. analyst Jeffrey Osborne expects the company to raise $3 billion in the third quarter. 
Finally hitting 5,000 Model 3s per week would take off some of the heat, Dan Ives of GHB Insights said.
"To hit the Model 3 target by the end of June, even if it pushes into the first week of July, that would reduce the risk of a capital raise over the next 9 to 12 months," Ives said.
Editor's note: The full version of this article was published by The Deal, a sister publication of TheStreet that offers sophisticated insight and analysis on all types of deals. Click here for a free trial.