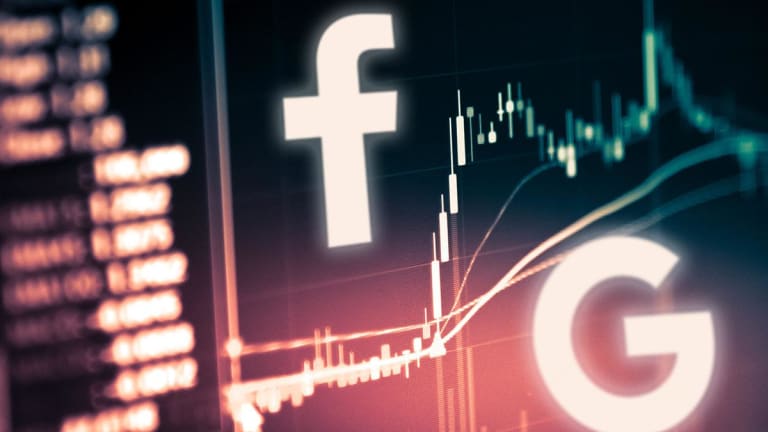 Facebook vs. Alphabet: Which One Should You Invest In?
Both stocks are likely to continue performing remarkably well, but one offers investors a better opportunity to profit.
Both Facebook (FB) - Get Free Report and Alphabet  (GOOGL) - Get Free Report have strong exposure to the advertising space. But one company offers investors a better opportunity to profit. In this piece, I explain why Facebook (FB) - Get Free Report is the superior investment.
Advertising Focused
Google's parent company Alphabet has accomplished the terrific feat of growing its advertising revenue by strong double digit percentages, with the last 5 years, in particular, seeing a compounded annual growth rate (CAGR) of 18%. Over time, Alphabet's very high-profit margins have come down slightly, but still ended 2018 with an enviable operating margin of 22.9%.
However, Alphabet believes that at some point it will saturate its advertising market. Consequently, Alphabet has made a strong push to diversify its revenue streams and as of 2018, its total advertising revenue now accounts for just 85% of its consolidated revenue stream, down from 90% a few years back.
Facebook, on the other hand, derives a paltry 1.5% from sources outside of advertising. This means that nearly 99% of its revenues come from advertising. Accordingly, at present, Facebook's has no element of diversification whatsoever.
Hence, in the event that Facebook was to struggle to meaningfully engage with its users or if users considered the platform untrustworthy, there may be could be a meaningful decline in Facebook's financial performance. That's particularly true in the United States and Canada where Facebook has an extremely high penetration level and where it derives close to 50% of its revenue. On the other side of the coin, given Facebook's unwavering focus on monetization, this has translated into Facebook's incomparably high operating margins of roughly 44% as of 2018.
Outlook Potential - Broad vs. Narrow
Alphabet's ethos has always been very loud and proud in letting its employees try new things. Similarly, we can see that at the parent level, there has been a strong drive to try out different projects in an effort to see what works best.
Readers will be familiar with Alphabet's 'Other Bets', which holds a portfolio of more speculative businesses with outsized potential, such as Waymo. In essence, readers should think of Alphabet's 'Other Bets' segment as a venture capital breeding ground, run by extremely talented management, where a new business might launch Alphabet into its second era of growth.
Facebook, on the other hand, has been significantly more focused as it seeks to diversify its revenue stream. The company has not been shy about its e-commerce ambition. Presently, Facebook is starting small by deploying its 'Checkout' feature on Instagram.
Facebook hopes to improve the quality of the experience for users shopping on Instagram and to make the transaction seamless. Further down the road, Facebook is expected to deploy this feature across its family of apps as it aims to leverage its AI technology to get company's brands closer to their preferred consumers.
Valuation - One Clear Winner
When calculating the free cash flow for these two companies, we need to adjust this number for their employees' notoriously heavy stock-based compensation packages. The table below incorporates those adjustments and normalizes for the two companies' trailing three years of free cash flow.
As we can see , investors are currently paying up more than 50x adjusted free cash flow for Alphabet's stock. Conversely, Facebook investors are being asked to pay materially less, at roughly 45x its adjusted free cash flow.
The Bottom Line
Ultimately what drives an investor's return will be the company's intrinsic value. Having said that, when negative sentiment is impacting share price, there may be an opportunity to profit given the added protection of a large margin of safety.
Both Alphabet and Facebook are likely to continue to do remarkably well over time. But Facebook's shares are meaningfully cheaper, offering risk-averse investors an advantage over Alphabet's shares.
Alphabet and Facebook are holdings in Jim Cramer'sAction Alerts PLUS Charitable Trust Portfolio. Want to be alerted before Cramer buys or sells GOOGL or FB? Learn more now.
How Much Money Will I Need to Retire?
Want to learn about retirement planning from some of the nation's top experts? Join TheStreet's Robert "Mr. Retirement" Powell live in New York on April 6 for our Retirement Strategies Symposium. For a limited time, tickets are available for $99 for this full-day event.
Check out the agenda, learn about the speakers and sign up here.
Michael is LONG FB