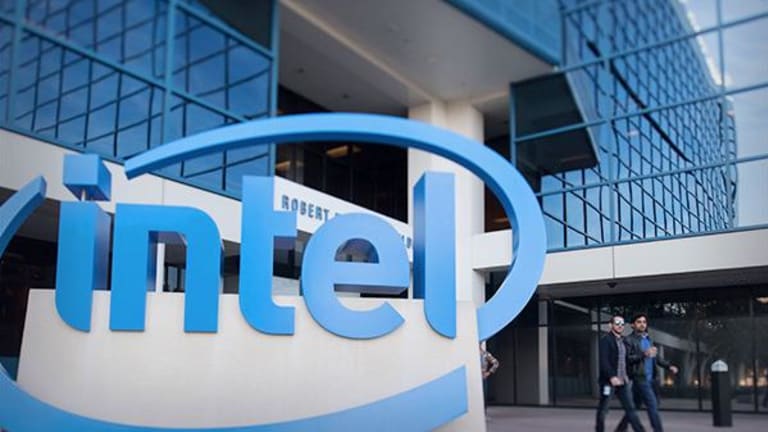 PC Sales Are Looking a Lot Like TV Sales -- and That's a Good Thing
Demand appears stable for now, as interest among some PC users in newer technologies offsets slow upgrade rates among others.
There are quite a few industries within the tech sector that would take exception to having industry conditions be described as quiet, steady and uneventful. But for the PC industry, the use of such adjectives is a welcome change.
This is, after all, a business that companies like Intel (INTC) , Microsoft (MSFT) , Seagate and Western Digital (WDC) have been scrambling to cut their dependence on. It's also one that no shortage of observers have declared to be in perpetual decline as a larger and larger percentage of computing activity shifts to mobile devices.
In that context, the first-quarter shipment figures from research firms IDC and Gartner, which point to fairly stable PC demand, are welcome news. They bring to mind sales data for another electronics industry written off by many as old news, but in reality is holding steady as slower upgrade activity by some buyers is offset by interest in newer technologies and form factors by others.
IDC estimates that global PC shipments grew 0.6% annually in Q1 to 60.3 million, better than the firm's expectation for a 1.8% decline. Growth improved from the 1.5% decline seen in Q4, and the 5.7% decline seen over the whole of 2016.
Gartner, by contrast, estimated shipments fell 2.4% to 62.2 million. One big reason for the difference between IDC and Gartner's numbers: unlike Gardner, IDC counts sales of Chromebooks, which have been seeing healthy growth in the education vertical and elsewhere. 
On the other hand, Gartner, unlike IDC, counts sales of Windows tablets and detachables such as Microsoft's Surface tablets. But with Microsoft's Surface revenue having slipped in Q4 due to a lack of recent tablet launches, including this segment might have not done much to boost growth.
As has been the case for a number of quarters, the industry's top-five took share from smaller players lacking their scale and R&D resources. IDC thinks HP Inc. (HPQ) , which reported its January quarter PC division sales grew 10% annually, saw its shipments grow 13.1% in Q1, leading its share to rise to 21.8% from 19.4% a year ago. HP shares are up 2.6% in Wednesday trading.
That was good enough for HP to wrest the shipment crown from Lenovo, whose share grew a modest 20 basis points to 20.4%. Dell's share rose 90 basis points to 15.9%, while Apple (AAPL) , buoyed by last fall's MacBook Pro refresh, saw its share grow 30 basis points to 7%. Apple's revenue share is likely above 15%, however, given that its Mac average selling price (ASP) is above $1,300.
Acer rounded out the top-five with a 6.8% share, up slightly. All other vendors combined saw their share drop to 28.1% from 31.9%.
Jim Cramer and the AAP team hold positions in Apple and Western Digital for their Action Alerts PLUS Charitable Trust Portfolio. Want to be alerted before Cramer buys or sells AAPL or WDC? Learn more now.
Both IDC and Gartner note a corporate PC upgrade cycle is providing a lift -- Intel and Microsoft's efforts to create business-friendly Windows 10 features that are only available on systems running Intel's newer Skylake and Kaby Lake CPUs seem to be helping. On the consumer side, strong gaming PC demand is a tailwind, as gamers buy systems featuring high-end Nvidia (NVDA) GPUs that can smoothly run games at 4K resolution or on virtual reality headsets.
And in both the consumer and corporate markets, interest in thin-and-light notebooks and notebook/tablet hybrids featuring solid-state drives (SSDs) and long battery lives appear healthy. As tablet sales figures show, few consumers or businesses have shown interest in fully replacing their PCs with iPads or Android tablets, as PCs are still deemed essential for certain productivity and content-creation tasks.
However, there's no denying that many consumers and businesses are still upgrading PCs less frequently than they used to. This is partly due to the fact that many of them still find that systems bought several years ago adequate for their needs, but also (at least on the consumer side) because mobile devices now make up a majority of computing usage, something that makes them less interested in buying a shiny new PC than a shiny new smartphone.
There are some parallels here with the TV industry. Smartphone/tablet usage has eaten into TV viewing time in much the same way it has affected PC usage. And many consumers are deciding that phones are a better target for their discretionary income than TV sets. But interest in upgrading to large-panel 4K sets has buffered the industry, and adoption of high-end display technologies such as OLEDs and quantum-dot LCDs is picking up.
Research firm WitsView estimates that global LCD TV shipments rose 1.6% last year to 219.2 million units, and sees them rising 2.5% this year. Not bad for a "legacy" industry seen by many as being seriously "disrupted" by smartphones. PCs might be in a similar holding pattern, at least for the near-term.
Moreover, HP is far from the only big PC industry name that appears well-positioned to see its PC-related sales outgrow industry shipments. Nvidia continues seeing very strong demand from a high-end gaming GPU market that it still dominates for now. Micron's (MU) PC DRAM revenue has surged thanks to higher prices, and its NAND flash memory business, which is also seeing favorable pricing, gives it some PC SSD exposure. And AMD's (AMD) just-launched Ryzen CPUs and soon-to-be-launched Vega GPUs position it to take share.
On the other hand, any AMD CPU share gains would come at the expense of Intel. And Seagate will continue to be stung by the cannibalization of hard drives by SSDs. The same holds for Western, but its large NAND business gives it an offset.
Either way, most industry players have already embraced growth strategies that assumed PCs will be a declining business going forward. Intel, for example, has bet heavily on growing its data center, automotive and IoT chip sales. Likewise, Micron is hungry to grow its server, mobile and embedded memory sales.
For a company that has a solid long-term strategy in place to cut its PC dependence, a report that industry sales are roughly flat is nothing to worry about. Just as a well-diversified TV giant like Samsung can't be concerned about TV sales being flat.