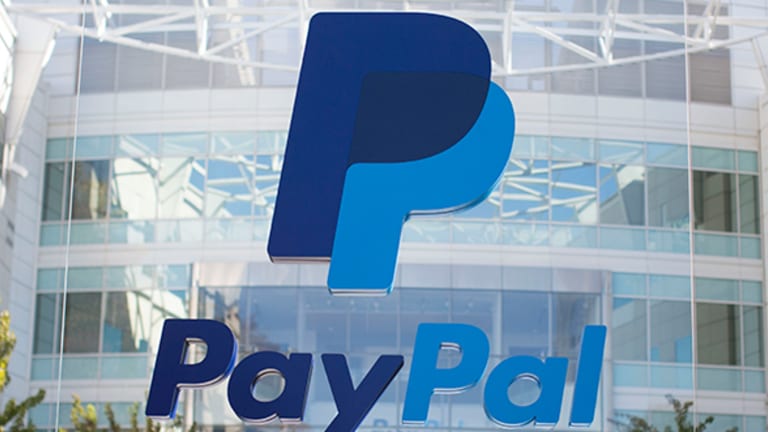 Publish date:
PayPal's Strong Earnings Show That Its Dealmaking and Mobile Efforts Are Paying Off
The online payments giant's deals with payment card giants are growing its customer base and spending activity. Deals with banks and tech giants could provide a lift going forward.
The online payments giant's deals with payment card giants are growing its customer base and spending activity. Deals with banks and tech giants could provide a lift going forward.
It has been almost two years since PayPal (PYPL) - Get PayPal Holdings Inc Reportsplit from eBay (EBAY) - Get eBay Inc. Report, and about 30 months since former Visa (V) - Get Visa Inc. Class A Report exec Dan Schulman was put in charge of PayPal. But it might only be now that the full impact of both events is becoming starkly clear.
The online payments leader is up over 7% today and making new highs after reporting first-quarter revenue of $2.98 billion (up 17% annually) and adjusted EPS of $0.44 (up from $0.37), beating consensus estimates of $2.94 billion and $0.41.
Guidance was also strong: PayPal expects second-quarter revenue of roughly $3.05 billion to $3.1 billion and EPS of $0.41 to $0.43 versus a consensus of $3.07 billion and $0.41, and full-year revenue of roughly $12.52 billion to $12.72 billion (up 15% to 17%) and EPS of $1.74 to $1.79 versus a consensus of $12.61 billion and $1.73. Over $2.7 billion in free cash flow (FCF) is still expected this year.
PayPal also announced a new $5 billion stock buyback authorization that will go into effect after the $488 million remaining on an existing authorization is used up. Overall, PayPal's authorizations are good for repurchasing about 10% of shares at current levels. $517 million was spent on buybacks in Q1.
In addition to the buybacks, EPS got a boost from spending controls. "Other expenses," defined as all spending outside of transaction and loss expenses, grew just 5% annually to $1.05 billion. That's down from 7% growth in Q4 and 10% in the year-ago. Also: PayPal's average take rate was 3.00%, down 14 basis points annually due to the growth of its Venmo mobile payments service (P2P Venmo transactions carry no fees), but flat sequentially and above a 2.9% consensus.
"Payment volume (TPV) rose 23% annually (25% excluding forex swings) in Q1 to $99.3 billion, a slightly better growth rate than Q4's 22% and in-line with expectations." Notably, active customer accounts -- defined as accounts that made at least one payments in the last 12 months -- grew by 6 million sequentially to 203 million, the largest increase in years. And transactions per active account over the last 12 months rose by 12% annually to 31.7.
On the earnings call, management signaled that active account and transaction growth have benefited from the deals PayPal has struck with payment card giants Visa, MasterCard (MA) - Get Mastercard Inc. (MA) Report and Discover (DFS) - Get Discover Financial Services Report. In addition to making it possible to pay via PayPal at millions of physical retail locations supporting contactless transactions, the deals put payment cards on an equal footing with PayPal wallets both when customers enroll for services and make payments.
Since transaction costs for credit-card transactions are much higher than for ones in which a user pays through a PayPal wallet linked to a bank account, the deals do carry a price: PayPal's total transaction margin fell to 56.7% from 60.4% a year ago. But PayPal also claims the deals are boosting active customer adds and spend per customer, while lowering churn and customer service calls. The "consumer choice" experience that puts payment cards on an equal footing is still only in the process of rolling out in the U.S., and is due to launch in the U.K., Canada and Australia this quarter.
Other efforts to optimize PayPal's user experience, which has been occasionally criticized, are also helping. And as has been the case for several quarters, the company is seeing healthy merchant account growth, as more merchants prove willing to partner with the company following the eBay split. PayPal now claims over 16 million active merchants, up from over 15 million at the end of Q3 2016. Groupon was a recent high-profile customer win.
And on mobile, PayPal's One Touch solution, which lets users pay without having to repeatedly enter their login info, is helping the company deal with stiff competition from the likes of Apple (AAPL) - Get Apple Inc. (AAPL) Report, Amazon.com (AMZN) - Get Amazon.com, Inc. Report and Stripe. Over 53 million PayPal users have opted into One Touch, up from 21 million a year ago. With the help of One Touch and Venmo, mobile transactions accounted for 32% of Q1 TPV, up from 26% a year earlier.
Going forward, deals with banks with banks such as Citigroup (C) - Get Citigroup Inc. Reportand Wells Fargo (WFC) - Get Wells Fargo & Company Reportto let bank card holders pay via PayPal online and in physical stores could provide a boost. PayPal mentioned on the call that banks that haven't been mentioned in press releases have been marketing PayPal to their clients, since linking their cards to PayPal can boost digital spending. A just-announced deal to make PayPal a payment option for Android Pay might also help in time, and so might a Facebook Messenger integration deal reached last fall. Schulman previously said PayPal is also talking with Amazon about a tie-up, but no deal has been inked yet.
Jim Cramer and the AAP team hold a position in Apple, Citigroup and Wells Fargo for their Action Alerts PLUS Charitable Trust Portfolio. Want to be alerted before Cramer buys or sells AAPL, C or WFC? Learn more now.
Overall, an independent PayPal under Schulman's leadership appears both more pragmatic than it was in the past about partnering with firms whose incentives don't always neatly align with PayPal's, and more proactive when it comes to improving its consumer and merchant experiences. The company still appears to be a ways off from achieving its goal of handling 1 or 2 transactions per week per active user, but the trend is certainly in the right direction.
Apple and Amazon's rival payments solutions still bear watching, especially since both companies already have hundreds of millions of payment card accounts on file. As do Amazon's steady share gains against eBay and other e-commerce firms relying on PayPal.
But with the stock still trading at a moderate valuation of about 21 times its 2017 free cash flow guidance, one could argue that such threats have been priced in. Particularly when one takes into account PayPal's recent payment growth rates, deal activity and execution.