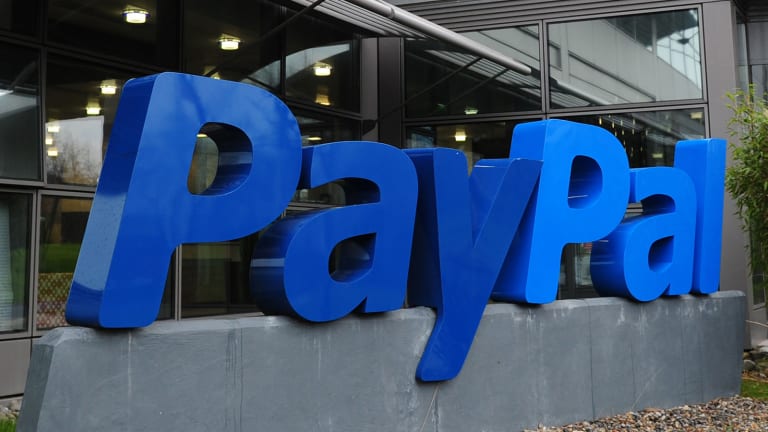 PayPal's 'One Touch' Solution Gains Momentum in Payments Battle With Apple, Amazon and Others
While competition is definitely growing, PayPal is seeing strong uptake for solutions that make mobile payments easier.
As recent disclosures from Amazon.com (AMZN) - Get Amazon.com Inc. Reportand Apple (AAPL) - Get Apple Inc. Report show, PayPal (PYPL) - Get PayPal Holdings Inc. Report arguably faces a tougher competitive environment than it has seen in many years, as tech giants that already have the payment card data of hundreds of millions of consumers try to muscle in on its turf. This elevated competitive environment might just have something to do with the moderate slowdown recently seen in transaction volume growth for PayPal's core services.
But the online payments giant can't be accused of not taking the threat seriously, as shown by its efforts to roll out multiple compelling mobile-friendly payments offerings. This, along with consumer familiarity with PayPal, could allow the company to weather the storm, even if it collects some bruises along the way.
This week, PayPal announced that its One Touch payments solution, which allows users to make purchases without entering their login info every time they do so, has now been activated by over 50 million accounts. That's up from just 21 million as of last April, and is equal to a quarter of PayPal's 200 million total active accounts.
PayPal also claims that over five million merchants now support One Touch, including 75% of the top 100 U.S. online retailers. And that the solution's conversion rate -- the rate at which consumers who have placed items into an online shopping cart end up buying them -- is an impressive 87.5%, according to a comScore study.
Though also working on PCs, One Touch is of particular value on mobile, where users dislike repeatedly entering their login info (never mind all of their billing/shipping data) to make a purchase. That's one reason why, although most sites report getting a majority of their traffic from mobile devices (mostly smartphones), many online retailers still get over half their orders via PCs.
Adobe's (ADBE) - Get Adobe Inc. Reportanalytics arm estimates that mobile devices accounted for 56% of Thanksgiving weekend site visits for the online retailers it tracks, but only 37% of their sales. PayPal handled $31 billion worth of mobile transactions in the fourth quarter, up 53% annually but still only equal to 31% of its total transaction volume.
Jim Cramer and the AAP team hold positions in Apple, Alphabet and Adobe for their Action Alerts PLUS Charitable Trust Portfolio. Want to be alerted before Cramer buys or sells AAPL, GOOGL or ADBE? Learn more now.
In addition to One Touch, PayPal's social-oriented Venmo payments platform -- among other things, it lets users easily send money to friends/family, split bills and share what they're buying with others -- is helping the company grow its mobile footprint. Venmo's transaction volume grew 126% last quarter to $5.6 billion. However, since Venmo only collects fees on credit-card transactions, and not on peer-to-peer and debit card transactions, only a fraction of this volume was monetized.
Of course, PayPal isn't the only company trying to make mobile commerce faster and more convenient. Apple Pay, which lets users authorize both online and in-store transactions via the Touch ID fingerprint sensors built into iPhones and iPads, clearly looms large. With its newfound support for mobile websites providing a lift, Apple Pay transaction volume rose over 500% annually last quarter (no specific figure). PayPal's Braintree white-label payments unit supports Touch ID, and PayPal also lets users rely on Touch ID to log into its iPhone digital wallet app.
Alphabet/Google's (GOOGL) - Get Alphabet Inc. Report mobile payment efforts haven't gotten as much ink as Apple's, but also deserve attention. In addition to Android Pay, an Apple Pay rival for Android devices, the company has been rolling out a solution (Purchases on Google) that lets viewers of the Google Shopping ads now found on many search results pages pay on Google's site, using payment card info previously shared with the company. The latter effort could prove to be a big deal, given Google Shopping ads have become quite popular with many retailers not named Amazon.
Still, inertia is very much on PayPal's side. When it comes to mobile commerce and payments, many consumers prefer to stick with what they're familiar with, should they have multiple acceptable options.
That doubtlessly played a role in the 13% growth seen last year in the number of transactions PayPal saw per active customer account (the figure is now at 31). And with the help of offerings such as One Touch, it could lead many consumers to continue tapping the PayPal icon on their phones...even if an Apple Pay or Android Pay icon is right next to it.