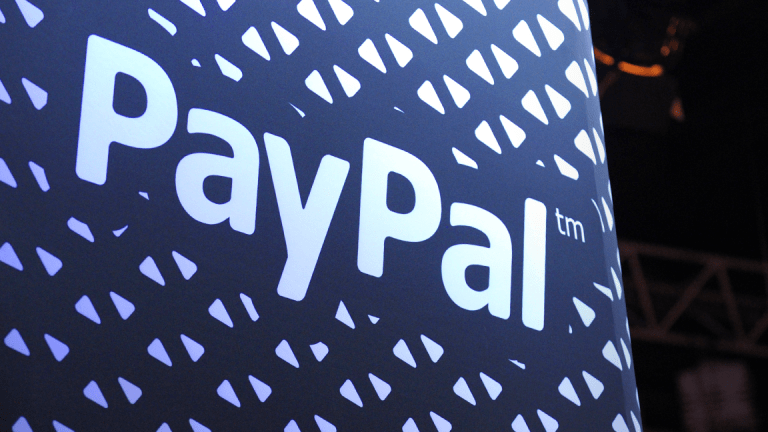 PayPal Has a Fourth-Quarter Earnings Beat in the Crosshairs: Jefferies
Look out for a strong value proposition and cash flow outlook, Jefferies analysts say.
PayPal Holdings Inc. (PYPL) - Get Report could blow Wall Street away with its fourth-quarter earnings that are scheduled for the end of January.
"Based on key macro intra-quarter data points, we believe (PYPL) - Get Report could deliver modest upside to 4Q estimates, and see YTD momentum continuing into '18," Jefferies analysts wrote in a Jan. 18 note.
For the fourth quarter, Jefferies expects earnings of 52 cents a share, an estimate in line with the rest of Wall Street. PayPal will report its year-end results Jan. 31.
Near- and long-term trends moving toward online, mobile and social payments will continue to play to PayPal's strength, Jefferies noted. SpendTrend retail sales for October, November and December were up 4.1%, 5.3% and 4.6%, respectively. Plus "particularly robust" e-commerce figures rallied 15.5% in October, 17.5% in November and 11.4% in December, analysts wrote.
In an interview with TheStreet, PayPal CEO Dan Schulman noted his company's unique advantage in the structural shift to digital payments from traditional retail.
"In many ways, mobile is blurring the line between online and offline and really payments are moving much more into the virtual world," Schulman said.
"We have the best mobile checkout solutions in the industry by far," Schulman added. "Our conversion rate on mobile is almost two times that of the industry and so that is obviously a very important element in terms of our being able to partner with retailers around the world."
Massive Retail Closures Don't Scare PayPal
Jefferies analysts noted that PayPal's recent credit transaction with Synchrony Financial (SYF) - Get Report appears neutral-to-potentially-accretive for earnings.
"We have a very strong balance sheet that became even stronger when we sold our credit portfolio to Synchrony Financial," Schulman told TheStreet, "and we freed up about $1 billion of free cash flow that was previously going to reserves for credit."
Given PayPal's strength following the Synchrony deal and expected robust year-end results, Jefferies hiked its price target on PayPal stock to $95 from $86, implying an 18% gain for shares from their Wednesday closing price. Jefferies maintains a "buy" rating for PayPal.
"We continue to view PayPal as a compelling long-term opportunity given scarcity value among large-caps due to growth/profitability profile, global secular tailwinds and enviable cash flow/balance sheet proposition," Jefferies concluded.
PayPal shares gained 0.4% in premarket trading to $82.80. Over the last 12 months, PayPal stock has rocketed 99.8% higher.
More of What's Trending on TheStreet: