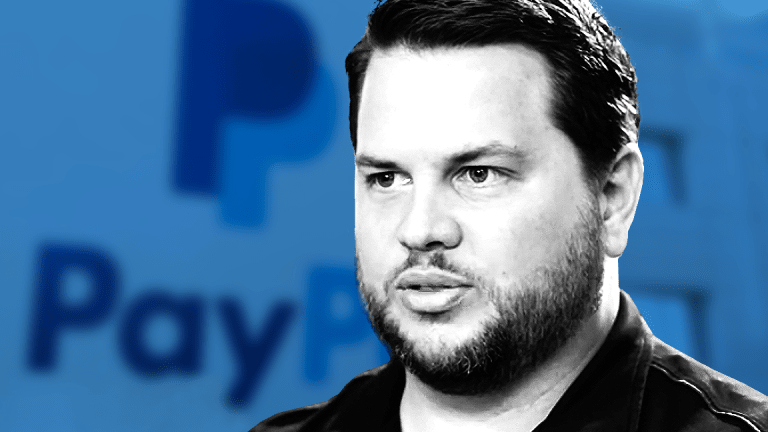 PayPal COO Talks to TheStreet About eBay Deal, Growth Plans and Blockchain
Bill Ready argues that eBay's plans to gradually replace PayPal as its main payment option aren't as bad as feared for his company.
Though PayPal (PYPL) - Get Free Report may be losing some of eBay's (EBAY) - Get Free Report business, it still has plenty of growth opportunities to help pick up the slack, as chief operating officer Bill Ready is keen to point out.
While the online payments leader's shares tumbled two weeks ago when eBay announced it would gradually replace PayPal as its main payment option with a homegrown solution, they're still up 84% over the last 12 months. PayPal's stellar 2017 performance -- fueled by ongoing share gains among online retailers and digital content providers not named eBay or Amazon (AMZN) - Get Free Report -- naturally has much to do with these gains.
Revenue rose 21% last year to $13.1 billion, with total payment volume (TPV) rising 27% to $451 billion and active customer accounts growing by 15% to 227 million. Partnership announcements with Apple and a slew of major banks also gave shares a lift.
While at the Goldman Sachs (GS) - Get Free Report Technology & Internet Conference, TheStreet got a chance to talk with Ready to get more color on the eBay news, Paypal's mobile commerce growth, its M&A plans and several other key topics. Here are the highlights.
1. The eBay deal
PayPal shares were hit hard on Feb. 1 after eBay announced (in tandem with both companies' Q4 reports) that it would gradually make an internal payments solution developed with payment-processor Ayden its "primary" payment option, following the expiration of its current operating agreement with PayPal in mid-2020. However, PayPal will remain an eBay payment option at least until 2023. PayPal got 13% of its payment volume from eBay in the fourth quarter, down from 16% a year earlier.
But Ready pointed out that PayPal, whose operating agreement with eBay calls for PayPal to maintain at least an 80% transaction volume share, has often maintained a 50%-plus share on platforms that have carried out moves similar to what eBay is planning. He also noted that with Ayden set to gradually take over white-label payment-processing (a business that PayPal derives little to no profit from) on eBay marketplaces, any ongoing business will consist of higher-margin services in which users are paying via their PayPal accounts. 
And like CEO Dan Schulman, Ready stressed that the end of the eBay operating agreement will also spell the end of a restriction that keeps PayPal from supporting certain eBay rivals as the merchant of record (MOR) for third-party transactions. Being an MOR, as PayPal currently is for eBay transactions, makes PayPal financially responsible for handling returns and chargebacks.
On the Q4 earnings call, Schulman said that PayPal will be free to offer MOR services to "two of the largest and fastest-growing marketplaces out there that are really directly competitive with eBay," once the operating agreement ends in 2020. The company declined to name the marketplaces, but there's speculation that Amazon, whose marketplace sales have been booming, is one of them. In January 2017, Schulman mentioned that PayPal has held talks with Amazon, but there has been no news on that front since.
It should be noted that in November, eBay CFO Scott Schenkel asserted that replacing PayPal as an MOR, which eBay can begin doing for a small percentage of transactions in mid-2018, would allow eBay to obtain lower payment rates from PayPal and others. However, on eBay's Q4 call, CEO Devin Wenig said his company hasn't yet "made the decision to become a merchant of record."
2. Tech and bank partnerships
When asked about PayPal's July 2017 deal with Apple, which makes PayPal a payments option for the App Store, iTunes, Apple Music and Apple's online store, Ready was eager to note the deal is just one of 20-plus partnerships announced with major tech platforms in recent years. Other notable partners include Google, Facebook, Alibaba, Baidu, Uber and Airbnb. Ready declined to share how much of PayPal's volume now comes from digital content transactions, but indicated it was substantial. 
Ready was also eager to talk about PayPal's deals with top card issuers such as Citi, Chase and Bank of America; among other things, these deals allow bank cards to be easily linked with PayPal wallets, let PayPal accounts be set up from bank locations and allow rewards points to be applied to PayPal. With minimal growth seen in physical retail sales, banks are hungry to use PayPal as a way to drive digital transaction volumes, Ready pointed out. He added that some banks have launched promos (for example, double rewards points) to get customers to link their cards to PayPal accounts.
3. Recent acquisitions
Last August, PayPal acquired small-business lender Swift Financial, and Ready noted that Swift "pairs nicely" with PayPal's Working Capital product for small businesses. He said that PayPal has also seen strong traction for its consumer loan offerings, with 60% growth recorded in Q4, and offers a variety of other services to aid small businesses selling online.
Regarding PayPal's $238 million purchase last July of bill payment-processor TIO Network, which disclosed a major data breach in December, Ready insisted TIO is just one part of "a broader movement [by PayPal] to help the under-served," and that these efforts are seeing good traction. Small-business lending and the PayPal Credit financing solution are also part of this push. 
4. Mobile commerce
On the Q4 call, PayPal disclosed that 80 million consumers used its One Touch solution, which allows users to pay for items on mobile devices without having to re-enter their login info, during the quarter. That's up from 40 million a year earlier. In addition, the company's mobile TPV rose 53% in Q4 to $48 billion (37% of total TPV).
"Consumers are demanding seamless buying experiences" on mobile, said Ready when asked about PayPal's mobile momentum. He also brought up comScore data indicating that conversion rates for mobile transactions involving PayPal are about twice that of the company's nearest rivals. 
5. Blockchain technologies
At a conference where several execs from cryptocurrency/blockchain startups have touted the potential of blockchain technologies to make cross-border transactions cheaper and faster, Ready offered a somewhat more cautious view. For transactions that can be done with intermediaries quickly and securely -- for example, converting dollars to pounds or euros -- Ready feels there's little point to using blockchain solutions, which are less computationally efficient than conventional approaches.
At the same time, Ready admitted that by solving the issue of distributed trust -- i.e., allowing two parties who don't know each other to securely perform a transaction without an intermediary -- blockchain technologies could be useful for transactions that today would take days to settle and might not have a trusted intermediary. He cited the conversion of Kenyan currency to Nigerian currency as an example. 
6. Future acquisitions
On the subject of future M&A, Ready argued that PayPal's success with building quality services internally, together with its partnerships, allow it to take a careful approach to M&A. "You don't have to buy...or you can be selective about what you buy," Ready said. But he did add that PayPal is open to deals that help it deliver "great new buying experiences" to consumers, or expand its international reach.
And using lingo that Jeff Bezos would undoubtedly approve of -- Ready said the company is also open to deals that "spin the flywheel" of PayPal's consumer and merchant account growth. As it is, that flywheel seems to be running pretty well these days.