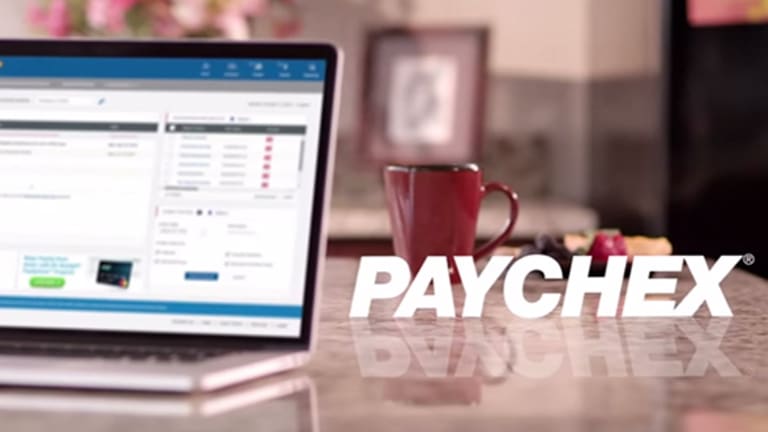 Paychex Payroll Services Are a Likely Constant Even in Chaotic Times
This steady performer has a strong business in the small- to medium-sized company segment, which accounts for over half the jobs in the U.S.
One of the most common words being used to describe the new administration in Washington is "chaos." When there's chaos in public policy, including border walls and immigration bans, chaos in the financial markets will often follow.
But is there a way to guarantee your profits no matter what happens? Where should value investors look? One good choice is Paychex (PAYX) - Get Free Report , a Rochester, N.Y.-based provider of payroll, human resource and benefits outsourcing solutions for small and medium-sized businesses. 
The provider of payroll processing services offers an in-demand service in good times and bad. It is particularly strong in the small- and medium-sized business segment, and its dividend yield has been solid. 
Value stocks like this are essential elements in a well-balanced retirement portfolio.
First, here's a look at the latest economic numbers. U.S. economic growth slowed to a 1.9% annual rate in the final quarter of 2016. Analysts had expected a slowdown, but not by that much. For all of 2016, growth was 1.6%, the lowest figure since 2011.
But the economic expansion is not ending. Consider that U.S. businesses increased their investment in industrial machinery, semiconductors and other big-ticket items last month, with demand for factory goods rising. 
Paychex's services include the calculation, preparation and delivery of employee payroll checks; production of internal accounting records and management reports; preparation of federal, state and local payroll tax returns; and collection and remittance of clients' payroll obligations.
The company is well-suited to thrive in the current climate for three reasons:
Employment growth: There are now over 120 million full-time employees in the United States, up from 98 million 25 years ago. Paychex has steadily increased its market share during this time and is among the top two companies in its field.
Small businesses: According to the Small Business Administration, small- and medium-sized businesses (fewer than 1,000 employees) have generated 66% of new jobs over the past five decades and account for more than half of all jobs. Paychex is particularly strong in this segment.
Income potential: In addition to a steady increase in its share price, Paychex offers an unusually strong dividend yield for a relatively small company. Its yield has remained above 2.5% throughout this decade and is now around 3%.
Paychex's prime competitor in its industry is American Data Processing, but there are good reasons to see Paychex as a better investment. Its price-earnings ratio (29) is slightly lower, and its dividend yield is noticeably higher. Also, ADP's stock price has been more volatile in recent years.
---
With all the potential pitfalls out there, you need a strategy that has produced proven winners over a period of years. We can provide step-by-step instructions that will allow you to score gains on at least 85% of your trades, year in and year out. Just send for our free special report now!
Tom Scarlett is an independent contributor who at the time of publication owned none of the stocks mentioned.