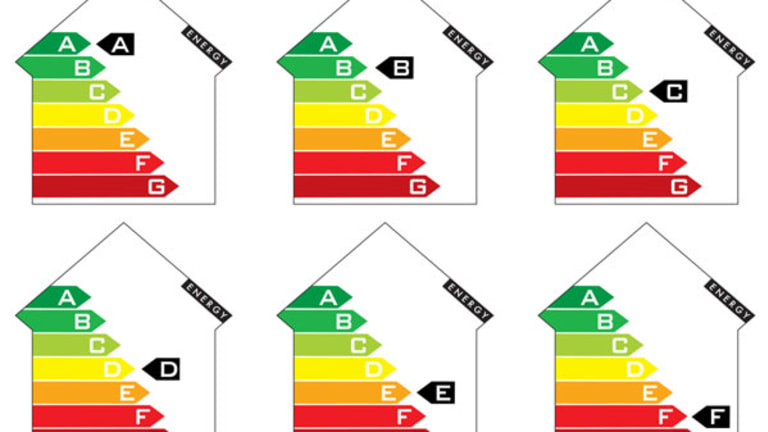 Pay Attention When Wall Street's Biggest Solar Bear Gets Nervous
Axiom Capital analyst Gordon Johnson abruptly drops all of his sell ratings on the sector.
NEW YORK (
) - When the biggest solar stock bear on Wall Street -- an analyst selected by
CNBC
for one of the "shorts of the year" in 2011 -- gets nervous about sell ratings on solar stocks, pay attention.
A report from Deutsche Bank suggesting that
solar demand may improve more than expected in 2012 and that pricing may stabilize led to a monster rally in solar stocks, but that report may not be the most telling read from the solar analyst ranks.
If you don't trust Deutsche Bank, you might want to take a look at the flurry of reports put out by Axiom Capital analyst Gordon Johnson -- sent with red exclamation marks in the email subject line -- removing his sell rating on five solar stocks, including
First Solar
(FSLR) - Get First Solar, Inc. Report
-- the aforementioned "short of the year" and a stock which he just
lowered his price target on last week, to $26. First Solar rallied to above $42 on Wednesday.
When Johnson lowered his First Solar price target but commented in the change that the First solar short had "almost run its course," one peer solar analyst commented that it was as good a sign of a bottom in solar as any other data point.
And that was before it became known on Friday afternoon that Germany had installed 7.5 gigawatts of solar in 2011 thanks to a huge fourth quarter, a typical short-term frenzy driven by declining subsidies in the world's biggest solar market. The subsidy-driven trade in solar may be a signal of much that is wrong with the economics of the sector, but it's also always been a driver of trading and short-term gains in solar shares.
Johnson removed sell ratings on First Solar
, Yingli Green Energy
(YGE)
,
Trina Solar
(TSL)
,
Suntech Power
(STP)
and
Power-One
(PWER)
.
He didn't move to a buy, but moving to a neutral was enough to signal that the great solar short may have run its course -- or at least this course of the great solar short may be completed.
The rationale provided by Johnson for moving to the sidelines on solar stocks was good evidence of the prevailing solar bearishness swinging back to a more optimistic view, at least as a near-term trade.
"Our checks this morning w/ a large German distributor suggest the German residential market has continued to exhibit strength in Jan. '12, despite the massive demand pull-in experienced in Dec. '11 prior to the 15% FiT cut 1/1/12: While our long-term thesis on STP, & the solar industry in general, remains unchanged, & our analysis implying structural overcapacity remains...the massive level of installations in C4Q11 in Germany has nearly depleted the entirety of inventory in the channel...in fact, one large German distribution vendor informed us that the residential market is now supply constrained (yes, you heard that right)."
Johnson added: "When considering (a.) German officials will likely begin discussing policy changes in the coming weeks (to include a possible cap), & (b.)solar stocks have historically rallied between the period when government officials begin official discussions around FiT cuts & when the official decision on FiT changes was announced, we see a relatively high likelihood that solar stocks stabilize or move higher in the near term as German regulators begin to discuss FiT policy changes, thus causing a pull-in effect on demand...we now expect a stabilization for the majority of 'Tier 1' solar vendors, as positive data points likely rear their head."
Polysilicon prices suddenly went up in the past week, a positive change that Johnson noted in a pricing report on Wednesday morning before revising coverage of all solar stocks. While solar cell, wafer and module pricing remained lower, it's the polysilicon price at the most upstream part of the solar supply chain that holds the industry beholden to its direction.
When polysilicon was at $300/kg a few years ago, First Solar and its thin film approach requiring no polysilicon had an untouchable cost equation. When polysilicon cratered to the high $20s in recent months, First Solar's module business was left for dead. Stabilization in poly prices can be read as the first sign of stabilization in the solar supply chain.
Yingli, Trina and Suntech each rallied between 20% and 30% on Wednesday.
Trina Solar, Suntech and Yingli are the largest Chinese module makers. During solar boom times, Trina and Yingli were generating gross margins above 30%. However, those gross margins fell to the break-even point in 2011 as excessive capacity in solar and lessening demand in Europe caused the profitability of the sector to be wiped out.
Trina Solar, Suntech and Yingli are likely to be
long-term survivors on the Chinese solar landscape, the critical question being at what level of profitability and in what corporate structure.
Yingli, for example, has its own polysilicon plant, unlike Trina, and that's a link in the solar supply that could makes a case for it as a survivor. But Trina has a strong balance sheet relative to Chinese solar peers. Suntech, as the capacity leader in China and most well-known global solar brand among Chinese companies, is also likely to survive, even given its balance sheet weakness.
Earlier this week, First Solar scored a 115-megawatt deal with
EDF
in France for a major solar project. While the sale of its modules for the 115-MW project may not have been profitable given current solar oversupply, it does underscore the fact that First Solar can still compete with the Chinese module makers, said Aaron Chew, analyst at Maxim Group. First Solar has been beaten down as low as $29 on fears that given the cratering of prices in solar it is no longer a viable competitor to the Chinese module makers outside of the pipeline of projects that it owns.
"The case for First Solar modules not being competitive is overstated," said Paul Clegg, Mizuho Securities analyst. "Depending on the situation and what it's bringing to the table, you can't say it's the unparalleled cost leader anymore, but it's cost competitive with peers," Clegg said.
Shares of Power-One, which was a darling among solar stocks in 2010 as German and Italian demand buoyed its shares, have declined by 58% in the past year. The solar inverter companies have long made the case that it was only solar modules, and not solar inverters, that faced massive oversupply and pricing erosion. However, in 2011, that glut and pricing weakness extended to inverters and Power-One's argument -- and commentary throughout the year that Europe was improving -- proved to be flawed.
Suddenly, though, it looks like Wall Street is starting to believe commentary from solar about the European situation improving, at least as far as one more short-term trade in solar with the cat-and mouse game between pessimism and optimism in the sector continuing.
And to make one important point clear amid short-term volatility, Johnson doesn't like the fundamentals of solar one bit, even if a trading upswing has to be protected against when holding short positions. "Stocks trend higher on this BS German pull-in trade...I will have another opportunity to short this space...By Dec. '12, all of these stocks will be at historical lows," Johnson wrote in an email to
TheStreet
."I just hope the average TheStreet.com reader gets out before the big collapse happens," Johnson added.
To add one more note of caution about a solar rally of this magnitude, "Remember Fukushima." The Japanese nuclear disaster was the last time that the march of solar stocks -- in that case an
inevitable
march onward and upward -- turned out to be one more payday for the shorts, once all was said and done.
-- Written by Eric Rosenbaum from New York.
RELATED STORIES:
>>A Bottom in Solar Stocks? Maybe, Says Deutsche Bank
>>8 Bold Questions for Solar in 2012
>>First Solar Short Almost Over
>To contact the writer of this article, click here:
Eric Rosenbaum
.
>To follow the writer on Twitter, go to
.