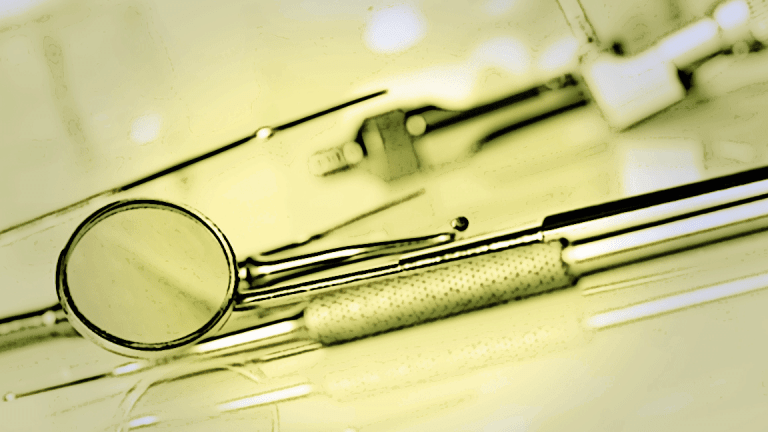 Patterson Tumbles After It Delays Earnings Report
Shares of Patterson tumble after the dental and veterinarian supply and distribution company delays its earnings report.
Shares of Patterson Cos. (PDCO) - Get Free Report fell more than 8% Wednesday, Nov. 28, after the company gave a preview of its fiscal 2019 second-quarter earnings and said it would delay the full report.
Despite holding the release of its quarterly report until Dec. 6, the Minnesota-based dental and veterinarian supply and distribution company gave a peek into its earnings for the period ended Oct. 27.
Patterson reported consolidated net sales of about $1.4 billion, an increase of 1.4% from the same time last year. Internal sales -- which are adjusted for currency exchanges and other factors -- were up by 1.8%, said the company.
"Second quarter net sales results are in line with company expectations and demonstrate two consecutive quarters of year-over-year revenue growth," said Patterson in a press release. 
Patterson was initially planning to reveal its second-quarter results Thursday, but said that "in light of recent accounting pronouncements" it needed more time to sift through non-operating income related to investments in joint ventures.
"This potential change in accounting treatment does not relate to the company's business operations or the accounting for those operations," said the company. 
Last month, Patterson found itself in the middle of a proposed $80 million legal settlement with other dental supply distributors after accusations of conspiring with competitors, according to report in the StarTribune newspaper. Patterson had tucked away $28.3 million to settle its share of the class-action lawsuit, according the report, noting that Patterson denies it worked with the other companies, Henry Schein Inc. (HSIC) - Get Free Report and Benco Dental, two other major players in the dental market, to fix prices or commit any other wrongdoing.
Patterson started in the late 1800s as a dental supply company but grew over the years in part by buying up other businesses such as Health Co. Canada and Global Medical & Dentals.