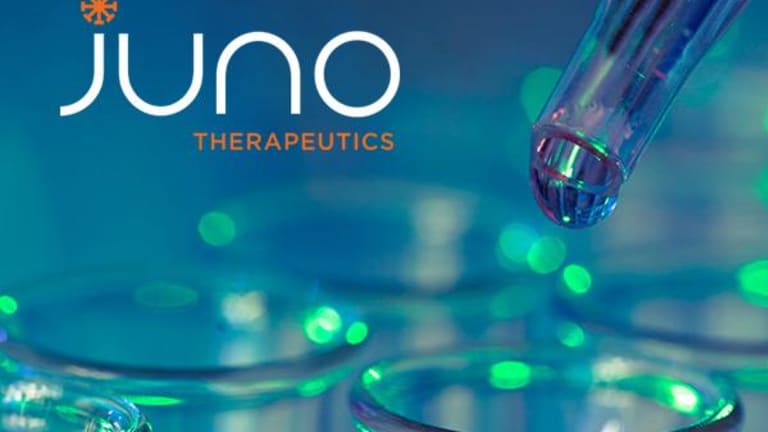 Patient Deaths, Safety Concerns Cause Juno's CAR-T Pipeline to Skid Out
Juno now finds itself one year, if not two years or more, behind rivals Novartis and Kite.
Juno now finds itself one year, if not two years or more, behind rivals Novartis and Kite.
"Have you ever seen a race car that looks like it is competing with leaders up front but in reality is a lap down? That's Juno right now." -- Brad Loncar.
Loncar, a healthcare investor and manager of a cancer immunotherapy fund, found a perfect analogy to describe the problems weighing on Juno Therapeutics (JUNO) as it struggles to compete against Kite Pharma (KITE) and Novartis (NVS) - Get Report to develop engineered T cell therapies known as chimeric antigen receptor T cells, or CAR-T.
On Saturday at the American Society of Hematology (ASH) annual meeting, Novartis showcased a 60% complete response rate at six months from a pivotal clinical trial of CAR-T CTL019 in children and young adults with B-cell acute lymphoblastic leukemia.
An approval filing for CTL019 with the U.S. Food and Drug Administration is targeted for early 2017, Novartis said.
That timeline puts Novartis on an equal footing with Kite Pharma, which has already announced FDA filing plans for its CAR-T KTE-C19 in the first quarter 2017. KTE-C19's initial marketing application will target treatment of several forms of aggressive lymphoma.
Juno spent the weekend at the ASH meeting trying to defend its CAR-T pipeline from documented reports of patient deaths and neurotoxicity that forced lead product JCAR015 into a second clinical hold.
The company now finds itself one year, if not two years or more, behind Novartis and Kite.
In an interview at the ASH meeting on Saturday, Steve Harr, Juno's chief financial officer and head of corporate development, said JCAR015 remains on clinical hold while the company seeks to determine if JCAR015 caused two new cases of fatal brain swelling in adults with acute lymphoblastic leukemia. Three other leukemia patients treated with JCAR015 died from toxic side effects in July.
JCAR015 might be shelved permanently if the safety risk to patients, even for those with no other treatment options, is found to be unacceptable, Harr said. Juno might also try to get JCAR015 off clinical hold and start treating patients again if changes to the CAR-T or the way it is administered can be made, he added.
Juno is holding an investor and analyst meeting on Monday night but there won't be any announcement about the final fate of JCAR015, Harr said.
It might be a moot point because investors have largely written off the troubled product, believing Juno will have no choice but to discontinue development and move on to other CAR-Ts in its pipeline.
Juno shares are down 53% year to date and trade near an all-time low.
In the Novartis pivotal study, 82% of children and young adults with B-cell acute lymphoblastic leukemia were put into complete remission for at least three months following a single infusion with CTL019, the company said Friday.
The rate of complete remission fell to 60% at six months, still a strong response but another reminder that CAR-Ts are not a cure for all patients.
Forty-eight percent of the patients treated with CTL019 experienced the severe immune response side effect known as cytokine release syndrome, but there were no deaths attributed to it. Fifteen percent of patients experienced severe neurological toxicity.
Juno's CAR-Ts are just as effective at killing cancer cells as anything developed by Novartis or Kite but for now, efficacy is taking a backseat to safety concerns.
On Saturday, Juno reported an 88% complete marrow response for its JCAR014 CAR-T in patients with chronic lymphocytic leukemia no longer responsive to Imbruvica, the best and most effective drug approved to date for the blood cancer.
The efficacy of JCAR014 is impressive in this difficult-to-treat group of chronic lymphocytic leukemia patients, yet the good news for Juno was tarnished, again, by another patient death in the study due cytokine release syndrome and brain swelling. One quarter of the patients treated with JCAR014 experienced severe neurotoxicity.
(Juno has no plans to commercialize JCAR014, replacing it with JCAR017, which is nearly identical.)
Until Juno figures out why its CAR-Ts are causing patients to die at a rate greater than its competitors, efficacy data, no matter how strong, won't register much at all with investors.
Adam Feuerstein writes regularly for TheStreet. In keeping with company editorial policy, he doesn't own or short individual stocks, although he owns stock in TheStreet. He also doesn't invest in hedge funds or other private investment partnerships. Feuerstein appreciates your feedback; click here to send him an email.