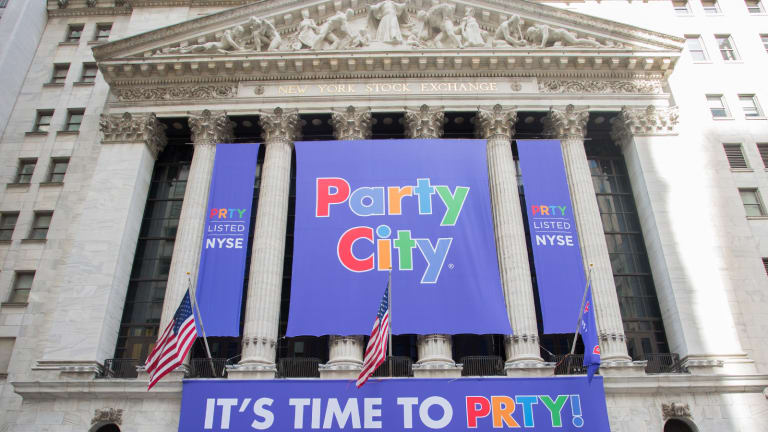 Party City Plans New Pop-Up Toy Shops to Fill Void Left By Toys 'R' Us
With Toys 'R' Us closing for good this week, Party City plan to open some 50 'Toy City' stores.
With Toys 'R' Us closing for good this week, Party City plan to open some 50 'Toy City' stores.
Party City Holdco Inc. (PRTY) - Get Report  plans to open 50 to 55 pop-up toy shops to expand its reach into the sector while filling the void left by Toys "R" Us, which filed for bankruptcy last year and plans to close its remaining U.S. stores this week. Dubbed "Toy City," the shops will sell most major brands, including toys from Mattel Inc. (MAT) - Get Report  and Hasbro Inc. (HAS) - Get Report  .
"We're always looking for opportunities to enhance the assortment while staying true to who we are as a brand," Party City Chief Financial Officer Dan Sullivan told TheStreet. "Toys 'R' Us' closing provided a unique market opportunity."
The temporary shops will operate from mid-September through the winter holidays in major U.S. cities, sharing space with PRTY's existing pop-up Halloween stores. Some will sell toys and Halloween fare at the same time, while others will sell only Halloween goods until Oct. 31, then switch over to toys on Nov. 1.
The pop-up stores will complement Party City's efforts to snap up part of the toy market before larger retailers move in. The company announced that it will also "test an expansion" of the toys it offers online, according to a company statement.
Sullivan can't estimate the effect the pop-up shops will have on Party City's bottom line. "With such a limited pilot of 50 stores, this is much more a commercial and strategic initiative than it is [for] our financials," he said.
Pop-up shops have been a part of PRTY's business model for close to a decade, and Sullivan touts their convenient and diverse shopping experience as part of the company's strengths. Last year, Party City operated around 250-300 pop-up Halloween City stores, which generated approximately $54 million in sales. Now, the firm hopes to recreate that success with the Toy City shops.
Sullivan said PRTY plans to staff the new pop-up stores with an estimated 20,000 seasonal workers, including a large number of returning employees who worked for Halloween City in previous years. That's a welcome sign given the U.S. retail industry's current labor shortage. Sullivan said adding Toy City shops to the mix will allow the chain to offer workers jobs through January instead of ending employment on Nov. 1 when Halloween City stores previously closed.
Business has been good for Party City so far this year so far. The chain earned $6.9 million in 2018's first quarter, beating Wall Street expectations by over $2 million, according to FactSet data.
And while PRTY fell about 1% to $15.80 shortly before Monday's close and has lost some 2.7% in the past three sessions, its shares are up 14% for the year to date. Analysts have six "Buy" recommendations and four "Hold" ratings on the stock.