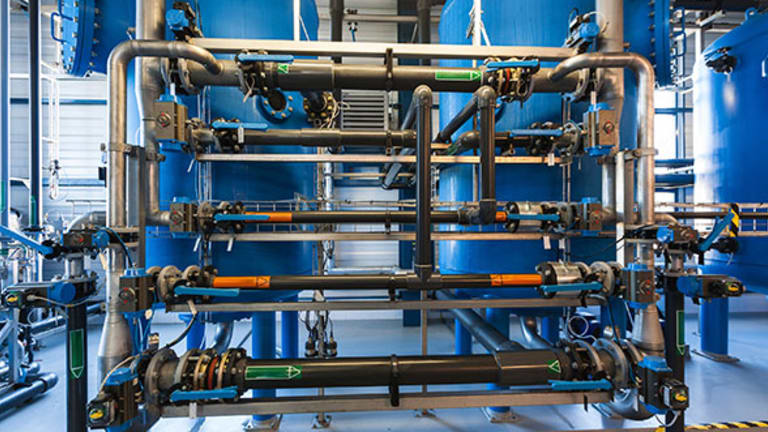 Parker-Hannifin May Be Peaking
Parker-Hannifin has skyrocketed on merger news. But the stock may be out of upside.
In the latest one-year period, shares of Parker-Hannifin (PH) - Get Free Report are up 63%. Parker-Hannifin is the world's largest manufacturer of motion and control technologies. The company manufactures hydraulics, pneumatics and electromechanical motion systems that are used in jet engines, autos, trucks and turbines. In flow and process control, Parker-Hannifin provides fluid and gas handling, process control and climate control systems. The company also manufactures filtration systems.
Approximately 82% of sales and 84% of operating earnings come from values, pumps, filters and hydraulic components. Interestingly, only 37% of revenue comes from overseas.
On Dec. 1, Parker-Hannifin announced it would acquire Clarcor (CLC) , a leader in the industrial filtration business, for $4.3 billion, a 17.8% premium to the current stock price. Clarcor is a diverse filtration company with over $1.4 billion in annual sales, 100 facilities and 37 manufacturing plants. It operates in 20 countries and sells some of the most recognizable brands in the filtration business. Approximately 42% of Clarcor's revenue is from engine and mobile filtration. Industries such as construction, power generation, marine, rail, mining, agriculture and on-highway transportation rely on the company's filters. About 58% of the company's business comes from industrial and environmental filtration.
Investors really like this deal. It is immediately accretive to Parker-Hannifin's earnings. The combined company will have revenue of $12.8 billion and an adjusted margin for earnings before interest, taxes, depreciation and amortization of 15.1%. Since Clarcor is more profitable than Parker-Hannifin, the merger will pull up Parker's earnings. By year five, the company expects its EBITDA margin to improve by 300 basis points. About 80% of Clarcor's revenue comes from aftermarket sales, which are recurring and experience very little seasonality. Management anticipates $140 million in synergies three years after closing of the transaction.
Without the Clarcor deal, revenue is expected to be flat for fiscal 2017 and up about 10% after the deal is completed next year. In terms of valuation, Parker-Hannifin usually trades between 16 and 18 times forward estimates. At the current quote of $143, the stock is already trading at 19.2 times consensus 2018 estimates of $7.59. The stock is up nearly 20% since the end of October.
After the recent move in the stock price, I think it will be hard to pump out any significant profits out of this stock.
This article is commentary by an independent contributor. At the time of publication, the author held no positions in the stocks mentioned.