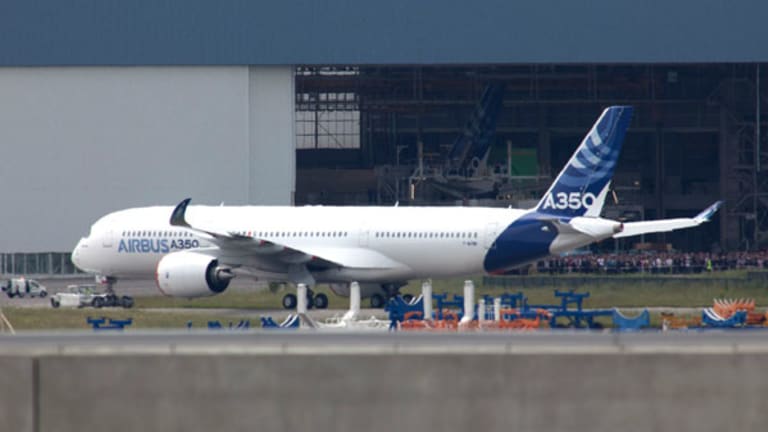 Paris Gossip: Is Boeing 777X a Paper Airplane? Is A350 an Orphan?
Boeing will try to make the case in Paris that the A350 is an 'orphan airplane' with no variations, an expert says.
Boeing will try to make the case in Paris that the A350 is an 'orphan airplane' with no variations, an expert says.
PARIS (
) -- The duopoly aircraft makers, both sporting year-to-date stock price gains in the 35% range, will flaunt their latest wide-body offerings and taunt their competitors at the Paris Air Show, which opens Monday.
The first flight of the A350 is scheduled for Friday in Toulouse, France,
Airbus'
headquarters, guaranteeing that the new aircraft and the possibility of an appearance will consume the air show. Meanwhile,
Boeing
(BA) - Get Report
said its featured products will be two 787s, a show of confidence after the Federal Aviation Administration grounded the aircraft for four months, which ended May 20, due to the danger of battery fires.
"We are all children when we go to the air show," said Damien Lasou, global managing director, Accenture's aerospace & defense practice. "We like to see these airplanes fly. I would be keen to see the 350 flying. I would love to see the 787 too. This is what makes the show attractive."
In addition to showing the 787, Boeing is also expected to launch its 787-10, a stretched 787, and to announce commitments for the 777X, offering options for either more capacity or more range than the existing 777-300ER offers.
"By having both the 787-10 and the 777X available for sale, Boeing makes a strong argument that it has, or will have the next several years, a next generation platform for the entire widebody spectrum," said Carter Leake of BB&T Capital Market's aerospace and defense investment banking group.
"Boeing is looking to frame the A350-1000 as a capable but unnecessary 'orphan aircraft' for current operators of the 777," Leake said. "Airbus will counter that the 777X an unproven 'paper airplane,' but Boeing's goal at this point is to muddy the waters for all A350 sales campaigns. We think the 787-10 and 777X combination achieves that goal." Orphan aircraft lack variants, while paper airplanes don't yet operate commercially.
Two 787s flown by Japanese carriers had unrelated minor problems this week. Nevertheless, most recent news concerning the 787 has been good. On Monday,
United
(UAL) - Get Report
celebrated the inauguration of its 787 Denver-Tokyo service. On Wednesday, a Boeing executive spoke to a Congressional committee about lessons learned
from the 787's battery problems
.
Investors have chosen to look at the worldwide demand for aircraft, rather than the problems. Boeing shares are up 32% this year and are trading above $100 for the first time since 2007. Meanwhile, shares in Airbus parent
EADS
are up 43% year to date.
Lasou said that while he hopes to see the A350 fly next week, the timing of incremental steps in the A350's impending introduction, as well as the 787's setbacks, are not important to the overall success of either aircraft.
"I do not measure the success of these programs by the last few months," Lasou said. "They are 20-year programs, at a minimum. Looking back, the 787 was more ambitious from a technology standpoint. It was done with the technologies not of tomorrow, but of after-tomorrow. They felt some pain from including things that did not yet exist.
"The A350 was less ambitious on a number of things, but it is still quite ambitious," he said. So far, he added, development of the airplane is going well, "but that is not a sign that everything will be perfect."
In terms of orders, which are closely watched at the Paris Air Show, "This may be a show where you don't have as many major orders as we have in the recent past," Leake said. He noted that Boeing and Airbus have been announcing deals recently, as opposed to delaying announcements to the show. For instance,
Singapore Airlines
said two weeks ago that it will order 30 more Airbus A350-900s and 30 Boeing 787-10x.
Meanwhile, the market for proven narrow-body aircraft remains intense. "I don't want to sound giddy, but it's a good time for the manufacturers," said Airbus spokesman Clay McConnell. "There is a lot of demand, and sales this year will be robust (as) airlines order aircraft both for growth and to replace aging aircraft." In the past year, both Airbus and Boeing have announced narrow-body production increases. Airbus now produces 42 A320s a month. Boeing recently increased 737 production from 35 to 38 a month, and plans a rate of 42 a month in 2014.
Lasou said the biggest impediment to narrow-body sales growth remains the suppliers. Both Boeing and Airbus have announced 20% narrow-body production increases. "That is quite a lot, and they share many suppliers," he said. "We see signs of weakness in the supply chain, where you need certification and very sophisticated materials. Boeing rescued a couple of suppliers a few years ago, and Airbus did the same last year. This is clearly something we need to monitor -- we are not yet back in the green area."
-- Written by Ted Reed in Charlotte, N.C.
>To contact the writer of this article, click here: