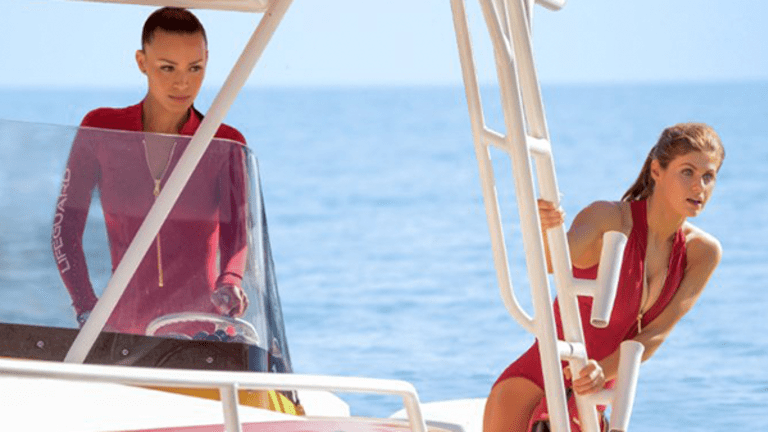 Paramount Suffers Another Box Office Blow With Disappointing Memorial Day Weekend
The studio's 'Baywatch' remake flopped over the weekend, putting even more pressure on Viacom's struggling movie studio.
The latest big-budget movie from Viacom's (VIAB) Paramount Pictures flopped this weekend, putting even more pressure on new studio chief Jim Gianopulos, who took over the struggling movie maker in late March.
Baywatch, the remake of the 1990s syndicated lifeguard show, has sold an estimated $27.6 million in tickets since its release on Thursday, according to comScore. The movie cost $125 million to make and market and was expected to gross $40 million in its opening weekend, according to the Los Angeles Times. (Wells Fargo analyst Marci Ryvicker had a $25 million estimate on the film.)
The disappointing showing for Baywatch came amid a comparatively slow Memorial Day weekend during which only Disney's (DIS) latest Pirates of the Caribbean film met box office expectations, earning an estimated $77 million in the U.S. 
For Paramount, Baywatch's underperformance follows similar struggles for Ghost in the Shell, released in March, and Monster Trucks, which debuted in January. Ghost in the Shell, a manga adaptation starring Scarlett Johansson, has made about $170 million against its $110 million budget. While Paramount had high hopes for a potential new Monster Trucks franchise, the film's release date was pushed back several times, and the worldwide gross of $64.5 million is barely half the $125 million budget.
Before the Memorial Day weekend, Paramount sat in sixth place among Hollywood studios in 2017, ahead of Sonyundefined Pictures though trailing Lions Gate Entertainment (LGF.A) . Paramount has finished in 6th or 7th place among Hollywood studios every year since 2011, when it topped the standings on the backs of Transformers: Dark of the Moon, Mission: Impossible - Ghost Protocol and two Marvel films it distributed, Thor and Captain America: The First Avenger, according to BoxOfficeMojo.
Gianopulos replaced Brad Grey, Paramount's former CEO who died earlier this month, and ran the Viacom studio for 12 years. Gianopulos was tapped by Viacom CEO Bob Bakish, who was officially hired to run the company in December following years of underperformance at both Paramount and its cable TV networks led by MTV, Spike and Comedy Central.
Over the relatively sluggish weekend for filmgoers, Pirates of the Caribbean: Dead Men Tell No Tales, the fifth installment of the Disney franchise, had added $208.4 million through Sunday, bringing its worldwide take to $285.4 million, BoxOfficeMojo said. It is expected to easily recoup its $400 million cost.
Elsewhere, Guardians of the Galaxy Vol. 2, released May 5, and Alien: Covenant, released May 19, came in second and third place this weekend, grossing $28.49 million and $21.33 million, respectively, through Sunday. (Worldwide figures run through Sunday while domestic tallies include Monday.) Alien is distributed by 21st Century Fox (FOXA) , while Guardians is a Disney production.
Pirates' $77 million domestic gross over the four-day weekend was more than the next three films combined. Still, that's below the fourth Pirates installment's opening weekend gross, which topped $350 million in 2011.
Paramount execs will now have to cross their fingers until June 21, when the fifth live-action Transformers movie, Transformers: The Last Knight, will be released. The franchise, based on the Hasbro (HAS) toy line, launched in 2007. The most recent installment, 2014's Transformers: Age of Extinction, which like the forthcoming one starred Mark Wahlberg and Stanley Tucci, grossed more than $1.1 billion worldwide on a budget of about $210 million.
Read More Trending Articles:
Action Alerts PLUS, which Cramer manages as a charitable trust, has no positions in the stocks mentioned.