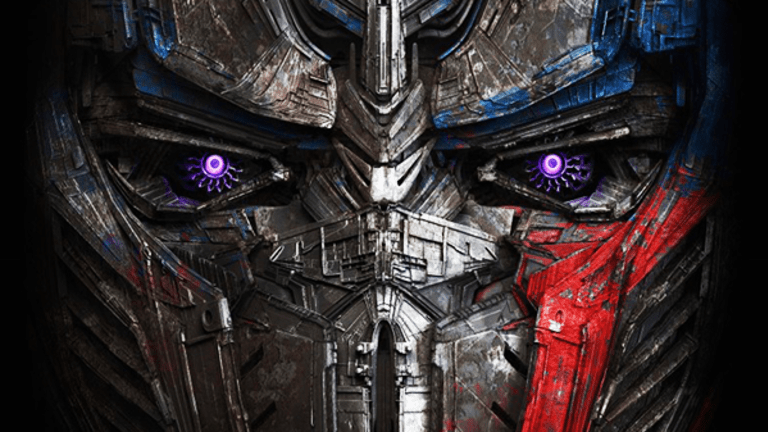 Paramount's 'Transformers' to Stall in its Domestic Opening
The film should compensate internationally, however, where the Michael Bay franchise is as big as ever.
Paramount's (VIAB) - Get Report "Transformers: The Last Knight" is the sole new wide release this weekend, and it isn't even that new-the robo-sequel opened yesterday, with a low opening day of $15.65 million. That slow start means the fifth film in this franchise won't come close to the $100 million+ debuts of past installments. However, "The Last Knight" is expected to be a bigger player internationally, where the "Transformers" movies have always been popular. Overall, the top 12 films should earn around $140 million this weekend, down 23% from both last weekend and the same frame last year.
When the first "Transformers" opened a decade ago, it was a gigantic hit for Paramount, making $155 million in its first week and showing the film industry that toys were viable properties to transform into blockbuster hits. Since then, Paramount has continued to crank out "Transformers" films every few years, as the franchise is by far its sturdiest. Even as the domestic popularity of the franchise has waned in recent years, the films have made more and more internationally-specifically in China, where nostalgia plays a huge role in the films' success.
"The Hasbro toys were among the first, and therefore the most popular, Western toys to enter the Chinese market in the early '90s," explains Jonathan Papish, industry analyst for China Film Insider. "For many Chinese in their late 20s or early 30s, especially men, each and every 'Transformers' film is an event that must be seen."
Indeed, the last "Transformers" film was a monster in China, earning $320 million in the territory--or $75 million more than the movie made stateside. The new "Transformers" film may see an even greater share of its business come from China, where it opens on Friday. Paramount and Wanda Group recently announced that they were partnering for marketing in the territory, a boon for the film given that Wanda owns China's biggest cinema line and is known for its innovative marketing efforts.
Paramount will have its eye on the rest of the international marketplace as well. The previous "Transformers" film generated over $300 million in business in its worldwide opening, and while "The Last Knight" will probably fall short of that, it could earn over $200 million internationally this weekend as it opens in 42 markets.
That would be a solid start for the $217 million film and would save face for what's shaping up to be a disappointing opening domestically. If "Transformers: The Last Knight" follows the same trajectory as the third installment in the franchise (which also opened on a Wednesday), it would end up around $41 million for the weekend and $65 million for its first five days. However, the terrible reviews (this installment has the worst Rotten Tomatoes score in the franchise) and lackluster B+ CinemaScore will probably drive down business for "The Last Knight." Expect the film to make $36 to $38 million domestically this weekend for a five-day start a bit over $60 million.
Second place may be a close race between Disney's (DIS) - Get Report "Cars 3" and Warner Bros.'s  (TWX) "Wonder Woman," which has been experiencing impressive weekend-to-weekend holds. Pixar sequels tend to lose about 45% of their business in the second weekend, with the major exception being "Cars 2," which plummeted 60%. That film was hampered by bad reviews and, as fate would have it, competition from the debut of the third "Transformers" in its second weekend. "Cars 3" should hold up a bit better due to positive word-of-mouth and the fading demand for the "Transformers" franchise. Expect the Pixar film to drop about 47% for a $28 to $29 million weekend.
"Wonder Woman" should be close behind. The film dropped less than 30% last weekend, an incredible hold for a superhero movie, and its staying power should be in the same ballpark this weekend. Expect the film to drop around 33% for a $28 to $29 million weekend as well. If "Transformers" really stumbles over the next few days, there's an outside chance that "Cars 3" or "Wonder Woman" could claim the top spot. Unlikely as it is, there would be some kind of poetic justice in a film from a female director upsetting a Michael Bay flick for the No. 1 spot.
The Top five should be rounded out by Lionsgate's (LGF) "All Eyez on Me" and Universal's (CMCSA) - Get Report "The Mummy." The 2Pac biopic looks primed for a steep drop-off from its first weekend, given the mixed word-of-mouth and historical precedent for hip-hop films. "Straight Outta Compton" dropped 60% in its second weekend, while "Notorious" dropped 70%. Expect "All Eyez on Me" to fall in between those two films with a 67% drop and a $8.5 million weekend. "The Mummy" won't be too far behind with a 52% drop and a $7 million weekend.