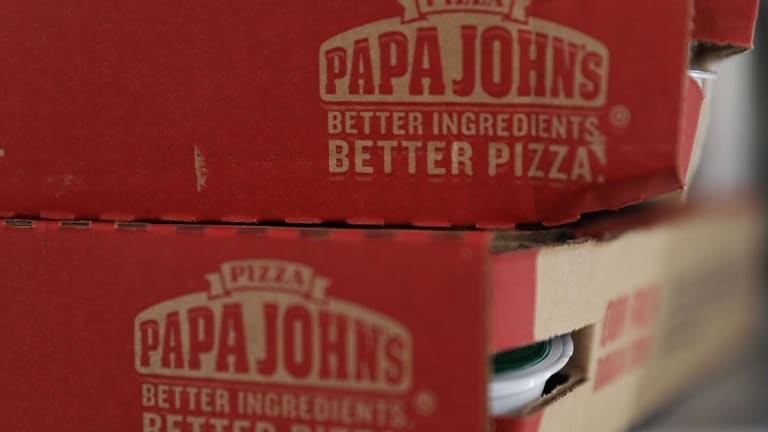 Yes, Papa John's Should Be Sold to Wendy's (Or Someone Else): Rewind
Papa John's has been lighting up the internet of late on outlandish comments by its founder. Now, a new report suggests the founder held merger talks with Wendy's.
John Schnatter has become quite the news-maker this month. 
The founder and now former chairman of Papa John's (PZZA) -- under fire for making allegedly racist comments in a PR call -- has reportedly held merger talks with burger chain Wendy's (WEN) . According to The Wall Street Journal, Schnatter held preliminary talks with Wendy's before he stepped down as chairman last week. Schnatter owns about 30% of Papa John's outstanding shares.
A Wendy's spokeswoman told TheStreet the company does not comment on rumors or speculation. "I think you will start to see a little more consolidation -- in any industry where you are seeing flattish to 1% customer count growth you really do need to drive some consolidation," Wendy's CEO Todd Penegor told TheStreet in January.
He wasn't kidding.
As TheStreet laid out months ago, a sale of Papa John's makes a great deal of sense. On the latest edition of "Rewind", TheStreet looks back at that analysis. Be sure to sign up for the latest "Rewind" newsletter here. 
Rewind
Date: Feb. 28, 2017
The Call: Papa John's Should Be Sold Because It's Undervalued
Who: TheStreet's Brian Sozzi
The Backstory
Plunging stock price. Attractive valuation. Papa John's.
With deal activity in the restaurant space being hot the last year, acquisitive names such as JAB Holdings, Restaurant Brands International (QSR)  and Inspire Brands may want to sniff around Papa John's. Shares of the 34-year old pizza delivery company, known for its better ingredients promise and generous mobile rewards program, have cratered some 30% over the past year amid slowing sales.
Papa John's stock rose 2.4% on Wednesday despite fourth quarter North American same-store sales diving 3.9%. Sales were markedly below rivals Domino's Pizza (DPZ)  and Yum! Brands (YUM)  Pizza Hut, which notched respective gains of 4.2% and 2%.
As has become a recurring theme, Papa John's continued to feel backlash from controversial comments out of founder John Schnatter in Nov. 2017 tied to National Anthem protests taking place in the NFL. Schnatter stepped aside as CEO on Jan. 1 and into a chairman role. Taking over the reigns as CEO was Steve Ritchie, a former delivery driver turned C-suite exec.
Papa John's, a long-time key sponsor of the NFL, said Tuesday it will shift its advertising toward individual teams to try and move beyond Schnatter's comments. It will no longer pay to be the official pizza sponsor of the league.
What has been left in the wake of Papa John's struggles is a global pizza delivery empire of 5,200 locations that may now be too attractive for acquirers to ignore.
Papa John's stock trades on a price-to-earnings multiple of 18.5 times forward analyst estimates. Domino's Pizza trades at about 24 times, with the market rewarding the company's faster growth and more consistent execution vs. Papa John's. The global fast-food pizza market is so lucrative that hitting the reset button on Papa John's operations while pressing ahead with new store openings could yield a multiple closer to Domino's over time.
Papa John's mobile ordering success is also a feather in its cap.
"I think you will start to see a little more consolidation -- in any industry where you are seeing flattish to 1% customer count growth you really do need to drive some consolidation," Wendy's CEO Todd Pengor told TheStreet. "I think a lot of the consolidation is driven by access to technology and can you create some scale with technology through loyalty programs -- that's the power of consolidation," Penegor says.
He added, "In the technology world, information is everything -- how do you better connect with consumers and change their behavior."
The wildcard in any potential deal is whether Schnatter would be willing to hand off his creation. To be sure, his say matters as he owns roughly 27% of Papa John's outstanding shares. In this situation, European food conglomerate JAB holdings may be an ideal fit for Papa John's.
JAB's last restaurant purchase was fast-casual chain Panera Bread in 2017. That deal ultimately came about after Panera founder and then CEO Ron Shaich got comfortable with the JAB team.
"These guys at JAB have a great record, they are hands off, they incentivize the management team in a serious way -- that's what I want for my team," Shaich told TheStreet. "Also, these guys -- when I say long-term -- they measure some of their investments in centuries not decades."
What more can a founder ask for?
But if JAB Holdings doesn't excite Schnatter, perhaps two other fast-food giant do.
Rumors have swirled of late, compliments of a blog post from Brazil Journal, that the owner of Burger King, Popeye's and Tim Horton's Restaurant Brands is sniffing around Domino's Pizza. In a new note, Credit Suisse estimates that Domino's is worth at least a 25% premium to its current trading price. That projected premium underscores the inherent value in the fast-food pizza space, value that Papa John's stock unlikely reflects at the moment.
Then there is the newly aggressive Inspire Brands.
Inspire Brands, the shepherd of Arby's and now Buffalo Wild Wings, is a private company owned by private equity firm by Roark Capital Group.
"We think there is a real opportunity to do that [acquire other companies] in this space for a number of reasons -scale matters more in this industry, especially with technology playing a role," Inspire Brands CEO Paul Brown recently told TheStreet. "We think there are opportunities to be across multiple day-parts-whether it be different protein occasions within quick service restaurants or different experience occasions in casual dinning, the key is to look for great brands."
Maybe that includes pizza, bread-sticks and an outspoken founder.