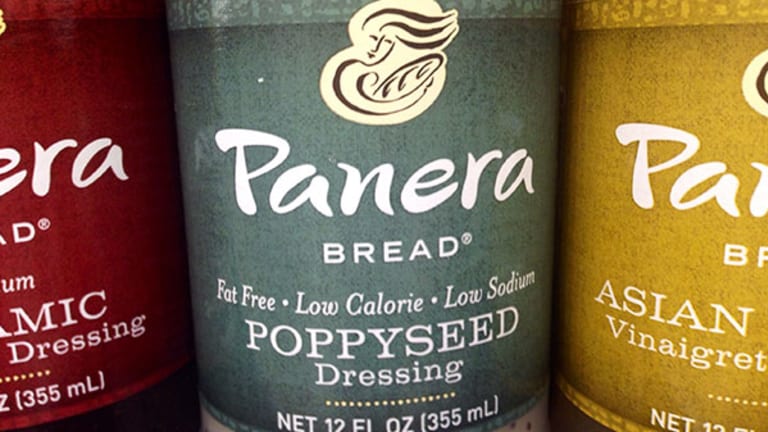 Panera's Humane Practices Provide Another Reason to Buy the Stock
The fast-casual chain has said that it will adopt a new protocol for raising chickens.
Fast-casual restaurant chain Panera Bread (PNRA)  said Tuesday that it will be the first national restaurant chain to adopt the humane practices set by the Global Animal Partnership's Broiler Chicken Standard.
The non-profit Global Animal Partnership has created a five-step program for raising chickens without cages, crates or crowding. The guidelines provide for meat-intended chickens to be kept in a pasture and brought indoors during inclement weather and also mandate that no physical alterations, such as beak or toe trimming, be made to the birds.
Shares of Panera Bread fell almost 1% in Tuesday trading, and they are down slightly on Wednesday. But the company remains at the forefront of the crowded restaurant chain industry, largely because of its commitment to quality, and this move should help its stock long term. 
Panera Bread is a holding inJim Cramer's Action Alerts PLUS Charitable Trust Portfolio. See how Cramerrates the stock here. Want to be alerted before Cramer buys or sellsPNRA?Learn more now.
The company said that it plans to use more natural lighting in the chickens' indoor environments, as well as using a newer broiler breed of bird. The company also vows to ensure that the animals are unconscious prior to being slaughtered.
"As a restaurant serving more than 10 million people a week, we have the platform and purchasing power to encourage positive changes in animal welfare practices," said Sara Burnett, Panera Bread's director of food policy and wellness. "We also have a responsibility to the farmers and ranchers who care for these animals."
The company has already switched to antibiotic-free, vegetarian-fed chicken. And 95% of the beef it serves is grass fed and free range.
"We started 13 years ago with chicken raised without antibiotics because we believed that a national restaurant company could use size and scale to affect change in the marketplace," Panera Bread's Chief Executive Ron Shaich, said in a statement.
"Our journey to reduce antibiotics has taught us that truly transformational change requires moves by many stakeholders," he said. "It is our hope that leadership by companies like Panera will continue to be a catalyst for animal welfare across the industry."
The new standards will be implemented by 2024 and should have no initial impact on the restaurant chain's earnings. But it could make a big difference in terms of how customers view Panera Bread and the profits that the company's investors stand to reap.
As consumers beg for more "conscious" food choices -- that is, healthier and more humanely and sustainably sourced food -- restaurants have had to make changes to their practices.
Fast-food giant McDonald's vowed to make the switch to cage-free chicken and eggs this year. Already, these more humanely sourced items make up more than 50% of the restaurant's poultry menu.
And Seattle-based coffee giant Starbucks is on target to be 100% cage-free by 2020.
Starbucks is a holding inJim Cramer's Action Alerts PLUS Charitable Trust Portfolio. See how Cramerrates the stock here. Want to be alerted before Cramer buys or sellsSBUX?Learn more now.
However, Panera Bread's announcement raises the bar for other restaurants. The restaurant industry has gotten more competitive as more chains enter the scene, and as low supermarket prices have Americans staying home to eat more often.
Although there is risk in the entire industry, given that this could be the cusp of a prolonged restaurant recession, Panera Bread is one of the best restaurant chains for investors.
---
85% Accurate Trader gives his Personal Guarantee: "Give Me 9 Minutes a Week and I Guarantee You $67,548 a Year."
What if I told you I know a way you can see a $67,548 per year - or more - in profitable trades just by following this simple step-by-step process? The trader who is sharing this secret has been right more than 8 out of 10 times, turning $5,000 into more than $5 million for himself. Click here to see how easy it is to follow his lead and collect thousands of dollars in "Free Money" every month.
The author is an independent contributor who at the time of publication owned none of the stocks mentioned.