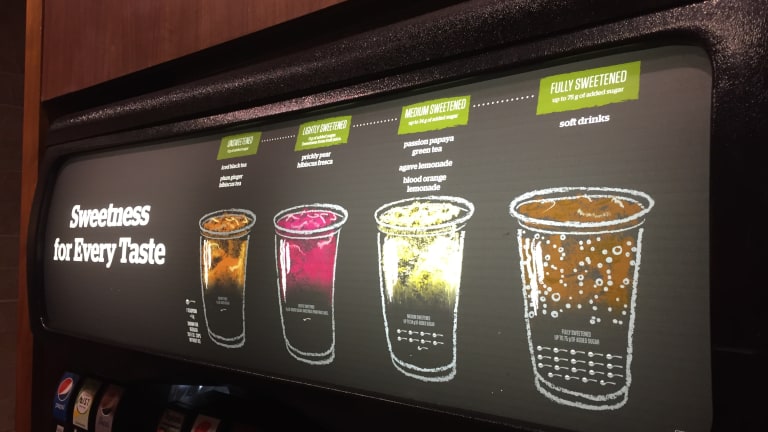 Panera Bread Just Sent a Huge Message to All Soda Drinkers
You may think twice before guzzling down that soda.
Panera Bread (PNRA)  is taking aim at soda consumption. 
The company became the first fast food chain on Friday to start posting calorie and sugar counts smack dab on its fountain machines (seen below). It's a move that could strike a blow over time to Panera supplier PepsiCo (PEP)  should people opt for the chain's newly launched lower calorie beverages or even water, coffee or iced tea. Pepsi is Panera's partner for soda and sugary drinks like Tropicana fruit punch.
"People want real options and real transparency," Panera Founder and CEO Ronald Shaich told TheStreet. "We have dear friends at Pepsi, we respect them. We aren't the food police. We are about providing choice."  
If other fast food chains such as McDonald's (MCD)  and Wendy's (WEN) follow Panera's lead by labeling fountain machines to persuade consumption of lower calorie/sugar options, their partner Coca-Cola (KO) could also be dealt a hit.
In a statement, Panera called out "sugary, chemical-laden beverages" as contributors of "obesity, diabetes and heart disease in America."
"With up to 75 grams of sugar, just one 20-ounce soft drink contains more than the recommended daily amount of added sugar," Shaich added in the statement.
For its part, last fall PepsiCo announced a goal to ensure that at least two-thirds of its global beverage volume will have 100 calories or fewer per 12-ounce serving by 2025.
Panera's move comes amid a growing push by fast food chains to "go clean." The fast casual chain itself removed all artificial colors and flavors from its sandwiches, salads and desserts in January.
McDonald's announced on Thursday that by mid-2018 it will be serving only fresh, versus frozen, beef. Micky D's appears to be revving up its competition with Wendy's which already uses fresh beef.
Chipotle (CMG) announced on Tuesday it was removing all preservatives from its tortillas. 
Nevertheless, the soda giants have received widespread backlash in the wake of a 2013 study released by Credit Suisse and Georgetown University that reported 90% of doctors linked sugary beverages to diabetes. Last year, a Boston University study revealed that Pepsi and Coca-Cola spent millions from 2011 to 2015 to reverse health bills that would have curbed soda consumption in the U.S. and decreased obesity rates.
Meanwhile, in Philadelphia, the beverage industry has faced a new soda tax that charges an additional 18 cents to the cost of any 12-ounce drink, $1.08 to any six-pack or $1.02 to any two-liter bottle. The tax is the city's resolution to raising annual revenue for pre-K and community school expansion, reinvestment in parks and recreation centers and to boost Philadelphia's general fund.
For Pepsi, the tax is the reason it saw a 40% decline in beverage sales in the city of late, with sales of its larger packages falling as much as 80% in grocery stores. Coke's soda sales have been under pressure, too. 
PepsiCo is a holding in Jim Cramer's Action Alerts PLUS Charitable Trust Portfolio. Want to be alerted before Cramer buys or sells PEP? Learn more now.
Related News on TheStreet:
Chipotle Founder Steve Ells May Want to Be Quiet - He Is Getting Creamed by Panera Bread
Massive Numbers of People Will Never Eat At Chipotle Again And That Should Terrify Investors
Editor's Pick: Originally published March 31.