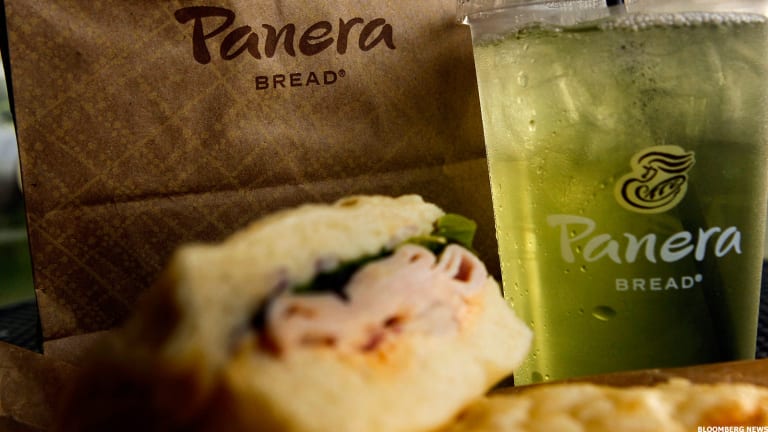 Panera Bread Founder: We Have Been Rocking, but Here's Why I Decided to Sell the Company
Panera founder Ron Shaich explains why he signed off on a deal to sell to JAB Holdings.
Panera Bread (PNRA) will be the latest food brand gobbled up by European conglomerate JAB Holdings.
The salad and sandwich chain said on Wednesday it will be acquired by JAB Holdings for $315 per share in cash in a transaction valued at about $7.5 billion. The purchase prices represents a 30% premium to Panera's 30-day average stock price as of March 31, the last trading day before speculation arose about a potential transaction.
Shares of Panera finished the session higher by 14% to $312.99.
Panera Bread is a logical fit for JAB Holdings, the growing food conglomerate that owns Krispy Kreme, Keurig, Peet's Coffee, among other assets. Joining forces with JAB could bring the Panera brand overseas and leverage its top-flight digital ordering capabilities across many other channels.
TheStreet talked with Panera Bread founder and CEO Ron Shaich to discuss the deal. What follows is an edited and condensed version of our discussion.
Q: Why is now the right time to do this deal?
Shaich: We have had a phenomenal run. The stock is up thirty fold over the past twenty years, it's up twenty fold over the last 25 months. We just released same-store sales growth for the first quarter of up 5%, significiantly better than the industry average. We are rocking. 
But the reason why we have been able to rock all these years is that we have taken a deeply long-term view to doing the right things over the long-term. We have taken a stakeholder model that is about serving our guests well and taking care of our associates. We have really been able to make a difference. 
I think increasingly in a public company model, it's very tough to focus on the long-term. I think companies like Panera have run so well when they have made the right long-term bets. As I think about this company over the next 20 years, the best place for it is to be private. The way to support the great work we are doing is by being private. 
These guys at JAB have a great record. They are hands off, they incentivize the management team in a serious way -- that's what I want for my team. Also, these guys -- when I say long-term -- they measure some of their investments in centuries not decades. They are really long-term guys, which is what leads to competitive advantage. Competitive advantage is everything, and these guys get that. 
I wasn't looking for it [this deal], but I tell you when I had activists two years ago I thought to myself they own 5% of the stock and think there are areas to cut costs. But, we were amidst a strategic transformation. And I got to live with that. When you have a 100,000 employees you care about, I have to figure out how do I protect the company. When you care like I do, I am the one who is vulnerable. 
I am staying, and am not going anywhere.
Q: Have you taken a step back to reflect on any of this, you essentially created the company from scratch.
Shaich: I feel so proud of what we have accomplished. We started with this one little cookie store in Boston. Today, we are leading the industry in every sense. But, the way I feel is that I am really committed to what I have said -- I want this company to continue to be successful. And I truly believe in this model [of JAB].
There is a bittersweet element to it for sure. But JAB is good people, and I wouldn't have done this if they weren't good people. These guys respect our franchise company. They know our strategic plan. They have a long history of being hands off. It's not like we are getting bought. We are changing our board of directors basically. And we can operate as a private company. What can be better?
Q: Is there one particular capability that JAB has that was of interest to you? For instance, will they help you open 50 restaurants in the UK within the next year? Not many people are familiar with this growing food conglomerate.
Shaich: Nothing is going to change because of this deal, with one possible exception. One of the things they really do well that I believe in is how they manage people. They only have 12 people at their entire holding company. This is Warren Buffett style like management, not like let's come in with a playbook and change everything. Panera isn't a company to do that with anyway, we are winning. They are here because they believe in us, not because they want to change us. 
One thing I have come to respect them for is how they incentivize management. They aren't financial people, they are operating people. The way they incentivize is good, I think people will be excited. I think that's good for us. 
I think this is a better model for us, particularly with the winds that are flowing through the restaurant industry today. 
More from TheStreet:
Cramer: Americans Would Snap Up 'Make America Great Again' Bonds
Trading Strategies: 8 Stocks to Buy If the Fed Keeps Raising Rates
This Is Jim Cramer's Second Quarter Playbook
Focus on Earnings in the Second Quarter, Not Donald Trump's Policies
What will move markets this quarter and how should investors position themselves ahead of time? Jim Cramer sat down with four of TheStreet's top columnists recently to get their views. Click here to listen to his latest Trading Strategies roundtable with them and read their advice for stocks, bonds, forex, tax reform and gold.