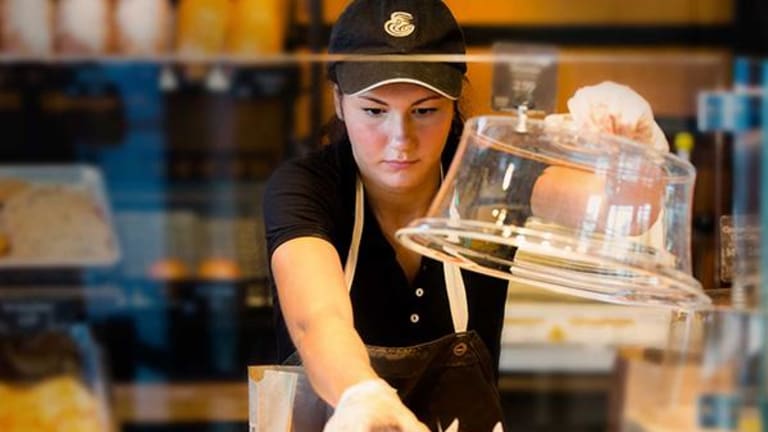 Panera Bread Dares CEOs of McDonald's, Wendy's and Others to Eat Off Kids Menu
Panera Bread is laying down a major challenge to leaders at fast-food giants: try eating off your high-caloric kids menus for a week.
Panera Bread may be a private company now, but that hasn't stopped it from taking bold stances against its peers. 
The salad and sandwich chain's founder Ron Shaich on Wednesday challenged CEOs at rivals McDonald's (MCD) , Burger King (QSR) and Wendy's (WEN) to eat off their kids menu exclusively for seven straight days. For Shaich, the challenge is in part to get fast-food leaders to recognize the lack of healthy items being digested by kids. Panera said that children are now able to select smaller sized entrees seen on the adult menu, resulting in more than 250 "clean" (free of artificial flavors, colors) combinations.
TheStreet talked with Shaich about his latest effort. What follows is an edited and condensed version of the interview. 
TheStreet: What made you come out with such a critical statement on your peers?
Shaich: We are recomitting to our real food promise, not just parts of it, but all of our food. We are saying we want to provide real options to kids, not just three like hotdogs, chicken nuggets and pizza. Most importantly, we don't want to tie these meals in with fries that are nutritional nightmares and as a bonus, a sugar-based beverage. We are not commited to fueling kids sales with toys and other gimmicks. 
So, we have opened up the entire menu because that's how the rest of the world eats -- there isn't kids food, they basically eat smaller portions of the same food adults eat. 
What we are trying to do is create a discussion. What is the right thing to be doing as leaders and parents? I have a 14-year old daughter that eats at Panera all the time. I can live perfectly well on three meals a day, seven days a week from the Panera menu. My challenge is to peers is whether they can say the same thing. If they can't live off their kids menu, then they should consider reevaluating what they are serving. 
These are people I like and that are my friends. The whole purpose of this is just to raise the issue. My greatest wish is not to embarrass people, it is if they actually take this on this challenge they will know what they feel like. They will know what nutrition is going into their bodies. If they really eat the things the kids eat when they come in such as nuggets, pizza and burgers, plus fries and a sugary drink, their minds may wander in the middle of the night on whether this food is really good. 
TheStreet: Do you expect the CEO of McDonald's and others to really do this?
Shaich: We'll see. If not, then obviously their actions speak louder than their words doesn't it. If they do, I think they will come out and say how wonderful their food is.
TheStreet: Is the kids menu now a relic ready to go extinct? 
Shaich: I think it is, and it's honestly better for our kids. Frankly, it's how the rest of the world eats. The only reason this kids food got developed it was almost like we as the industry developed it. It was an attractive package -- the food had lots of fat, sugar and it was fueled by a toy. These were the best margin items in the restaurant. It was good for short-term profits. 
More of What's Trending on TheStreet: