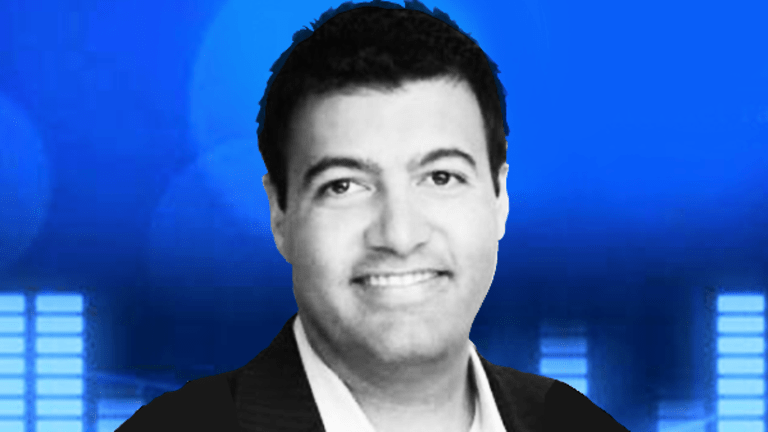 Pandora's New CEO: We Want to 'Nail' This Part of the Music Industry
In his first public remarks since being elevated at the internet radio company, Naveen Chopra sent Pandora shares soaring.
In his first public remarks since being elevated at the internet radio company, Naveen Chopra sent Pandora shares soaring.
Well that didn't take long.
Just one day after being handed the title of interim CEO, chief financial officer Naveen Chopra's debut as the face of streaming music operator Pandora Media Inc. (P) was little short of a hit. Shares of the company, which had tumbled 35% this year before Wednesday, June 28, were up 5.7% to $8.97 in early afternoon trading.
Chopra, who was hired at Pandora in February, was named interim CEO on Tuesday, taking over for co-founder Tim Westergren, whose 15 months atop the company were clouded by concerns that it had lost focus on its core business of advertising-supported internet radio as it sought to build an on-demand streaming service.
"Our strategy is to nail the passive listening experience and make sure we have on-demand as an option but not lose sight of our strength," Chopra said at a media conference hosted by Bernstein Research. "The winners and losers in the music streaming space will be really be determined by who can build the most compelling consumer product."
For Sirius XM Holdings Inc. (SIRI) - Get Report , the satellite radio operator which agreed on June 9 to invest $480 million in exchange for a 19% stake in Pandora, that product is its free, ad-supported radio platform accessed by 80 million listeners per month. 
Greg Maffei, who is both chairman of Sirius and CEO of its parent, Liberty Media Corp. (FWONA) - Get Report , often chided Pandora's management for its decision to spend millions of dollars to launch Pandora Premium, the company's on-demand streaming service that debuted in March, when that business is already dominated by Spotify Ltd., Apple Inc.'s (AAPL) - Get Report  Apple Music. Amazon.com Inc.'s (AMZN) - Get Report  Prime service and YouTube, a unit of Alphabet Inc. (GOOGL) - Get Report .
Yet Chopra -- who rose to interim CEO at TiVo Corp. (TIVO) - Get Report before it was acquired in September by Rovi Corp., which retained the TiVo name -- said SiriusXM isn't against Pandora selling on-demand music streaming subscriptions, it just wants to get more out of its ad-supported free internet radio service. 
"When I think about the path forward, I think this is less about subscription versus on-demand as though the two are mutually exclusive," he said. "What Sirius sees in Pandora is a big advertising opportunity that has not been developed to its full potential. Let's pursue on-demand as long as it's not a drag on the ad-supported free model. But to the extent it can be additive, that's a pretty good strategy."
Chopra is taking the reigns at Pandora as the company goes through a series of changes highlighted by Westergren's departure. In addition to dismissing Westergren, who still appears on the front of the company's website, Pandora also laid off Mike Herring, its president and finance chief before Chopra, and Nick Bartle, its chief marketing officer.
The moves underscore SiriusXM's aim to change how Pandora is managed. In addition to the executive overhaul, SiriusXM's investment coincided with Pandora's sale of Ticketfly LLC, its concert ticket business, to Eventbrite Inc. for $200 million. That cash together with SiriusXM's investment, which won't close until the fourth quarter, will help to address a major overhang for the company: a lack of cash.
"With one transaction, we were able to address a lot of the nonmarket forces that have been buffeting Pandora over the past year or two," Chopra said, alluding to investor pressure that the company be sold and nine consecutive quarters of losses. "This helps answer the question whether we have enough capital to compete with the Googles and Apples of the world."
As for integrating with SiriusXM, which counted 31.3 million subscribers at the end of 2016, Chopra emphasized that the minority stake sale doesn't commit the two companies to integrate their core services. Nonetheless, he said that for Pandora to attract more listeners of terrestrial radio, it will need to offer more content such as sports, weather and news, matching SiriusXM's content.
It also needs to be as easy to use in a car as SiriusXM.
"There's no commercial commitment in the agreement with Sirius," Chopra said. "But there are still a lot of things that Pandora and Sirius can do together to address the remaining part of the terrestrial radio market. A great consumer and advertiser proposition will ultimately lead to returns for investors."
Pandora investors, who have watched the stock drop from as high as $40.44 in March 2014, are eager to hear more.
Jim Cramer and the Action Alerts PLUS team have some thoughts on the latest developments for Alphabet and Comcast Corp. (CMCSA) - Get Report . Find out what they are telling their investment club members. Get a free trial subscription to AAP.
Read More Trending Articles:
Apple Could Unleash Its Own iPhone Killer, Top Analyst Hints
Walgreens Is Going to Lose Out on Rite Aid -- This Analyst Sees Something Else Playing Out
We Sent a Millennial to a Decaying Kmart Store and Couldn't Believe the Horrors She Discovered