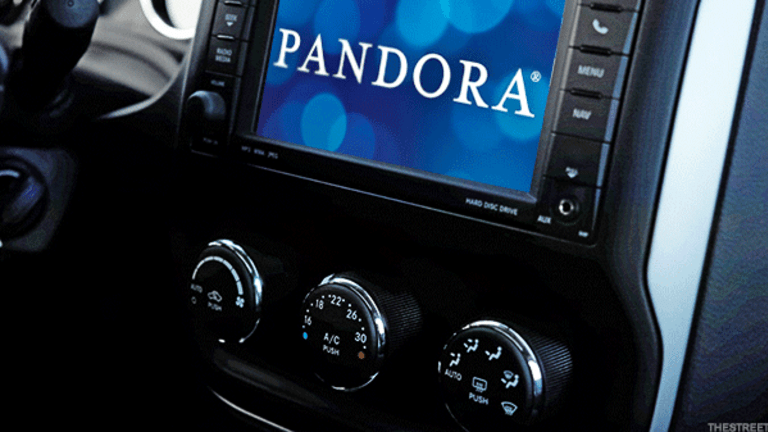 Pandora Analyst Finally Gets Tired of Waiting, Cuts Rating
After 18 months with a buy rating on the internet radio company, Macquarie analyst Amy Yong downgrades the stock.
Macquarie analyst Amy Yong has been one of Pandora's (P) biggest boosters.
For 18 months, she had a buy on the shares of the world's largest Internet radio provider. The business strategy was solid, she argued, and new opportunities in its live events business Ticketfly, the increasingly connected car and an on-demand streaming service lurked just around the corner
But finally, Yong has had enough. Yong cut Macquarie's rating on Pandora's shares to neutral from buy, arguing that a buyout of the company isn't likely to add much of a premium to where the shares trade. Furthermore, there only seems to be one interested buyer, and that's Liberty Media  (FWONA) , which has a long history of not overpaying for an asset.
"With Liberty notoriously opportunistic and expected to remain financially disciplined, we believe the upside to Pandora shares is limited and any M&A premium is unlikely to be generous," Yong wrote. "Though the strategic value of Pandora is clear, we believe it's hard to handicap choppy fundamentals, lack of confidence in streaming/Ticketfly, and Liberty's leverage."
To be sure, Yong isn't alone among Wall Street analysts that have been bullish on Pandora's potential. For the past year, about half of all the roughly 30 analysts who cover the stock have had a buy rating on Pandora's shares, according to data compiled by FactSet. Then again, about half have rated the shares neutral or sell (just two for the latter).
All told, Pandora shares have fallen 28% since Yong raised her rating to buy from neutral in October 2015. Back then, Macquarie had a price target on the shares of $19 a share. By cutting its rating to neutral, Yong's price target is a more modest $11 a share. 
But an endgame for Pandora seems increasingly likely following Kohlberg Kravis Roberts' (KKR) $150 funding agreement in exchange for preferred stock with a conversion price of $13.50 per share. Yes, Pandora will have money to sustain operations, but its board has a mandate to explore a sale.
The most likely buyer remains Sirius XM Holdings (SIRI) , in which Liberty Media owns a 68% stake. As Yong underscores, Liberty CEO Greg Maffei has talked Pandora's shares down over the past year, and certainly since the company made an informal offer of $15 per share in July.
Of course, news of that offering drove Pandora higher.
But since then Pandora's shares have steadily dropped as investors accepted the prognosis that Pandora's internet radio business is unlikely to grow much beyond current levels given recent declines in listeners and listener hours. Furthermore, Pandora Premium, its newly launched on-demand streaming service, faces stiff competition from Spotify and Apple (AAPL) Music despite an aggressive marketing campaign aimed at converting its radio listeners to become paid subscribers.
Pandora Premium is priced at $9.99 per month, same as Spotify and Apple Music.
"Profitability is still in question and KKR's US$150m is just a band-aid," Yong acknowledged.
Following the downgrade, Pandora stock was down 1 cent on Friday morning to $9.41. Shares have declined nearly 28% this year.